Have you ever imagined as a kid, that when you grow up you will be one of those people who carry a knife in their boot? If the answer is yes, welcome, if the answer is no, don't worry, just use your imagination! Funnily enough, we never thought that we would carry knives, let alone carry them in our boots, however life played its game and here we are. If five years ago someone told me I would be a boot knife expert I would have laughed. I wouldn't laugh today though. Let´s talk about the origins of the boot knife.
The term ¨boot knife¨ began its journey in America, at a time where heavy violence was not a misevent. It was a sight seen on a daily basis; however, guns were not as reliable due to the fact there was a bigger risk of explosions. Men began placing their knives on their leather boots, which might have seemed convenient because of the capability of hiding a weapon.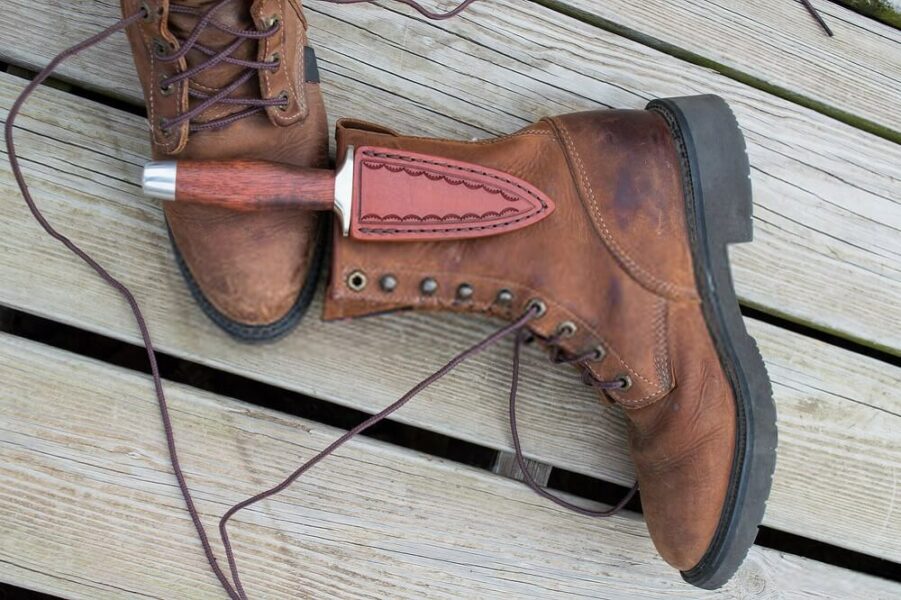 Therefore, boot knifes are, from their birth, directed for self-defense. Hopefully, none of us will ever be in the situation where we need to defend ourselves from assault; however, they can be incredibly handy for other purposes as well. Bare in mind, that depending on the state you live in, the legality of boot knives might differ, as well as the sizes, shapes and styles of the knives.
Depending on your intentions for the knives, some knives might suit you better than others. For example, if you wish to use the blade for self-defense, we'd advise you on taking a smaller one which isn't as flashy as others. If, on the other hand, you want to use it for general utilities, a larger, more traditional one would be a better choice for you.
Surely, there are knives that are in-between, neither small nor large and they can be meant for various purposes. All of this depends on what you're looking to find in a knife and before you go for the purchase, you probably want to know how to choose the best one. So, let's have a look.
How To Choose A Boot Knife?
Surely, finding the ideal blade to suit you is going to take some time. There are a series of things that you need to consider – the manufacturer, the size, the model. Many people tend to trust established, centuries-old companies, however in our opinion that isn't always the best bet. Sometimes companies that have once been great, have become less great with the time that has passed.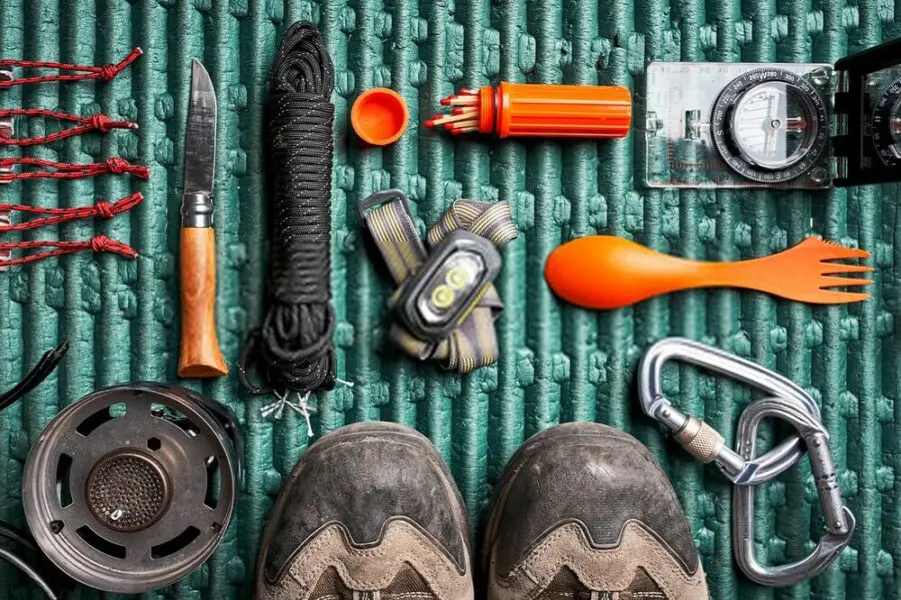 Therefore, we advise you not to rush when buying a boot knife but have the knowledge it requires first. That way, once you receive the package and open it, there is a smaller chance of disappointment. That's why after a lot of thought and consideration, we have created a little guide to assist you on the path to your purchase. Let's see the things you must consider while shopping for a boot knife.
What Size Should I Choose?
In the world of boot knives, there a various available size and the perfect size is different for the different people. The smaller sized knives are for people who wish to use their blade mostly for self-defense. This is required in situations which are extremely important as your life many times depends on the personal level of protection.
Larger ones aren't as popular as they aren't practical, however that doesn't mean they can't be useful. The larger the blade is, the more features it has, which isn't possible for smaller ones. Furthermore, the smaller knives, despite their size, aren't as easy to hold as larger ones, due to the size of the handles.
What Is The Right Weight Of The Knife?
As you might already know, the weight of the boot knife is incredibly important, as it is a piece which will be carried in your shoe for a whole day, or even weeks. The most popular boot knives are the once which weigh no more than two-three ounces. For the knife to be so light, it must be made from high-quality materials, instead of the cheap materials found in many products nowadays.
Steel and plastic knives are much lighter than the cheaper alternatives on the market. Therefore, we advise you on going for one which is lighter and not only easy to be put inside a boot. Don't expect it to be weightless, as that is not yet possible.
What Is The Most Comfortable Handle?
The handle is one of the most important features you must consider when choosing a knife. The best handles are ones which fit nicely in the palm of your hand and are comfortable for quick grabbing. You should pay attention as most handles are different from one another. It's not uncommon to find similarities, however it's usual to see huge differences from handle to handle.
Some handles are short as they are meant to fit easily inside the boot and in our opinion the smaller the handle is, the better. That doesn't mean there are no large sized handles and they are created for easier hold and some say they are safer to use. It's not uncommon to find handles which are not as traditionally shaped as others, and if you see such a knife be aware that it's a specialized one.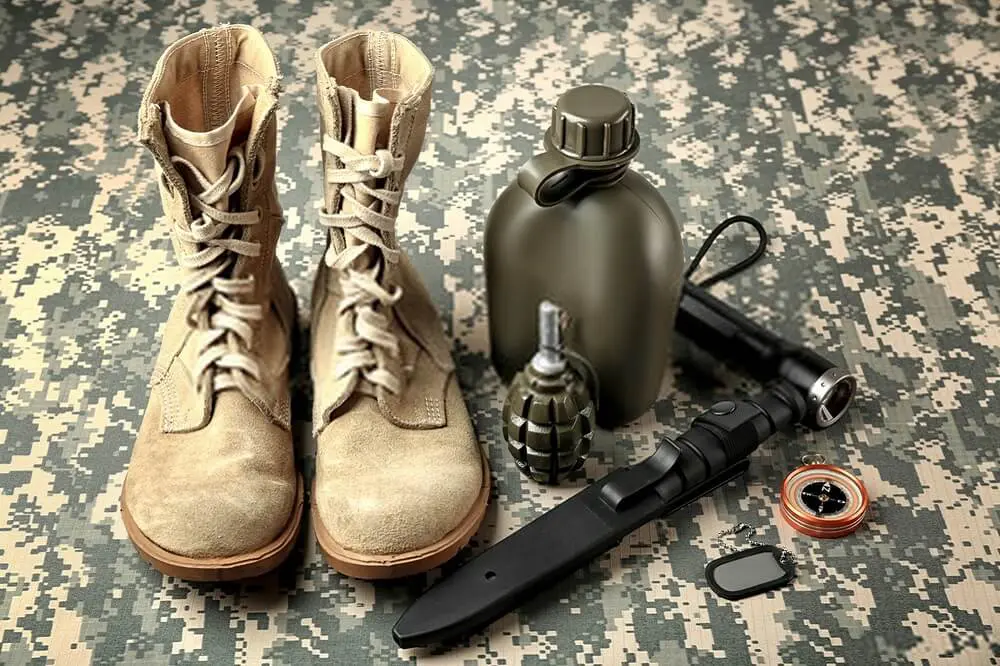 Furthermore, the handles of boot knives are generally made of plastic, unlike the common conception that they would be made of wood. There are exceptions, however the wood handles tend to be heavier and they aren't as compact.
What Is The Best Blade Design?
The blade point design of boot knives is easy to spot as they are different than your usual kitchen blade. The most common design has a spear point with a double-sided straight edge, which is similar to the sabers design. The reason for such design is that boot knives first and most important reason for creation was self-defense.
Even though we don't praise human harming, spear pointed blades are good for stabbing and piercing the "enemy." Unlike the past, on today's market you can find a huge variety of blade designs, as people today use this weapon not only for self-defense but for many other reasons.
How To Use A Boot Knife?
As we have touched upon the main features of the useful boot knives, we would like to share with you that despite the heavy boot knife history, today's uses of boot knives is different. Yes, you can use it for self-defense as our predecessors did, but you can also use it for many other things, especially in the wilderness.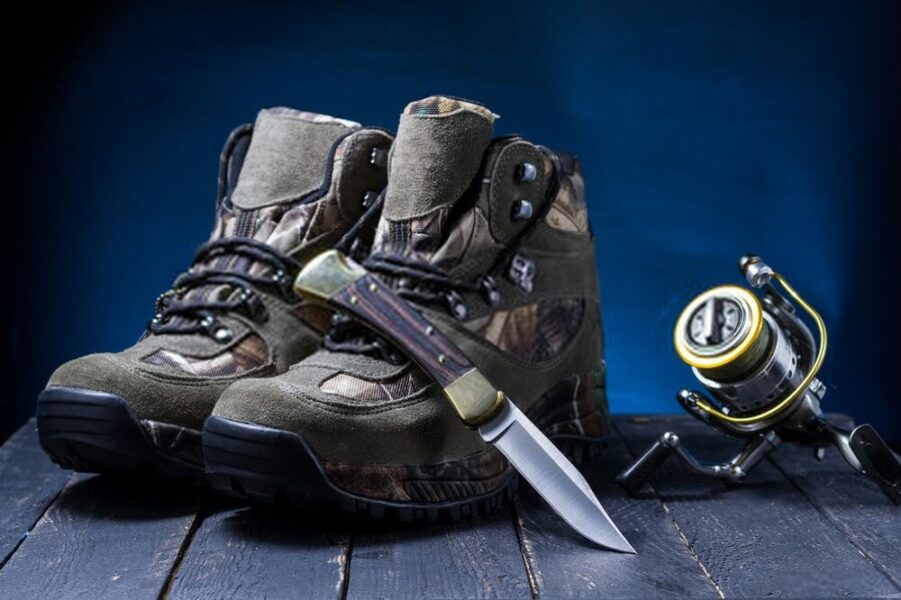 To be honest, if you are looking to buy a such thing, you have already used your imagination and have an idea of what exactly you wish to do with this weapon. Now, without further ado, let's take a look at the top ten knives we have tried and chosen to put on our list of exceptional blade products. And let us hope you like them as much as we did.
What Are The Top Boot Knives On The Market Right Now?
Gerber's Ghostrike blade knives are, in our opinion, top quality knives and they sit at the top of boot knife options, every day. The 6.9-incher is skeletonized, and it has a full tang fixed blade. The blade itself is 2,5 inches and its size is one, but not the only, great feature. It is small and easily concealable, and the blade is made of 420HC steel, which is a common steel type for this price range. That one comes with a well-built handle, whose design is created for stability and comfort at the same time.
The handle helps the knife stay lightweight, as it's made of diamond textured rubber, which screams comfort. The handle has finger grooves, which allow you to be flexible and stable, whilst using. The Gerber Ghostrike comes with a nylon sheath, as well as an ankle wrap, for easy carry and it's hard for it to fall off due to its locking mechanism which creates resistance and keeps it in place.
Don't be fooled, as this locking mechanism, doesn't make it more difficult to take the blade out when necessary. Furthermore, the ankle wrap is lightweight and comfortable, so you shouldn't worry about a lack of understanding between the two of you. It's created for your comfort.
Ghoststrike weighs 3.6 ounces and it has a black ceramic coating, which fights wonderfully against corrosion. Gerber helps you always stay prepared and it's a blade you can trust. Every part of this weapon is designed and manufactured in the States, therefore you know that it's a quality product, prior to buying it. In case you're worried you might not like the knife, Gerber have taken care of this by proposing a lifetime warranty and they will take care of you if any defects arise… Which is highly unlikely.
Pros
Small and Comfortable
Lightweight: Good For EDC And Survival
Top Quality Ankle Sheath
Cool & Tough Design
Cons
It Might Be A Difficult Grip, For Bigger Hands
Rubber Handle Might Not Be Everyone's Favorite
The Rothco Raider II Boot Knife is an optimal choice for anyone who is looking for simplicity and ease. It can be easily carried in the boot, due to its simple and tasteful design, which allows exceptional comfort. The handle is extremely comfortable in hand and doesn't create any pain or discomfort after longer use. Furthermore, after testing Rothco Raider II we can attest to its durability, as it is much more than expected.
The leather sheath has a secure clip, which allows it to fit perfectly to your boot. The knife is a fantastic option as it is affordable, however the only downside is that upon delivery, it needs sharpening. So, if you haven't thought about acquiring a sharpener before, you might do so now. Rothco`s Raider weighs 4.8 ounces, with a 3-inch stainless steel blade and overall measures of 6.5 inches. The handle of the blade is made out of metal, which for some might not be the ideal option, as it could slip.
Pros
Secure Sheath Clip
Maximum Durability
Affordable Option
Comfortability
Cons
Doesn't Come Sharpened Upon Delivery
Could Be Small For Some
The Master USA is our budget choice, as it's not only cheaper, but it has an extremely interesting build. It offers unique serrations across one edge of the blade and it has a cord handle design. The cord is awesome, as it improves the grip and what's even cooler is, you don't see this every day. The overall length is 6.75 inches and the blade is 3-inches long. The blade has a pointed tip and it's made of 3Dr13 stainless steel, which is rust-proof and durable.
Furthermore, it is coated with a black oxide layer, which assists the hardness of the blade, as well as its durability. In case you're wondering, yes, the blade comes with a sheath cover, which is very hard and durable. Overall, we believe that the Master USA deserves its title, as it's an incredibly reliable knife, which is comfortable to use and it doesn't break the bank.
Pros
Cheaper Than Most
Fantastic Quality For Little Money
Incredible Design
Coated in Black Oxide Layer => Strong Knife
Rust-Proof
Cons
3-Inch Blade Is Long For Some
Could Be Tricky To Fit Inside Tactical Boots
The Smith & Wesson tactical knife is a fully reliable blade, which you can depend on for anything. With an overall length of 9 inches and blade length of 4.6 inches, it might seem bigger than most, however, don't let that worry you. The blade is made of 8Cr13MoV Black Oxide High Carbon Stainless Steel, which promises incredible strength and durability.
The handle is black and rubberized, which promises easy fit inside anyone's hand. Furthermore, Smith & Wesson have thought it all through by adding a leather boot or belt sheath, which makes the blade easy for everyday carry and helps you trust that you will have protection in any situation. For further preparedness, S&W features a jimping and a lanyard hole, as well as additional security brought to you through the finger guards.
The knife isn't extremely heavy with its 3.5 ounces and if there is a surprising situation and you're not satisfied with your blade; Smith & Wesson propose a lifetime warranty.
Pros
Spear Point Shape
Two-Part Study Grip System
Strength and Durability
Cons
Requires Sharpening Upon Delivery
Might Seem Large For Some
The SOG is a full tang blade, which can be used as a tactical, hunting or everyday knife and it comes with a sheath! The full length is 4.3 inches, with the blade 2.3 inches long and weight of 1.9 ounces. It's a fantastic choice as it is made of 9CR18MOV stainless steel and it has been satin-polished. Furthermore, it is designed to be discreet and hardly destroyed, so it can become one of your most trusted companions.
The SOG comes with a kydex sheath and a utility neck chain. The knife is easily clipped, due to the design of the sheath and the handle and if you wish to carry it around your neck, have a go! Jason Brous created a multi-grip design with an oversized blade ring finger choil, a ring pommel and a jimping, which gives you a variety of grip options and makes this the best tactical choice.
The sheath and clip allow for easy carry in the boot, as well as easy reach and take-out whenever necessary. SOG advises you to take care of your blade, as the more you care for it, the longer it will last. However, should you have any issues with the blade, feel free to contact them for repair or replacement. The SOG lives in Seattle , therefore you can trust that it has been manufactured by professionals. The SOG sheepsfoot shape allows for easy sharpening, as well as cutting with a superior tip control.
Pros
Light and Easy To Carry
Durable Design
Perfect Symmetry
Tactical – Hard To Pull Out Of Your Grip
Comes with a Ball Chain and Sheath
Cons
Stainless Steel Handle – May Feel Slippery For Some
Too Small For Some Tastes
The Kobun 17T is a premium choice in our opinion due to its superb cutting abilities. It is small at only 5.5 inches overall length; however, its size might make you doubt its strength. Well, you shouldn't. The Kobun 17T is extremely strong and durable, whilst at the same time being slim and providing exceptional comfort. Furthermore, the blade promises usefulness at any point in time and any place.
The steel is an AUS8 stainless steel, it's sharp at all times when well maintained and it's also strong, therefore, it can be used for any kind of operations, even more complicated ones. The Kobun 17T comes with a sheath made from strong materials and allows it to be carried anywhere. The sheath meets the level of craftsmanship, which can be expected from a knife at this price range. Overall, the blade is incredibly sharp, strong and handy for all kinds of situations, even hunting.
Pros
Sharpness
Simple Design
Blade Shape
Sheath Included
Cons
Pricier Than Some
Can Be Too Large For Some
The Buck Tactical Knife is a fantastic blade as it was designed for easy accessibility at any point in time.It weighs just 2.9 ounces and not only is it lightweight, but it has a 3-inch tanto style blade which is combined with a heavy-duty handle. In our opinion, Buck promises high-performance and durability. The handle is a G10 handle, and the blade is made of stainless steel with a stonewash finish. The overall length is 6.25 inches and it comes with a sheath made from black polypropylene and leather.
You can adjust the sheath to your boot, your belt, or even hang it around your neck. This excellent weapon is created for people who know how to use it and wish to use it on an everyday survival or tactical basis. The sheath is practical, durable and comfortable, which is extremely important for something that you will always carry around.
Furthermore, the Buck Tactical comes with a lifetime warranty which gives you the peace of mind, should any unexpected event occur. Overall, the Buck Tactical Knife is a fantastic choice.
Pros
Value For Money
Great Design – Handle and Blade
Durable and Strong
Comfortable Handle
Cons
Handle Size Could Use Modification
The Best Boot Knife on our list would have to be the Kershaw Secret Agent. It's a fantastic piece, however bare in mind that is has a larger blade which is 4.4 inches long. The blade is coated with black oxide which makes it look black and it benefits from incredible strength as well as rust and corrosion protection. The steel of the blade is 8Cr13MoV steel, which is not uncommon for knives, as it is a durable material.
Furthermore, the Kershaw Secret Agent is easily sharpened, and it seems to be immune to damage, even after longer use. The handle is made from synthetic polymer; therefore, it is also strong and durable. It can live through many complex daily and survival applications and it's created with exceptional comfort in mind, as the handle is extremely easy to hold.
It also has a sheath to carry it in, so it can easily go inside your boot and it's not too heavy at 3.52 ounces. It's made in Oregon, therefore you can trust that it's made from high-quality resources.
Pros
Practical Boot Knife
Black Oxide Coating
Strong & Durable
Survival & Everyday Applications
Non-Slippery
Cons
Rubber Handle Might Be Annoying For Some
The SOG knife is one created for the purpose of survival, therefore it's a fantastic choice, especially if you're preparing for life in the wilderness. We already have a fondness to the SOG knives, as they have proven to be exceptionally durable and useful for all kinds of situations. This one in particular is a field full-tang knife, with 8.5 inches overall length and little weight of 3.8 ounces.
It's created with a grippy handle made of thermoplastic rubbers, therefore the grip is always excellent, no matter the situation. The design of the blade is a clip-point one, it's sharp and it has excellent edge retention and resists any rust. It's easily carried with the glass-reinforced nylon sheath, which we absolutely love, due to the awesome design and comfortable carry.
The SOG Survival is one that won't break the bank and will do all the jobs you need it to do. Furthermore, it's born and based in the USA, manufactured from quality materials, therefore it has a long life. If, however, you have issues with it, SOG considers all repair and replacement requests. Hopefully, this won't be necessary as you will receive a durable knife, worth the money.
Pros
Value For Money
Sharp Blade
Comfortable Grip
Easy Carry With Sheath
Cons
Could Have Better Sheath Stitching
If you're a person who loves the centuries that passed and are looking for a product that reminds you of those times, the Schrade Old Timer is the ideal boot knife for you. The Schrade Old Timer comes not only with a vintage look, but with uses that remind us of the well-quality products which were built in the past. With its classic design, it's meant for people who wish to have a knife similar to the one their father, or grandfather used to have.
It's a one with 7.8 inches overall length, and the blade is long 3.8 inches. It fits brilliantly in the hand, except if you have a smaller hand and if that's the case, this blade might prove to be the wrong choice for you. The Schrade Old Timer has a full-tang spear point blade crafted with 7Cr17 steel, which we loved as it's incredibly durable. The blade also has wear resistance and holds its edge in a great manner.
Furthermore, the Schrade Old Timer is comfortable to hold due to the wooden handle, which you don't see in most knives on the market today. It's ergonomic, despite of its old school look. The Old Timer comes with a leather sheath which you can attach to your boot or to your belt. It's an excellent choice for a concealed carry knife!
Pros
Vintage Look and Feel
Value For Money
Durable and Dependable
Lifetime Warranty
Cons
Sheath Can Be Improved
Needs Sharpening Before Use
Here you have seen our top 10 knives! We are proud to show them to you and we hope you might find your future concealed blade within our ranks. If you do so, don't forget to share with us which one you chose and how it's going for you! Now, we're aware that you might have additional questions, so we have created a section of Most Common Questions, concerning that kind of knives. Let's take a look!
Frequently Asked Questions
How Do You Carry a Boot Knife?
The simplest way to carry it is by using a string or the specialized sheaths that come with most knives. Most commonly, we use both the sheath and a string if we don't have any clips to attach onto the boot. So, after you choose the best place on your boot (which is usually on the inner side of the shoe, or whatever feels more comfortable, simply tie it a couple of times with the string. A knot is always a good idea and if you will be walking for a while, make sure it doesn't rub into your foot or ankle.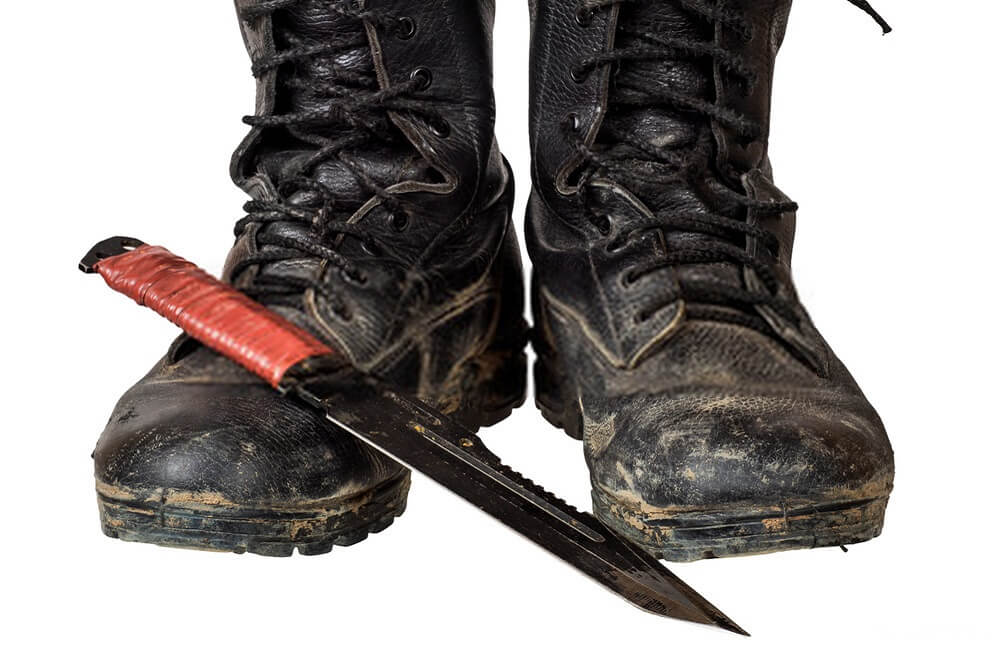 How To Maintain a Boot Knife?
Most people don´t use their boot knives as often as they think they would. However, if you will be carrying a boot knife, you need to make sure it´s always in prime condition. In order to do that you would need a sharpening stone, which are not expensive at all, and keep it on you at all times. Sharpening the blade is not difficult at all, especially with a sharpening stone. However, maybe test it a few times to make sure you won´t cause yourself any injuries while on the go.
Why Should I Carry a Boot Knife?
Generally, most people have a boot knife in order to protect themselves. In this day and age, it's risky to carry a firearm, that's why most people tend to go for it. Furthermore, it serves many other purposes and not only self-defense. You could cut chords, trees and branches, food, you could even use it for hunting. The reason people carry a such thing on themselves at all times is most commonly – self-defense.
Are Boot Knives Legal Where I Live?
Each American State has individual laws, as well as federal knife laws. In every local government's website, you can find information on the geographical law for blades carrying. If you check the government's website, you will find the best possible information for the place you live in.
How Does a Boot Knife Work?
Boot knives are commonly called survival knives, because they are generally used as a means for survival. Whether it's in the city, or in the wilderness, they are meant for the defense of a human being, thus, survival. You can use the knives for self-defense, hunting, common tasks such as opening packages and removing staples, or survival in the wilderness.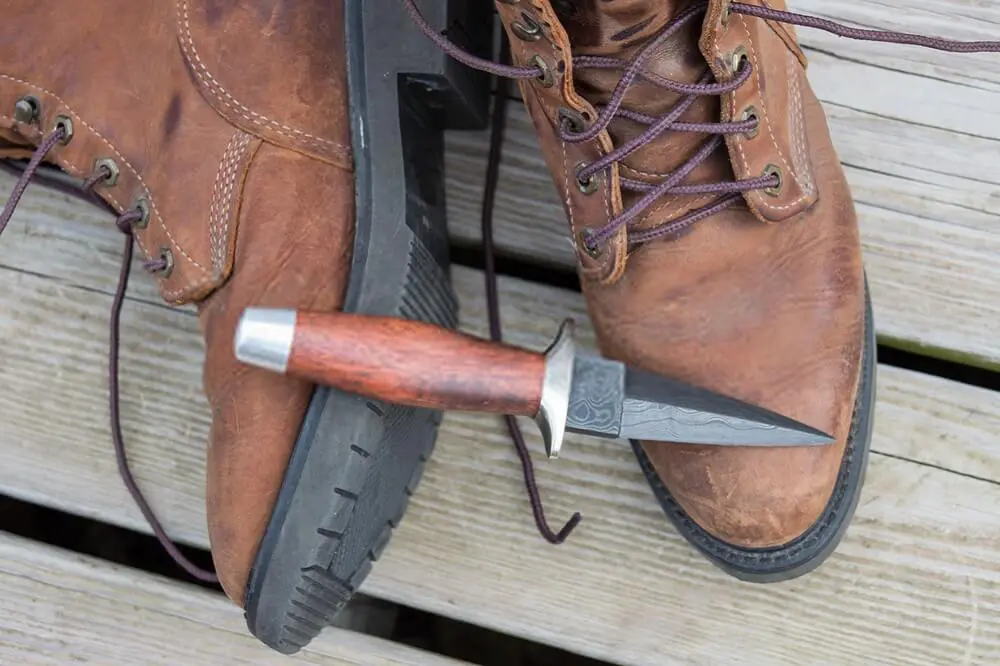 Are Boot Knives Practical?
Overall, boot knives are the most practical self-defense weapon you could have, as it is easily reachable. Furthermore, over the years boot knives have evolved and are being used for a variety of uses. However, that knives are generally a practical tool to have, especially if you see yourself as a survivalist.
Final Words
We have come to the end of our story, however, it has been an incredible pleasure for us to test different boot knives and see how we feel about them. Hopefully, our reviews will help you with choosing the best boot knives that are ideal for either tactical or bushcraft purposes. If you still aren't sure, we think you should go for the old-school, wooden handle Schrade Old Timer.
You cannot go wrong with this one and it comes with a lifetime guarantee in case you aren't happy with it, and we hope this won't be the case! Just remember, to pick a spot on your boot, which wouldn't hurt your feet and legs whilst carrying the boot knife.
Take Care!