Keeping important gear that doesn't like water, such as layers, snacks, weapons, and car keys, away from it and securely stowed is an essential part of keeping your valuables safe. Nothing can grind your gears like crawling into a wet sleeping bag after a long day of rafting down the river during your winter trip to Colorado or returning to your car after a long day of fishing on the lake to find that your car keys aren't working.
And here comes the importance of the dry bag, which may not seem like a must-have at first, but after those examples, I mentioned you might think differently. These products offer protection from the elements, so your gear will be dry as bones. You don't want anything to happen to your valuables in the event of a flood, do you?
They come in all shapes and sizes, so there will undoubtedly be a model out there with the features you need for your favorite activity. First, you need to think about to what extent said the activity is affected by moisture.
That means you should thoroughly consider what level of waterproofness you desire, what type of gear you plan to carry in it, and the utility of any special features. So let's go through the list that I've put out for you, detailing why you should use a dry bag, what you need to look for in a good one and what are the best ones out on the market right now.
1. Skog Å Kust BackSåk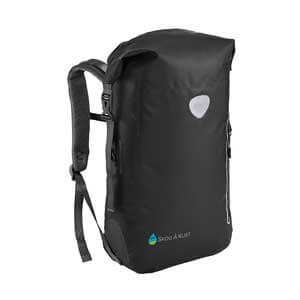 This model of dry bags, with its stylish design, comes in 10 or 20-liter options, and its watertight welded seams will make sure you will have your tools dry while still looking good. The 500-denier polyester, with a premium vinyl coating adding some much-needed protection, provides rugged all-weather protection to keep anything fr the harsh weather.
There is an easy-to-access zipper pocket at the front of the bag to pull out something like your phone more quickly. But beware because it is only splash resistant, so if you plan to do some skinny dipping with it, don't go putting any electronics in the pocket.
Another great feature of this heavy-duty waterproof dry bag is the reflective trim around the outside pockets, which gives you a vast amount of visibility at night. It also gives you safe because you can spot it more quickly if you drop it in the water.
The additional removable shoulder strap makes it much easier and more comfortable to carry the bag around, and you can always get rid of it if you aren't using it. In my opinion, this is one of if not the best dry bag products on the market right now, one of the few options that give you enough room to store anything you may need on your outdoor adventures.
Pros
There is not only one but two different capacities you can choose from, either a 10 or a 20-liter version
The watertight seams make sure that not even a drop of water can get near your most valuable items
The 500-denier polyester has a premium vinyl coating that gives it some much-needed protection
The reflective trim around its pockets makes sure that you will be able to find it no matter where you drop it
Cons
If the bag isn't totally full, i.e. half empty, it doesn't close tightly because the side clips aren't far enough down its side
Not only does the back lack a much-needed waist strap, but its main zipper pocket is not waterproof
2. Gonex Duffel Bag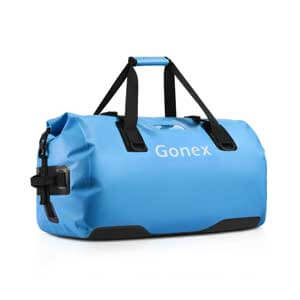 This bag is one of the best dry bags on the market right now. It has the traditional roll-top design with an additional strap to the tow buckle hooks. Roll it 3/4 times and fix it with the strap to keep all your items ideally dry. The back nylon zip pocket with some outlets is designed to hold wet clothes, shoes, towels, etc. A great little addition is the front transparent pocket for ID and such.
There are many options when it comes to carrying this dry sack. There are not only two straps on the side to lift it by hand but also a top handle and two crossbody compression straps for putting it on your back. It's a very flexible piece of equipment so that you can carry it on many different occasions. With its high-grade full waterproofing, it will be a great companion for anything, from kayaking to camping with your family.
And the customer support is top-notch, with a 30-day money-back return policy and a one-year warranty, so don't worry about defects, the company is sure in its dry sack. It's an excellent bag for any adventure and is Shure to protect any gear you pack in it and hold it safe without applying too much pressure on your stuff.
Pros
The traditional roll-top design of the bag allows it to be used easily and quickly
There is a front transparent pocket so that you can hold your IDs for more convenience
When it comes to carrying, there are two whole options in the face of two top handles and a crossbody compression strap
There is a 30-day money-back return policy, so you have an excellent customer support
Cons
Carrying it as a backpack will be an extremely uncomfortable process, so be careful
The price is a little bit high for what the bag offers
3. Earth Pak Duffel Bag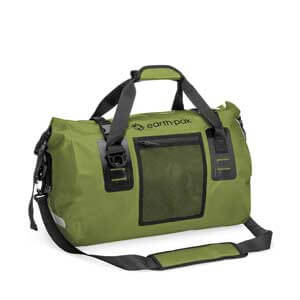 The Earth Pak Voyager Series Waterproof Duffel Bag is an excellent dry bag for any activity directly affected by water. With a stylish unisex design, it can withstand any harsh weather providing the best protection for all your items with its durable nylon polymer material.
An exquisite addition to the bag is its outside mesh pocket for items that aren't scared of water, and you want them easier to reach.
This dry sack also features a pair of inside pockets lined with even higher-grade waterproofing, making it the perfect place to entrust your valuables, too.
Built of commercial materials for high performance and durability, it is a rugged piece of equipment that can last you a lifetime with care. All seams are Thermo welded shut to ensure the safe securing of everything inside. Ideal weekend bag for all your adventures, including sailing, fishing, camping, sports, boating, and travel.
Equipped with two interior mesh pockets for the smaller belongings you need easy access to and one sizeable external mesh pocket with a coiled nylon zipper, you can efficiently organize all of your items while still having access to them.
Featuring a large main compartment with roll-top closure and single reinforced strip, fold the bag down 3-4 times, buckle, and you are tightly secured against any moisture. And when you don't need it, it can be easily collapsed.
A great addition to the bag's comfort is the adjustable, removable shoulder strap that, like the handles on both sides, is padded softly.
The sturdy buckle straps placed on key locations through the back ensure it will stay in one place even in the bumpiest of travels. The side panels are made in brighter colors with reflective lining for significant bump invisibility, even in the darkest of environments. It is also reinforced with one of the highest grades 1000D PVC MOLLE System looping on the front, and back sides of the duffle, combined with the four attached D-rings, give you a quick way to hold secure your bag to either your boat or kayak in any of your more moist adventure trips.
Pros
The bag utilizes a stylish unisex design, making it a perfect choice for anyone who wants water protection
If you want to have something easy to reach that won't have much problem with water, there is a front mesh pocket for easy access
There is a MOLLE looping system on the front, and with an excellent organization on the inside, this bag is as convenient as it gets
Cons
The bag includes some dangerous chemicals, and some people may be too sensitive to it
The stitching is of very poor quality, so don't street it too much
4. Piscifun Wrapper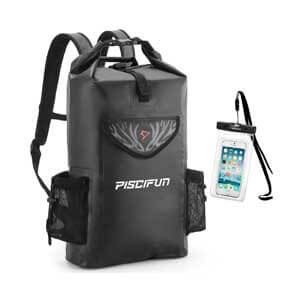 Piscifun Wrapper waterproof dry bag backpack is made from heavy-duty 500D nylon material to seal out the elements with watertight, welded seams, and a roll-down top, keeping everything away from that pesky water.
Constructed with an ergonomic padded back panel, reinforced contoured shoulder strap, and sternum strap give you all the comfort you will be on the search for. And we should definitely not forget the heavy-duty waist belt that releases a lot of load from your back, relieving some of the weight from your gear.
The Piscifun Wrapper dry bag packs an extensive array of pockets, both on the exterior and interior of the bag. A large and manageable to grab splash-proof zipper on the outside gives you quick access to grab and go different stuff and gear and a built-in zippered pocket for other accessories. Two side mesh pockets give you even more of an addition to the gear arrangement.
The main course of this plateau is, of course, the most significant central compartment of the dry bag, which has not only interior padding but also a roll-top closure design. It allows you, with only three and a half rolls, to have a watertight seal that keeps the air in, allowing the bag to float beside you safely.
As a bonus to every dry bag, Piscifun will include a 6.6 Inch waterproof mobile case. Suitable for phones up to 6.5 inches, which is enough for almost any modern device.
Pros
The bag is made using only heavy-duty 500D nylon to ensure that whatever you have inside is protected by a rugged exterior
The back panel is padded and combined with a contoured shoulder strap, comfort won't be a problem with this bag
With the roll-top design and the splashproof zipper of the main compartment, you get as much water protection as possible
There is also a mobile case included as a bonus that can keep every phone as big as 6.5 inches protected
Cons
The bag may feel a little uncomfortable after too long periods of use, еsspecially when worn with a sleeveless shirt
It doesn't look particularly good, and the bag doesn't have some outstanding features
5. Relentless Recreation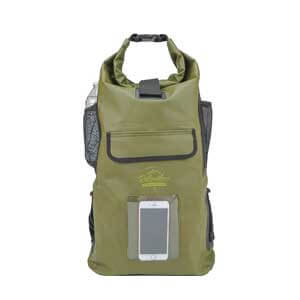 This dry bag here is the perfect casual backpack for any adventure. Be it swimming, camping, hunting, hiking, canoeing, fishing, surfing, kayaking, or climbing, or if you are going to do it outside, you will be prepared.
If you have ever rolled your kayak or, in the event you got caught out in a rainstorm while camping, you know precisely why you need to keep your valuables like your cell phone, wallet, and change of clothes as dry as possible.
The main compartment has room for all the gear and stuff you will need when going on your next beach trip, and the mesh outer pockets will hold your drink! Breathable padded shoulder straps with compression and an adjustable chest make the bag excellent in the field of comfort, and even if your shoulders get tired, you can use the side handles to carry it by hand.
High-frequency welding on the Industrial Grade 500 Denier Polyvinyl Tarpaulin nylon exterior material creates an ultra-rugged and durable bag. This makes the bag so lightweight that it weighs as much as a feather while still being strong enough to carry all your gear. The splash-proof outer pockets even have a transparent window so you can use your phone if you decide to put it there.
If you are still unsure about buying this bag, don't worry even a little because if there is something that you don't like or you want to return the whole bag itself, the company's world-class customer service is sure to help because you have a lifetime warranty on your hands. It's really an excellent dry bag backpack with amazing features that can hold all your stuff safe in whatever event you may fall into.
Pros
It has a very large main compartment that is big enough for anything that you may want to be protected
The padded shoulder straps are very breathable and comfortable, so wearing it for a long time will be a delight
The company has excellent customer support, so even if something isn't right, you can return it
Cons
While the outside mesh pocket may seem like a convenient addition, don't rely on it because it is extremely flimsy
The bag does look very big on the outside, but the actual space is pretty tight so that you won't be carrying much
6. Earth Pak Backpack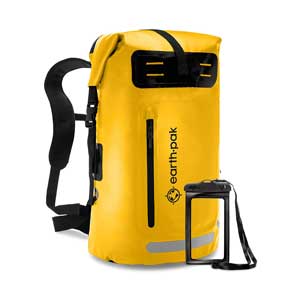 Whether you're planning to go out in the mountains for a short hike on a weekend afternoon or you want to take the whole family to amazing camping, you will need a tool that packs all the bells and whistles to store and protect your equipment and valuables. And here comes the Earth Pak Backpack.
Easily access items without unrolling your bag with the large front pocket. The high-side splash-proof pocket makes it easy to grab things on the go when you need them. For valuables, tuck them away in the bag's two interior pockets, both mesh and zippered, where they will be protected by the full Waterproof coating of the main compartment.
Every great hero needs a sidekick, so with every dry bag, Earth Pak will include an IPX-certified phone case so that you can have a little bit more protection on one of your most important electronics. It packs quite the features, too, with touch-sensitive material and ultra-durable nylon.
The bag's seams are welded shut and combined with its roll-top closure, and it's perfect for anything from water sports to family adventure trips. Not a single drop of water will creep into your valuables. As with the driest bags on this list, this one also has a reinforced strip to ensure water stays out.
Compact and lightweight for easy carry on an airplane & roll-top closure provides ultimate protection while traveling. Convenient D-Rings attached to both shoulder compression straps and MOLLE system looping both provide anchor points to latch onto while boating or biking.
In addition to the bag's ergonomic padded back panel, it also has reinforced contoured shoulder straps so that no excess weight will be out on your back. Thus longer journeys won't be any problem because comfort is assured with this dry bag. Plus, the added benefit of a lifetime warranty is an amazing addition.
Pros
This is the back variant of the famous Earth Pak waterproof bag, so you know you have some quality items on your hands
It features welded seams for even more protection, even in the harshest conditions that you may encounter
The bag comes with some awesome accessories, too, including a convenient carrying case and a waterproof IPX-certified phone case
Cons
While the bag does certainly use quality materials, it is too cumbersome for prolonged use
The weight distribution of the pockets makes the bag very uncomfortable after carrying too much
7. Boncas Waterproof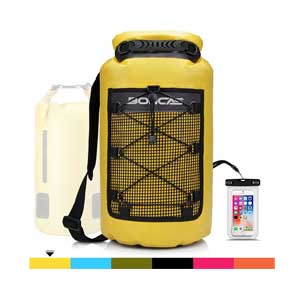 Boncas roll-top dry bag has a solid construction, and stout welded seams made out of a heavy-duty PVC tarpaulin, with strong, extremely durable plastic buckles, and D-rings, offering a longer service life.
The large circular base gives it a tremendous amount of space inside. Excellent roll-top functions keep all your things dry from in the water. The pocket on the back fits some things you need quick and easy access to, and the front mesh bag unique design for keeping damp items.
This model of top-notch waterproof bags packs with it a waterproof phone case, able to capture all your priceless memories while in the water. It's touch-sensitive but obviously can't read your fingerprint through the plastic, so turn off your touch ID while using it.
20L waterproof dry bag comes with two adjustable and can be removed backpack-style shoulder compression straps and contain an extremely durable hook. The strap makes it easy to attach the bag to the kayak and ensures it does not spill out in rougher weather or waves. And its capacity is big enough for you to pack all of your stuff and help them avoid any unnecessary moisture.
A perfect companion for any wet/dry activities like water expeditions, waterfalls, hiking, canoeing, stand-up paddle boarding, water park, swimming, beaches, etc.
Pros
The bag manages to use heavy-duty PVC tarpaulin for its outer shell while still keeping its price down
The large circular base gives the bag enormous space inside, and with a mesh, you have great accessibility to your gear
Even with its small size, it still manages to incorporate many different pockets and compartments for your convenience
Cons
While it may use some quality materials, if the bag is submerged, it isn't guaranteed that it will keep all the water out
The phone case is a nice bonus, but it feels so cheap that putting in your phone won't be a very good idea
8. Piscifun Backpack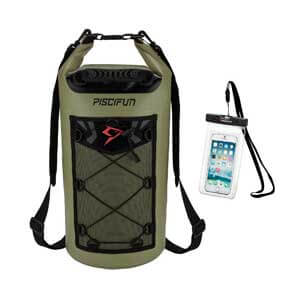 Made of rugged, flexible, and fully waterproof 500D PVC to easily withstand abuse from the wilderness.
Features are an adjustable padded strap for comfortable carrying, an outer mesh pocket that gives you room for non-dry storage, and elastic rope for holding clothing or accessories. These unique and helpful design features have your Piscifun dry bag a step above the traditional dry bag.
Fully welded seams result in a stronger, more durable waterproof construction than traditional sewn-and-taped seams. The reliable roll-top closure makes it easy to achieve an optimal watertight seal.
Every dry backpack, including a 6.6 Inch waterproof phone case. Suitable for phones up to 6.5 Inches of diagonal screen size. High-definition window, 100% secure seal lock, and tough-friendly design -Perfectly use it for all water sports!
Piscifun Dry Bags keep your belongings safe and dry for various activities, such as kayaking, fishing, surfing, boating, camping, rafting, hiking, canoe trips, etc. A fantastic gift for outdoors life enthusiasts, this is one of the best dry bag backpacks on the market.
Pros
This bag is made out of rugged 500D PVC to withstand anything that the outdoors may throw at you easily
The fully welded seams not only give you even better waterproofing but also give the bag even more rigidity
There is a 6.6 phone case with every bag that you get that is as if not even better at keeping your phone from the water as the bag
Cons
The bag is too uncomfortable to wear, only to carry with you
9. Wise Owl 3-Pack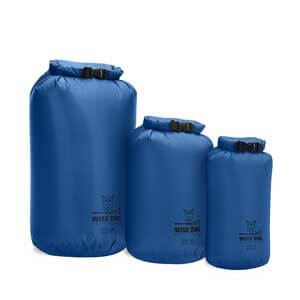 Wet gear ruins a great day out quicker than you can say, 'damn, I just dropped my phone in the river.' Each set includes three floating, fold-type closure dry bags in 20, 10, and 5-liter capacity sizes. So your essentials are all safe and dry whenever you need them next.
Made from a new and innovative PU-coated, woven fabric material called 190D Diamond Ripstop Nylon, this hi-tech material is watertight and ultra-durable. The whole set weighs next to nothing, so you'll forget you're even carrying these sacks until you need them. Safely seal your equipment away in seconds with a few rolls of the top and lock with the heavy-duty clip. Your bag is now airtight and water-resistant, so you can float it downstream or use the D-ring to clip it to your backpack.
Keep everything dry for camping, swimming, boating, kayaking, or a lazy beach day. Whatever your plans, enjoy them – in the knowledge your gear is safe from sand and snow, dust and dirt, and dry as a bone. This may be, if not the best, at least one of the best sets of dry bags on the market right now.
Pros
This is not only a single bag but rather a set of three bags of different sizes, giving you the ability to choose whatever size you may want
Its made out of a revolutionary 190D Dimond Ripstop nylon that is woven together and PU-coated to give you a rugged and waterproof exterior
The bag is extremely lightweight, so carrying it around will be as easy as it gets
Cons
While the material is pretty lightweight and durable, its very thin, and a single puncture can be fatal
The bags do certainly offer a lot, but the price can be brought down a little bit
10. Earth Pack Dry Bag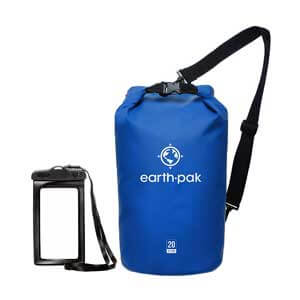 From 10 to 40 liters, these Earth Pak-Waterproof dry bags are made with a design of thick PVC material (500D), which makes them perfect for assuring your backpack will hold its contents safe no matter what event can happen.
The seams are reinforced with Thermo welding to ensure no water can get inside. The larger dry bags even include padded shoulder straps so you can wear them comfortably as day packs.
My favorite part about this dry bag is that all sizes have a zippered front compartment where you can stash belongings you need easy access to.
It comes complete with a waterproof phone case – these secure and long-lasting dry bags are ideal for kayaking, rafting, boating, and more. Oh, and this set of dry bags also comes in various sizes and colors, which is awesome.
Pros
You can choose from a range of different sizes, all the way from 10 up to 40 liters
Thermo welding is used to reinforce the seams where the bag is most prone to wear and tear, and they also give you some additional waterproofing
There is also an easy-to-access zipper compartment for items that aren't scared of water, and you will use frequently
Cons
While the different sizes are the same on paper, some of the features are restricted only to the bigger and more expensive models
The included phone case does its job fairly good, it is made so cheap that it will break down over time
What to Look For In A Dry Bag?
The majority of dry bags are lightweight, strong, and durable, which is owed to their material and construction, but the best ones out there are made out of thick nylon that is still lightweight but stronger than other thinner PVC compounds.
Many dry bags have no seams to make them extra protective – but some do feature a thicker bottom and seams. Though this doesn't affect the quality of your dry bag, it will always be a little better to have some extra padding for your possessions.
Dry bags can remove all the air in them, just like in a vacuum, as air is an opportunity for the watertight feature to fail. Most dry bags out there feature a roll top, so once you learn how to use them properly, you will be able to use all of them. To ensure all air is sucked out of the bag, roll the top 3 to 4 times and secure the top with a strap, and that's usually enough.
Now let's focus a little bit more on the more specific characteristics of a dry bag, what to look for, and what to avoid. And remember one thing, you don't want to cut any corners because, most often, what is in the bag is stuff that will really matter to you.
Activity
First things first, you must identify the activities you are going to use your dry bag for. This is one of the most crucial factors in choosing your perfect model, so you should thoroughly consider how long your trip is going to be, where you are going to use it, and to what extent. Because not all dry bags are made equal, and a dry bag or pack made for casual family adventure trips won't be sufficient for something more demanding like water sports.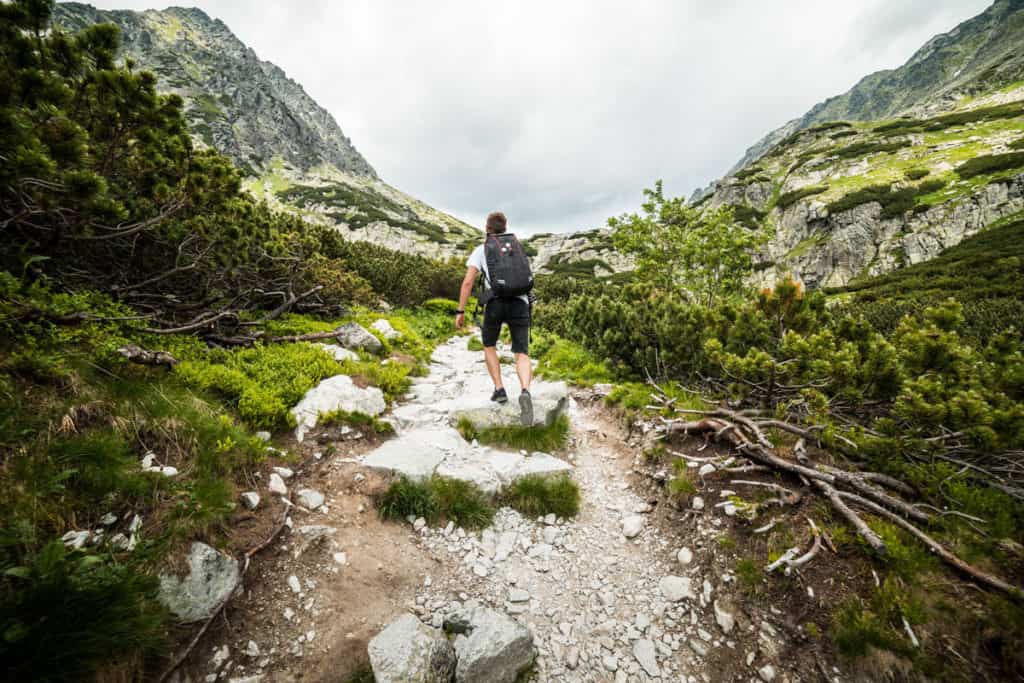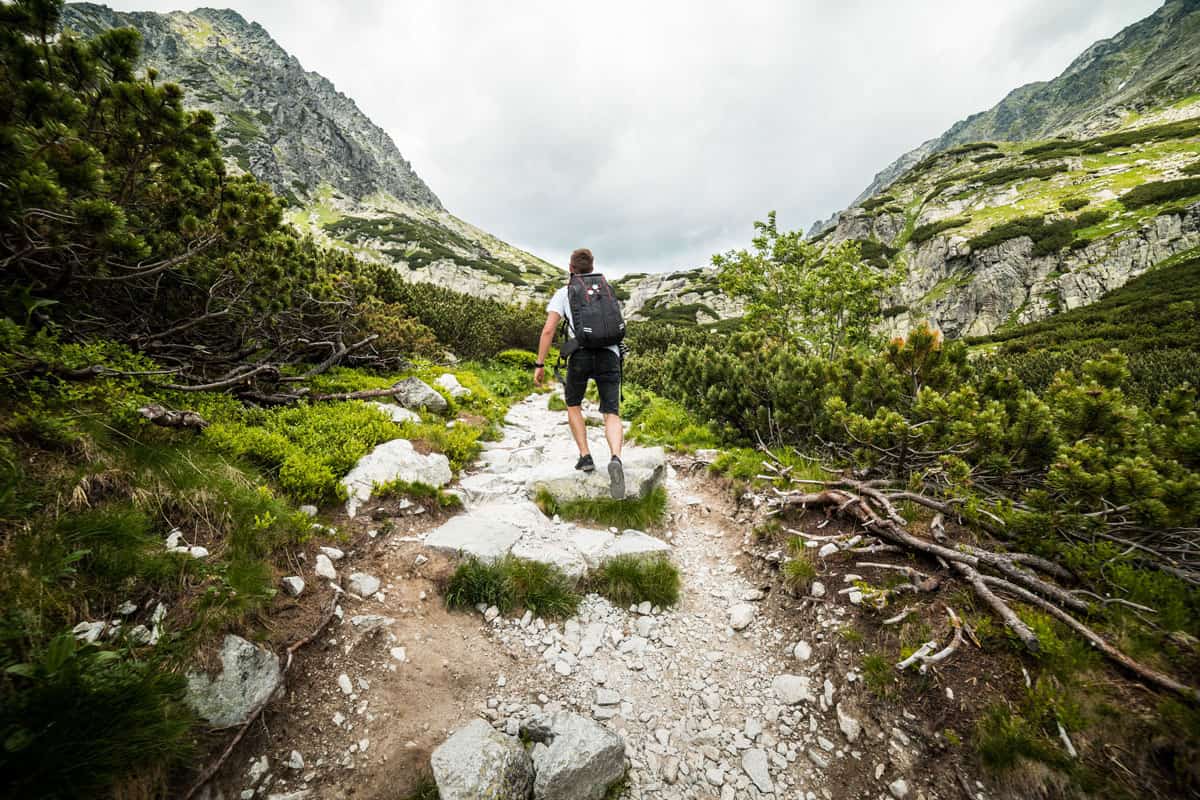 Location
Some added protection is never excessive whether in, on, or near the moisture. Though you may go out and buy one of the most protected and best waterproof bags out there, they are usually more substantial and more expensive, so if you don't have money to burn, buy the level of waterproofing you only actually need.
River Trip
When going on a family trip down the river stream, you can expect a fair amount of moisture to get into your boat, submerging anything below your knees. So, whether you plan to shred on an oar frame, kayak, or paddleboard, with the type of activity, you can expect that anything that isn't protected against water is going to be damaged.
And that's not even the end of it, because if the boat flips, and if it's your first time, logs, rocks, or any other kind of debris will damage any contents of your dry bags.
So, for these more hardcore adventures, you will want to search for something that is not only airtight and moisture-sealed but also something with a fair amount of padding and durability to protect valuables from water and fall damage.
Casual Days On The Lake
If going down the river at extreme speeds isn't your thing, and you are more of a fan of casually paddling across a calm lake, you need to focus more on other factors. Here your focus should be on price and usability.
Models that provide middle of the range of water protection will do the same job against water splashes and a little bit of moisture as dry bags that offer full protection at almost four times the price. If you plan to carry some seriously high-grade electronics like photography equipment, something a bit more protected will be needed.
At The Beach Or Poolside
The best dry bags are not only good at keeping water out but also at keeping moisture in. They are ideal for getting wet towels and bathing suits back home without getting your seats wet. Most of them offer features like crossbody compression straps, so carrying them won't be hard at all. And you know they are extremely durable because you can leave your little kids to drag them around without worrying they will tear.
Canyoneering
Slot canyons may not sound like the most watery of places. Still, one of the perks of canyoneering in America's Southwest is discovering crazy remote swimming holes sandwiched between the giant walls of red rock. Now that you have some wet clothes at hand, a dry bag doesn't seem like so bad of an idea.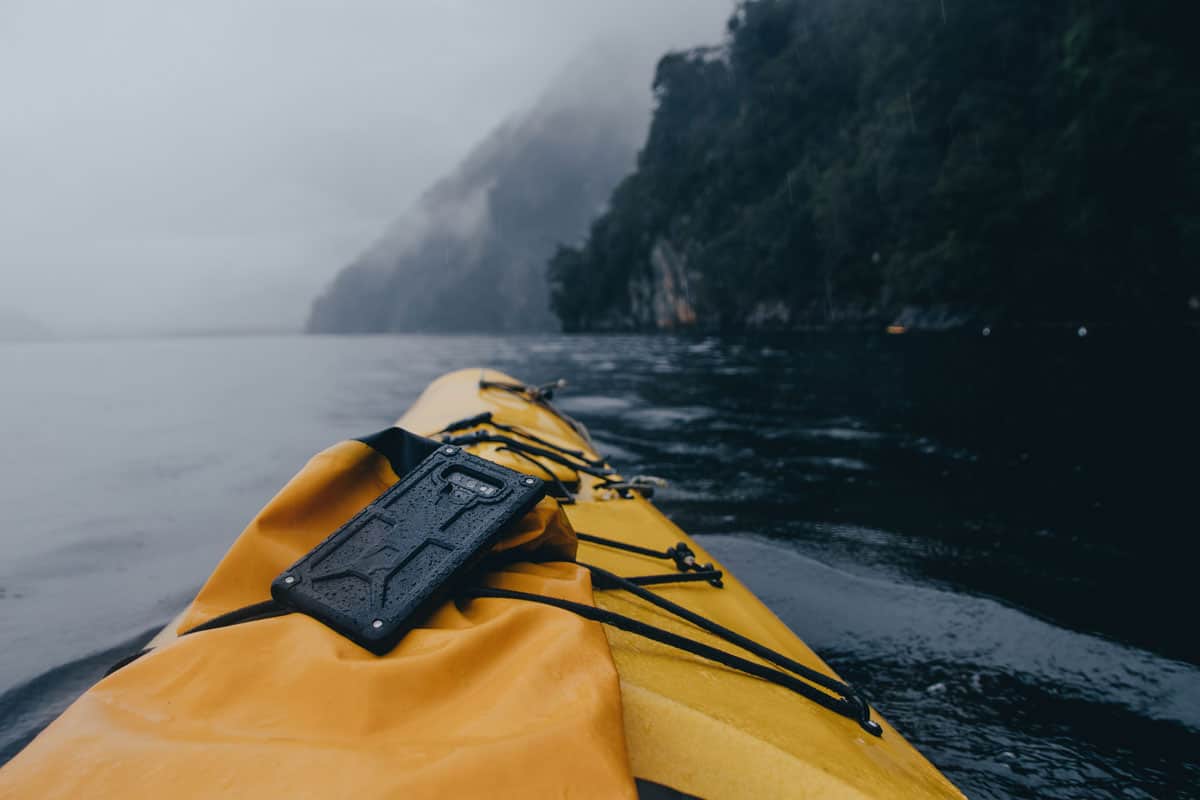 Dry Ground, Wet Weather
Now before you go and jump the shark by directly switching to a fully waterproof bag from your standard backpack, consider how much you need one. Because yes, it offers something invaluable in protecting your electronics and valuables from their biggest enemy, it trades a lot of the comfort of a regular carrying bag away for waterproofing.
So the best middle group is to carry an additional small dry bag that is collapsible, just in case you need it. That way, you will still have the backpack's comfort, but you will be prepared, too.
Sport Specific
We've talked about location, and while it is an essential factor, there is something higher than it. Sport. Because let's be honest, while everyone can benefit from a dry bag, people more focused on professional activities are most interested in some useful equipment like this. So, let's look at some characteristics specific to each sport and how to recognize what you need to be searching for.
Whitewater Rafting & Kayaking
If you plan to take your bag for a ride down the river, it is critical to have an easy way to secure your bag to your boat. Lash points in the form of D-rings and sewn webbing loops offer dedicated attachment points.
But be careful because while D – rings are an excellent way of securing your bag, only metal or reinforced plastic ones placed at key locations will do the job, so don't go for cheaper options thinking you are doing something.
Paddleboarding
The big question to ask when planning to bring your gear out on a paddleboard is, how am I going to store it? Often boards come with a fixed bungee system on the nose or tail that is perfect for securing your bag…if it fits. In this case, you want to search for a bag with a flexible material that allows you to pack it under the cords. Most of these dry bag sacks use thin, lightweight nylon to hold and pack your contents safely.
Backpacking
No one wants to be Sisyphus by carrying a massive burden over their shoulders, so a heavy backpack with excess padding should definitely be on your list. There are many models out there with a weight of only a couple of ounces and small enough when folded to be put in your bag while still having enough padding to serve as something more of a PVC bag over your valuables.
Traveling
Best travelers know that comfort is the thing you shouldn't give it up for anything. Another thing is that your backpack will encounter a severe amount of wear and tear from being thrown from buses to airports and back on you. Extremely durable material is a must and combined with the best padding, you have the recipe for the perfect travel dry bag.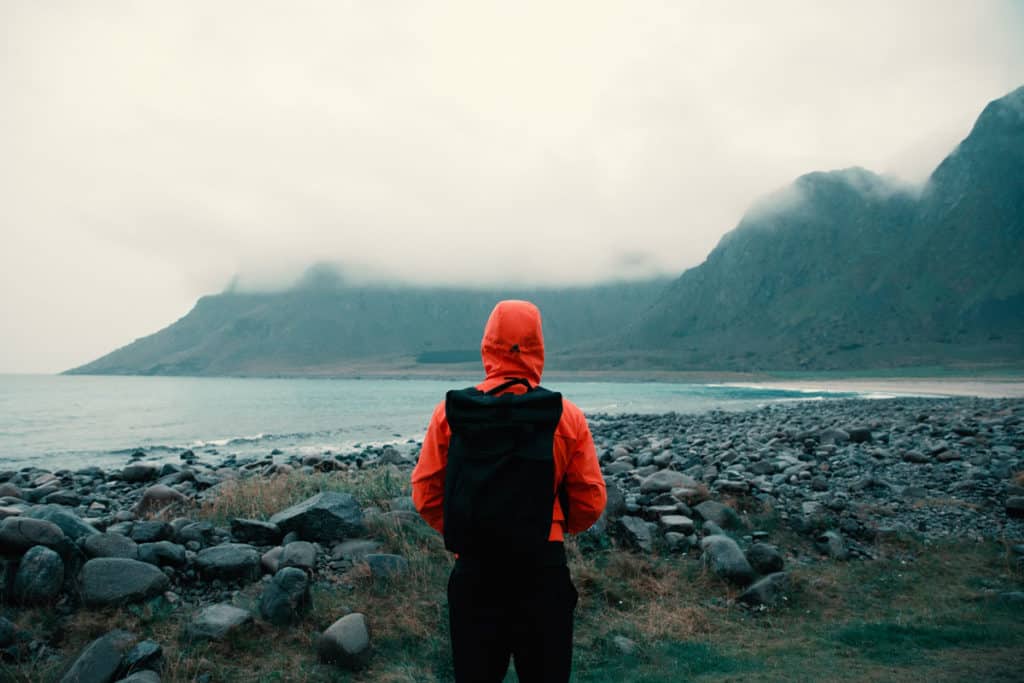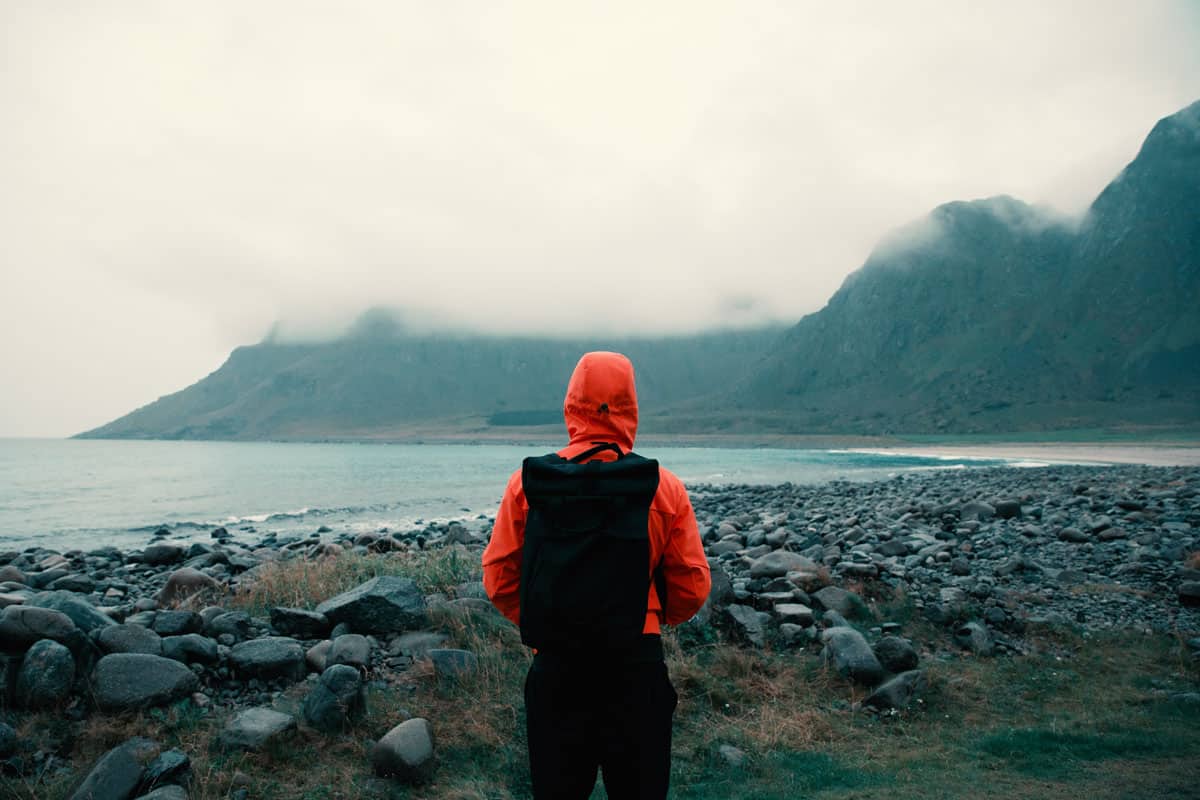 Trip Length
Once you have established the type and location, you should get into the equation of the length of your trip. Because while a small dry bag may be the best companion for a short walk in the forest, you will need something a lot bigger for a weekend family getaway trip.
Material
Something else which is vital to consider is the material that your bag is made of because the factors are directly affected by it. It's weight, size, and durability. All of this is determined by what the manufacturers choose to use.
The best dry bags are usually made of two common material options, which are vinyl and nylon. The vinyl material is better known for its excellent durability, usually stiff and heavy, suitable for things like a camera that needs to be well-protected.
On the other hand, if you prefer a lightweight and flexible dry bag, you should choose dry bags made of nylon. This material is not so durable, but it has weight-saving benefits combined with the fact that it's easily collapsible, making it the more practical and comfortable choice.
Size
When buying your dry bag, size should come at some time, too, because you have an extensive range of choices, coming from the small but sizable 5 liters to the enormous 70 liters, so you aren't left without options when it comes to capacity.
If you are using it just to put your smartphone and valuables in, usually a smaller capacity won't be of such an issue, but if you want to put all of your junk into the bag, you will need to search for something more sizable.
Twenty liters will be almost enough capacity all of the time, and if you have all of your clothes packets together nicely, you will have even more room. Also, if you do need more space, you can always buy additional dry bags for even more storage at a fraction of the price of a bigger capacity bag.
Straps
If you plan to carry your dry bag apart from your backpack or rucksack, you will want a pair of compression straps so you don't carry the dry bag around like a balloon. They allow hands-free movement and a massive bump in comfortability.
Some dry bags have just a single shoulder strap, but others have straps that split into dedicated backpack ones. There are even models out there that have padded insides, so your shoulders won't experience such pain if you need to carry the bag for a long time.
Closure
Dry bags have several different types of closures. The most common one is a roll-top, which closes the opening and buckles and secures it to keep water from getting in. This closure mechanism is the best to keep water out and even creates a little handle on the top of the bag.
However, there are also dry bags with a zipper top, which works fine, but it isn't as dependable as an air and watertight roll top. Besides just the top closure, the best dry bags will have fully taped seams that keep water from seeping in from the outside. This is something you will need to search and check for before purchasing as it makes the most dependable dry bag because closure isn't something that you want to cut corners from.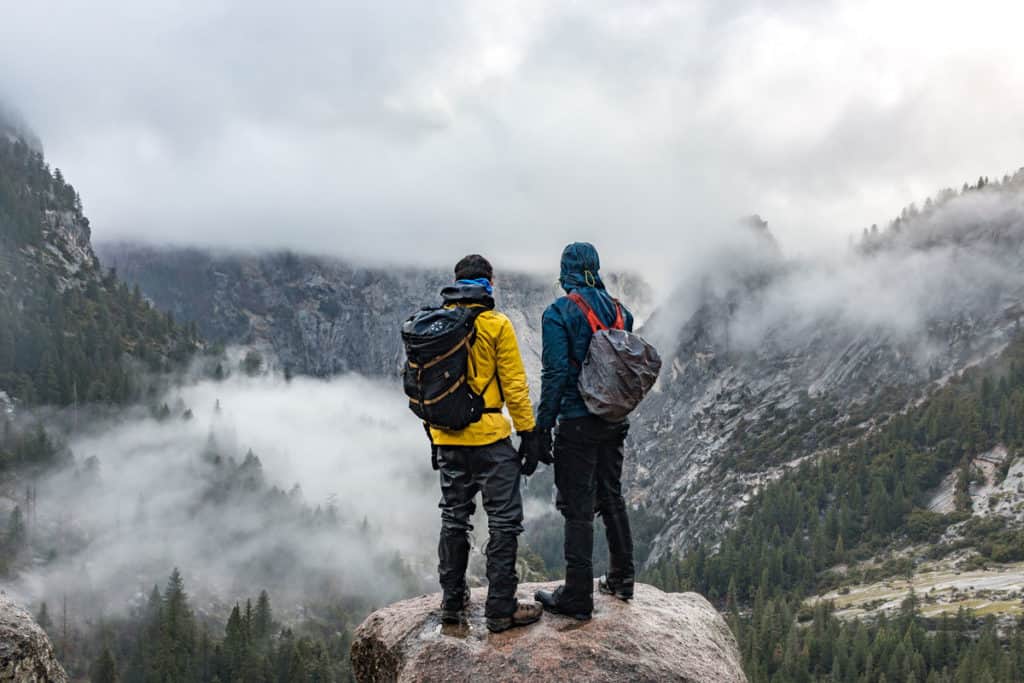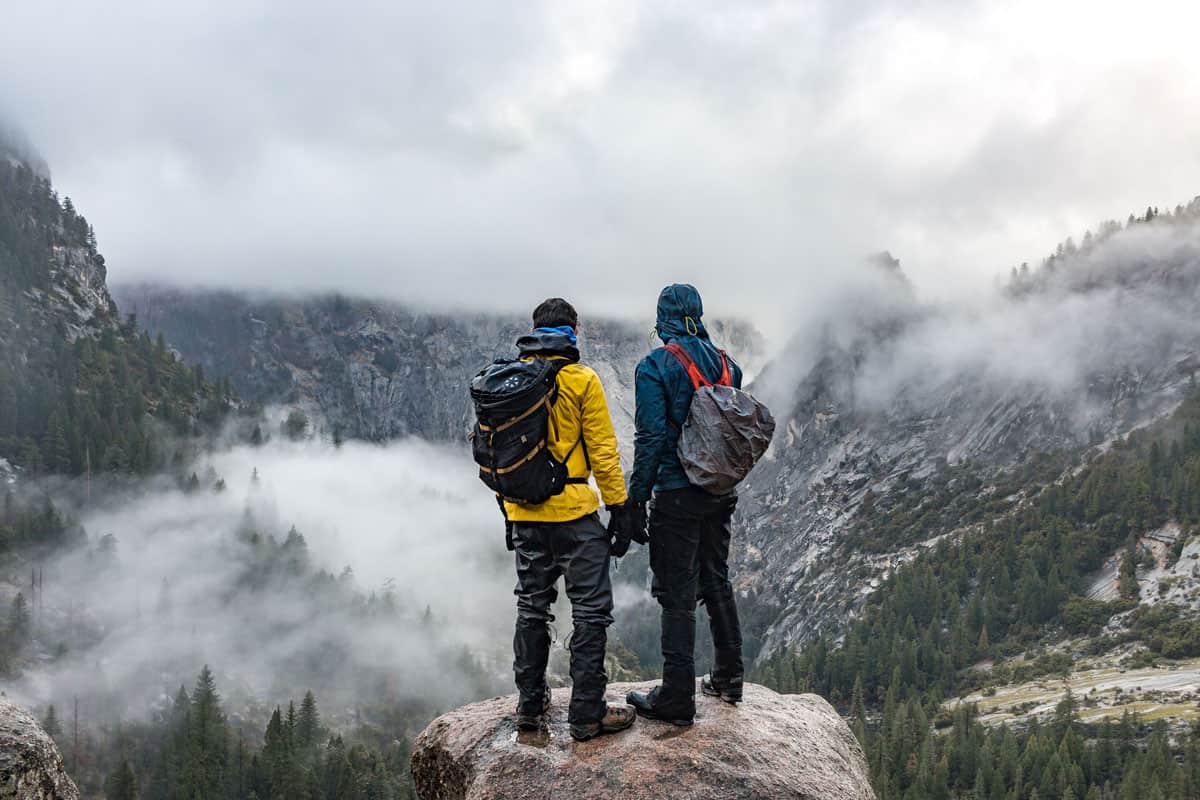 Packing Your Gear
Now we are getting fully into more specific stuff, the nitty-gritty of the world of dry bags. If you are planning on actually using your dry bag, you need to think about what you are going to be putting into it.
Clothes & Towels
Linens are the most versatile items to pack as they are unbreakable and can easily pack into different shapes and sizes. Almost any dry bag will do the job just perfectly here, though there are some exceptions. Down and other lining materials are a crucial point in every winter jacket, but by their nature, they can be folded and packed into more cramped spaces, so bringing another coat wouldn't be so much of a problem.
Gear
Gear or any other type of equipment usually has strange shapes or sharp edges, so if you want your bag to survive when going with it on a camping trip, pick a more lined and durable one.
Electronics
Camera gear, computers, and other electronics are likely the most valuable things you will carry with you, but they are also most affected by water. In that case, the only viable option is a fully waterproof and heavily padded bag.
Extra Features
Besides just being a dry bag, your one can have some additional features.
Keep your eyes peeled for dry bags with pockets or compartments, extra padding for your tech or valuables, convenient compression straps, and a point of attachment on the outside. Though they are great things to have, they aren't necessary.
Types of Dry Bags
All of the dry bags can be put into general categories, so here I'm going to list one of them.
Barrel Roll-Top Dry Bags
Barrel Roll-Top is the most common kind of dry bag and also the most versatile and easy-to-use model out there.
A barrel-shaped dry bag is typically a long cylinder with an opening at the top and buckles to close it securely. To seal the dry bag, you put the open end together, roll it down, and then secure it with the clips. This will give a tight water seal closure, protecting anything inside from moisture.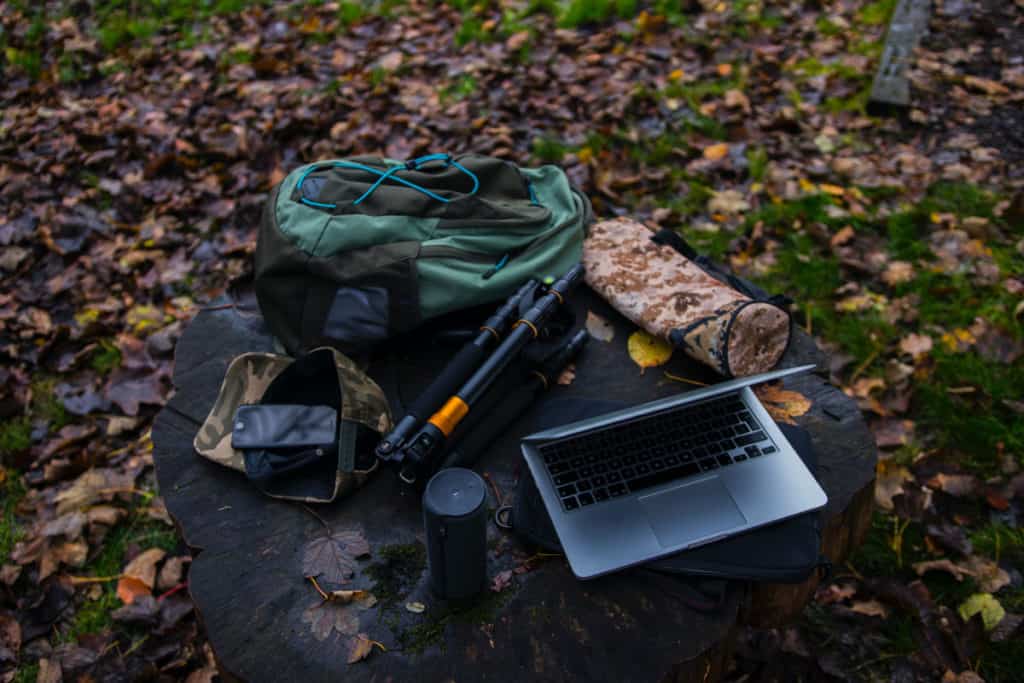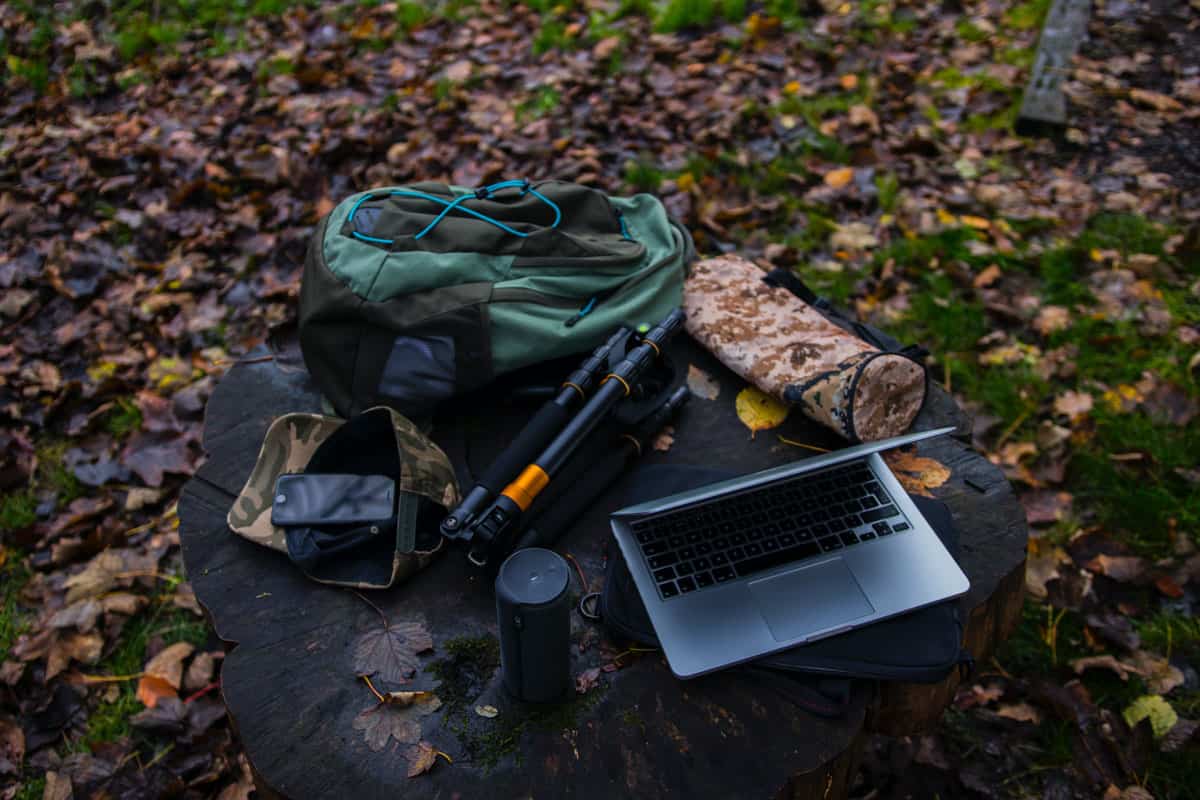 Camera Dry Bag
A camera dry bag is a must-have if you'll be in unpredictable weather conditions with your expensive DSLR.
These come in two shapes: the first is a classic roll-top dry bag that is slightly tapered at the bottom to fit your DSLR and other gear snugly. The second is a particular waterproof casing that goes around the camera, so you can use it while it's being protected against the elements.
Phone Dry Bag
Finally, to keep your phone nice and dry, you can always use a special dry pouch to protect it.
These dry bags encase your phone and seal at the top but are made of clear material so that you can still access the touchscreen, even if it's wrapped up. Some of them also have neck straps, so you can always carry them near you.
What Else Can You Do With A Dry Bag?
There are many additional uses for a dry bag besides keeping your gear dry. You may be surprised, but a simple nylon bag can be as multifunctional as any other tool in your arsenal, asking as you know how to use it properly.
One of the things you can use it for is a cooler. That's because the bag can not only keep water out, but it can also keep it in, in addition to its cooler temperature. So you feel it with ice, and you have a self-made cooler.
Because of the density and lightweight of the material used in most dry bags, if you fill them with air, you can use them as a float in emergency cases.
This may be one of the more apparent options out there, but if you feel the bag with enough soft clothes, you can use it as a makeshift pillow when you want to lay somewhere to rest.
Final Words
Suffice it to say nature is one of the greatest things on our planet and one of the worst, too, because, well, it's unpredictable. And in the event of a flood or even if a rainstorm traps you under the terror of moisture getting in your most valuable possessions, you will need a dry bag, dry sacks, or dry backpacks, but no matter in what form they are, a least one or preferably a set of dry containment units should be present in everyone's adventure and survival gear.
Dry bags can be a live saver, with their multipurpose features and durable, tried, and true design, they will never let your stuff get wet, no matter what.
And above, we have really looked at some amazing products, with each having its own distinct design, ranging from expensive airtight sealed dry bags to just a simple set of splash-proof nylon bags.
Keeping important gear that doesn't like water, such as layers, snacks, and car keys, away from it and securely stowed is an essential part of keeping your valuables safe. Nothing can grind your gears like crawling into a wet sleeping bag after a long day of rafting down the river during your winter trip to Colorado or returning to your car after a long day of fishing on the lake to find that your car keys aren't working.
And here comes the importance of the dry bag, which may not seem like a must-have at first, but after those examples, I mentioned you might think differently. These products offer protection from the elements, so your gear will be dry as bones. You don't want anything to happen to your valuables in the event of a flood, do you?
They come in all shapes and sizes, so there will undoubtedly be a model out there with the features you need for your favorite activity. First, you need to think about to what extent said the activity is affected by moisture.
That means that you should thoroughly consider what level of waterproofness you desire, what type of gear you plan to carry in it, and the utility of any special features. So let's go through the list that I've put out for you, detailing why you should use a dry bag, what you need to look for in a good one, and what are the best ones out on the market right now.