When you're putting together an EDC survival kit, a lighter is one of the essentials. It can be used to light things up, cut something with or simply a multi-tool for everything else. This everyday carry can come in handy with your outdoor adventures and daily activities.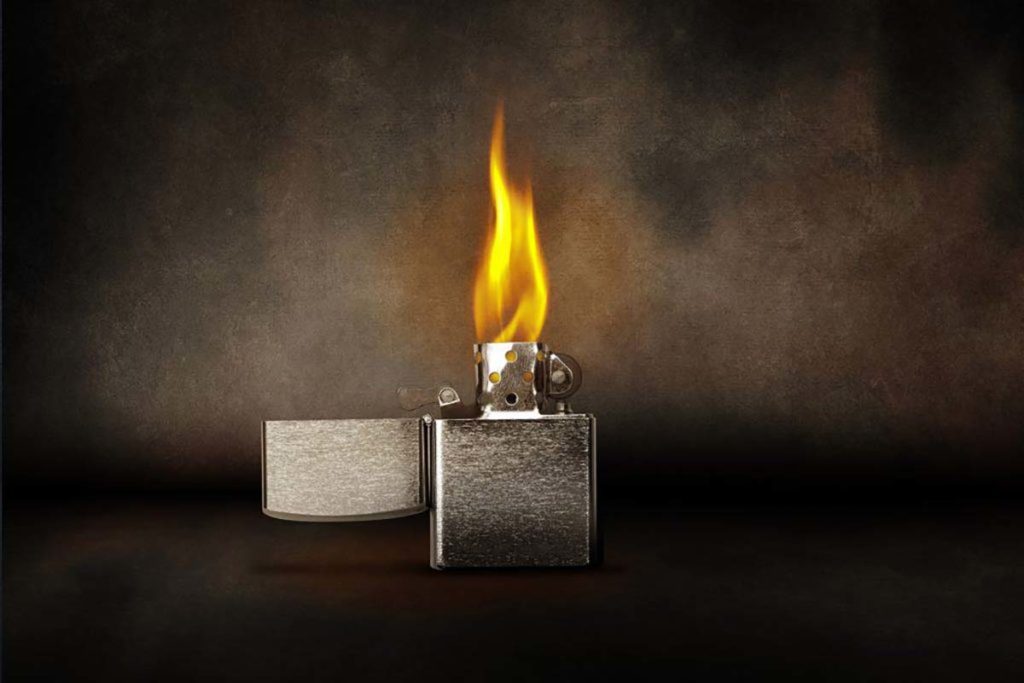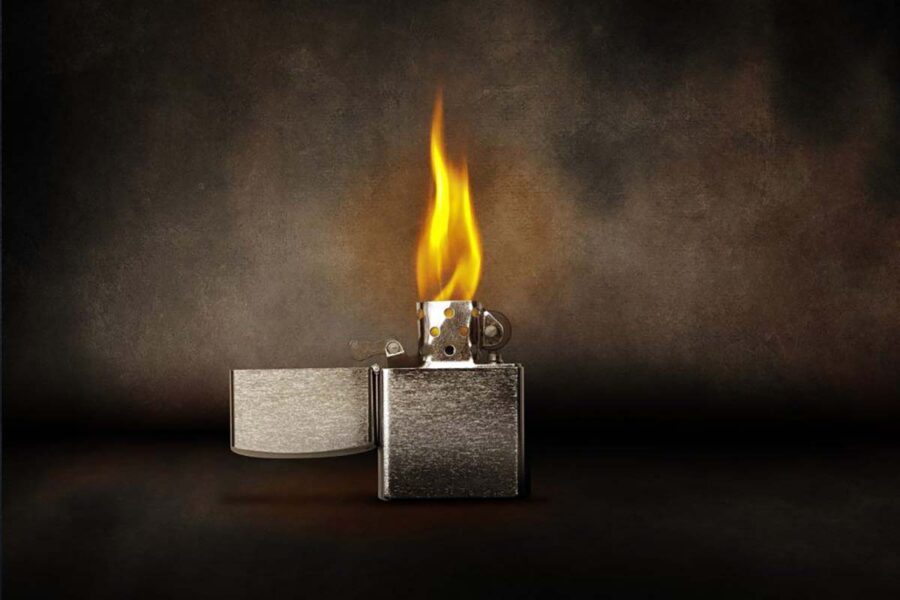 How To Choose Your Lighter?
When choosing the best EDC lighter you need to consider several things such as type, size, power source and durability. The lighter you pick should be lightweight and easy to carry.
Deciding on the type of lighter can be hard but each one has their own advantages and disadvantages. What will you use it for is the first question you have to answer since there are all sorts of lighters like torch ones, plasma, electricity etc. Do you want the flame to be hot or soft? Do you need the lighter to be windproof?
Lighters can work with fluids, butane and even batteries letting you choose the one that works for you. Something you should always have in mind is the lighters durability and if you're using one that needs wick and flints, carrying extra is a great idea.
What Are The Best EDC Lighters?
From expended gas-release mechanisms to waterproof and wind-resistant capabilities, there's one ideal lighter for every situation and each person. We've tested 23 different lighters for over five weeks to be able to introduce you to the 10 Best EDC lighters. If you want to find out more, continue reading this article.
As one of the most popular brands in the world BIC offers affordable long-lasting lighters that come in a wide variety of vibrant colors and designs, making it easy to express personal style and mood at any time!
Each and every lighter is safe and reliable offering up to two times the lights than the next leading brand on the market. All BIC pocket lighters have passed more than 50 strict individual quality and safety inspections so that every BIC lighter can meet and exceed the lighter safety standards.
Furthermore, each lighter is child-resistant, providing a steady flame which is safe even when used at a 45 degree angle. Whether you're lighting a cigar or staying prepared during an emergency, these low-priced lighters will never leave you caught without a light. With so many colors and designs to choose from, it's easy to find a BIC Classic Lighter for wherever life takes you!
Features:
Long lasting
Pure isobutene fuel
Child-resistant
Introduced in 1982 these brass lighters continue to be one of Zippo's most popular lighter collections with a wide array of styles, sizes, and designs to choose from. We can safely say that today Zippo is the most popular lighter brand in the world with its distinctive "click". Having an all metal construction this windproof design works virtually anywhere at any time making it the best option for us without a doubt.
This timeless beauty is refillable and the brand recommends the use of their own fluids, flints and wicks for better compatibility and optimum performance. Zippo's come with a lifetime guarantee that showcases the quality of each lighter.
Something else to consider when purchasing a Zippo is the Zippo Fuel Canister made out of high-quality aluminum. This reusable personal-sized canister holds enough fuel to fill one Zippo windproof lighter and includes swivel snap fastener, split ring for keys, disk to tighten and loosen flint screw, and rubber storage sleeve for one extra flint. With the fuel canister, you'll always be prepared for any situation that comes your way.
Features:
Strong metal body
Refillable
Wind resistant
Lifetime warranty
Ronson is a worldwide cigarette lighter manufacture company that uses Japanese craftsmanship in this oil lighter. This beautifully designed everyday carry is made out of solid brass with a soft metal hand feel creating an upscale product that exceeds all expectations.
The Ronson Standard showcases the latest technology and superior industrial design that one wants and needs. This extravagant lighter has and adjustable flame and is petrol fluid refilled. It comes with a two year guarantee displaying the quality and style this product presents.
If you want to pick an elegant gift for your loved ones or simply have the need to splurge on something elegant and useful you don't have to look any longer.
Features:
Petrol fluid refillable
Solid Brass
Adjustable flame
2 years guarantee
Throw away your flimsy gas lighters in the garbage and make way for the flameless innovation that is the TG Plasma Lighter. Unlike flames that easily blow out, this technology lets you operate despite harsh winds and heavy storms. Its durable, waterproof, silicone casing adds the ability to withstand severe weather conditions because of its built-in short circuit protection system.
This handy everyday carry uses an electric dual-arc to set flammable objects ablaze and with a full charge, you'll be set for 300 uses. All you have to do is charge it and you'll be able to incorporate it into any EDC survival kit. It comes with a lithium polymer battery that lasts long but only needs two hours to charge. Whether you're smoking a cigarette or hiking in great outdoors, this Plasma lighter will prove itself indispensable and irreplaceable.
Features:
Flameless lighter
Water & windproof
Rechargeable
Lithium battery
Locking mechanism
Circuit protection
The PPFISH mini lighter is made of solid brass creating a sturdy and durable body. It includes the capsule lighter its self, two waterproof O-rings, six flints and a wick. You can easily replace the flints and wick yourself but keep in mind that this lighter isn't a long lasting one.
With an attached hanging ring to it, it's convenient to put it on your keychain for quick and easy access. This inexpensive product comes without fuel due to postal regulations. You can order this product with a spare fluid container which can make it an affective item in a survival kit. Even though this brass lighter might not be of the highest quality it's affordable and easy to use.
Features:
Solid brass
Waterproof
Top hanging ring
6 flints
1 wick
This compact, portable kerosene lighter has a solid brass body that can easily fit into your coin pocket or wallet. The guard on this lighter is adjustable, letting it slide up and down making it windproof and useful in the outdoors. This Honest Wheel trench style lighter can hold fuel for many days and the bottom has an oil filler, which can open with a coin without any leakage.
It lights on the first strike each and every time because it's spring-loaded so you get a positive and consistent spark when you flip it open. Having a cover to protect the wick and help to prevent fuel evaporation helps the lighters functionality with a great vintage look to go with it.
Features:
Solid brass
Trench style
Spring-loaded
Wind resistant
Kerosene lighter
With a sleek shaped metal body this Turbo Dual Jet Flame lighter has a good feeling in your hand making it a choice to acknowledge for your everyday carry. The torch lighter comes with a fold-out punch cutter and a fuel level window.
Its butane refillable and flame height adjustable but it doesn't come filled with fuel due to mailing regulations. This Turbo lighter has a super powerful flame and a large base allowing it work easily in severe weather conditions making it wind resistant while keeping an effective and hot flame. The torch lighter is incredibly strong, so it's prohibited to face your body or any other inflammable objects.
Features:
Refillable butane lighter
Sleek metal body
Double jet flame
Wind resistant
Fold-out punch cutter
This alloy torch lighter comes with a powerful blue flame, all you have to do is push down the switch and it will light in seconds. The jet flame heats up quickly allowing the gas output adjustment at the bottom to control the flame. It's also refillable but butane is not included due to restrictions, which should never stop you since this lighter works with the most common butane refills.
Coming with a built in punch cutter at the bottom to punch and light your stick together effortlessly this versatile lighter has all the necessary functions while maintaining a sleek design. This refined option can survive in your everyday windy conditions making it 100% wind resistant. Not only that but this lighter comes with a one year quality guarantee.
Features:
Zine alloy body
Gas output adjustment
Refillable
Wind resistant
Punch cutter
This Wenger lighter is made out of strong and impact resistant polycarbonate material with a rubberized finish for a better grip. Featuring a piezoelectric ignition this unique lighter allows an air mixture into the fuel before ignition eliminating the need for batteries or flints. The Asterion lighter will never let you down, even in the most demanding outdoor conditions because it produces an ultra-hot, powerful blue flame that works at high altitudes and in windy and wet conditions.
This everyday carry is an ergonomically shaped high precision lighter that's refillable, comes with a flame level window and an adjustable flame regulator. Wenger has created a single-action ignition technology making this jet flame lighter a refined option with a safety lock system.
Features:
Piezoelectric ignition
Impact resistant polycarbonate body
Refillable butane gas fuel
Adjustable flame regulator
Colibri Enterprise lighter has a slim, classic and timeless design. This EDC product has a single-action ignition system that gets rid of the need to use flints and batteries for lighters. Coming with a stainless steel cutter punch that punches and lights your stick at the same time this elegant lighter has a triple jet flame.
The lighter is refillable using the Colibri premium butane and it's also wind resistant making it suitable for the outdoors. London lighters carry one year manufacturer warranty as well. Check this lighter out if you are looking for a classic option for a more formal look for your everyday carry.
Features:
Triple jet flame
Wind resistant
Stainless steel punch
Single-action ignition
Refillable butane
Frequently Asked Questions
What type of EDC lighters are there?
Nowadays there are unbelievable amounts of lighters on the market but we can systematize in five distinctive types: Zippo lighters, Butane lighters, Windproof lighters, Plasma lighters and Electric lighters.
Zippo has been the brand to beat for decades with the high quality lighters they create and the reliability they offer with a lifetime guarantee. Butanes are highly flammable making them suitable for emergency situations with its long lasting flames.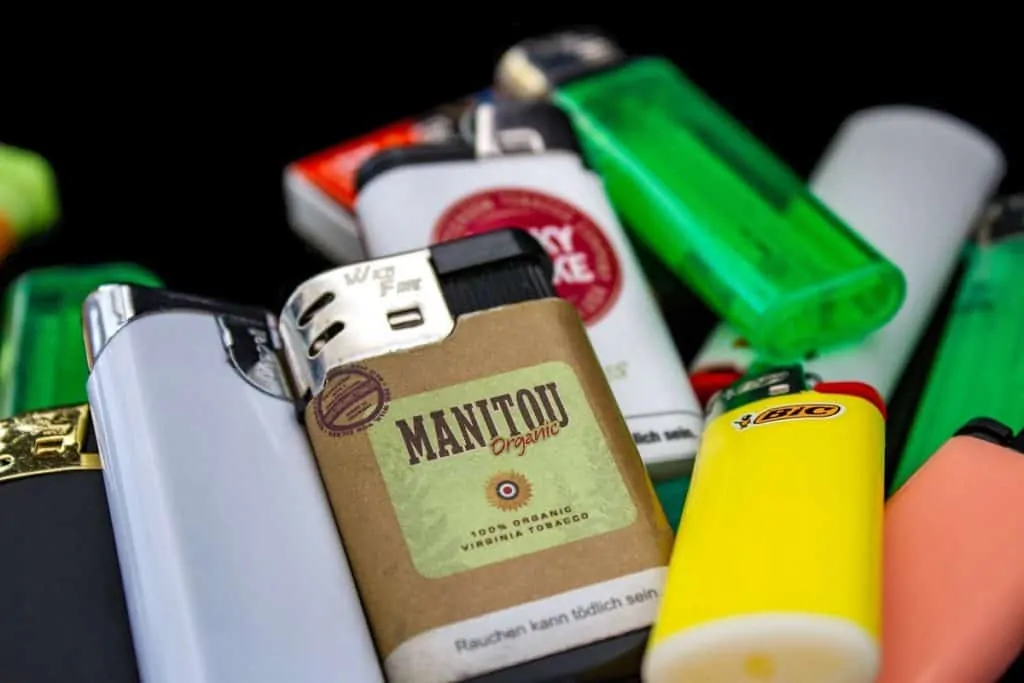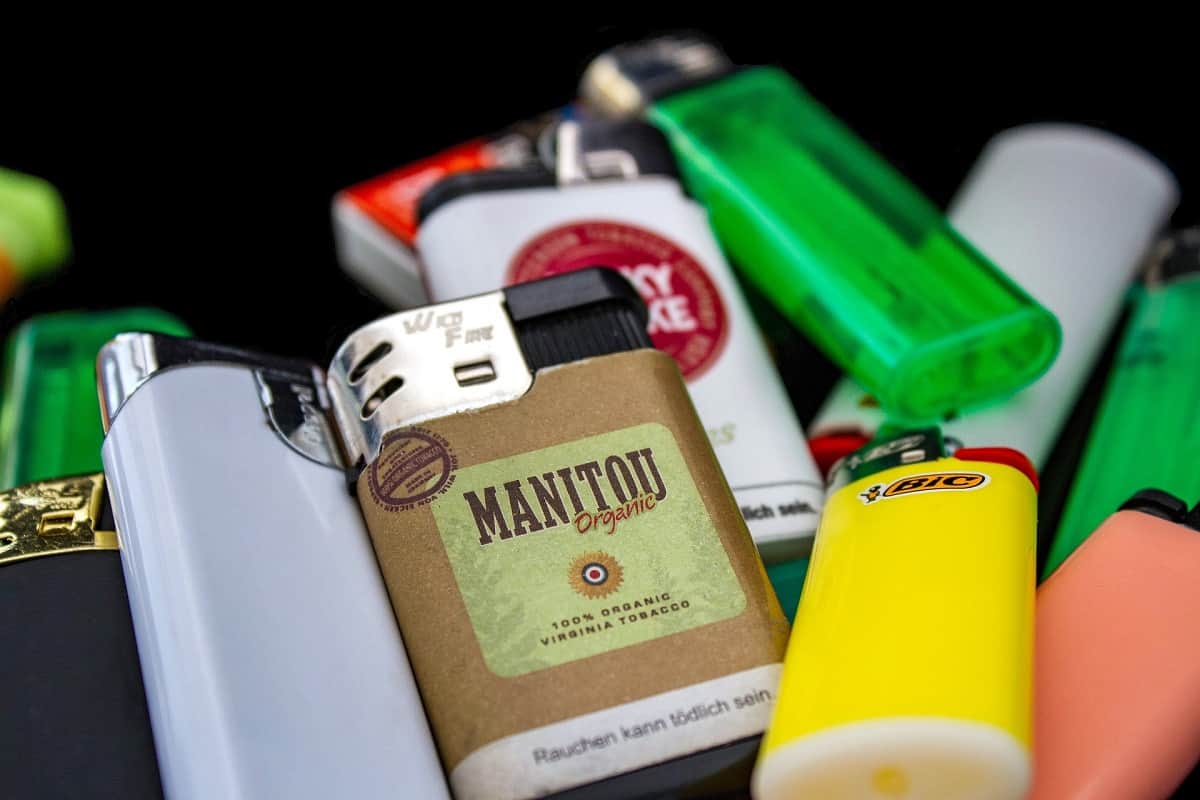 Next are the Windproof lighters that can withstand wind blows which is ideal for the outdoors. Plasma lighters are the new hit with a battery that produces flames instantly without requiring any fuel. Last but not least are the Electric lighters that are powered by batteries which are wind and splash-proof. What do you prefer? A lighter that uses batteries or fuel, or maybe plasma's your thing?
Are there any gassless Lighters?
If you're someone that dislikes gas lighters there are a few other options to consider. One of them are Plasma lighters that are a flameless innovation created with science. They are durable and long lasting.
Another option are the Electric lighters that work on batteries and can be easily recharged or replaced.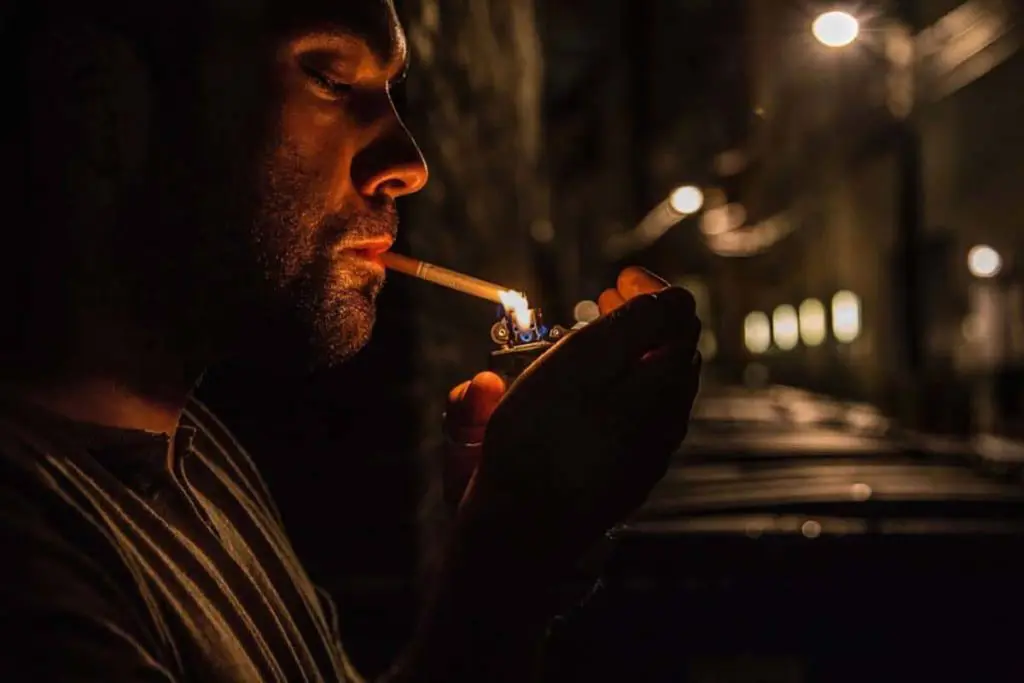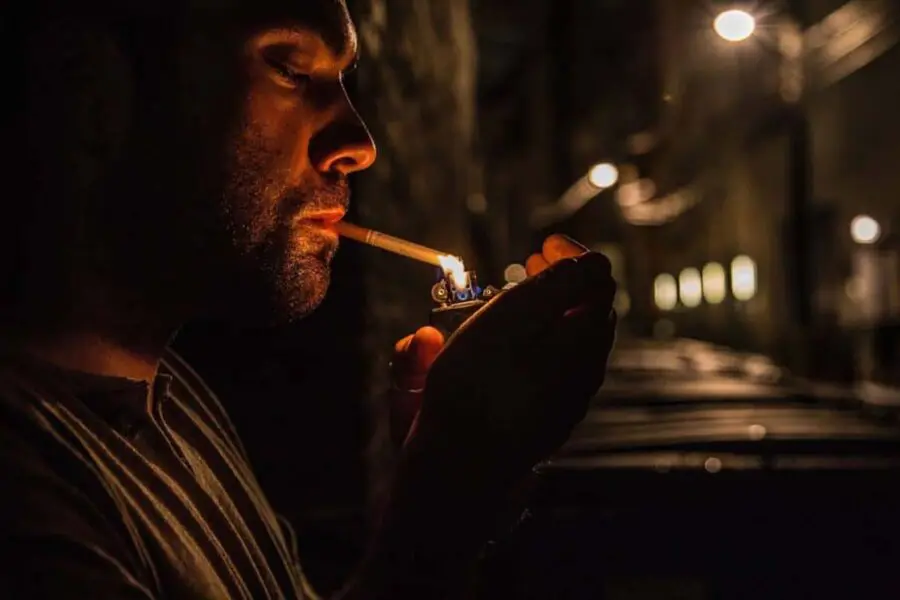 Final Words
Lighters are a necessity in our day to day routine that can also save our lives in extreme situations. Choosing the appropriate lighter can be crucial to your survival and even though people try to trust inexpensive Chinese lighters, brands like Zippo and Ronson will always stay at the top with their high quality, reliable products.
We hope that this article helped you decide what best suits your needs, but if you have any questions or suggestions we would love to hear them in the comments below.