Premium Choice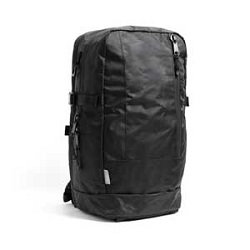 DAYPACK – RND Edition
Our Choice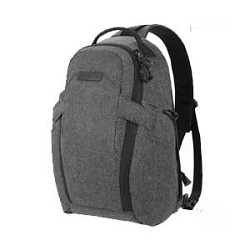 Entity 16™ CCW
Budget Choice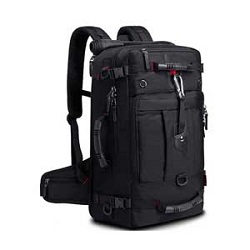 KAKA 35l
EDC literally stands for everyday carry. The abbreviation refers to items that you carry with you on a daily basis, be it to work, college, or the mountains. This is an individual thing, so one backpack has to fit all your EDC items. Make sure the bag you want to get has space for your daily necessities. If that is a laptop, it should have a proper laptop sleeve. If you are always listening to music, look for a headphone port. If you are carrying files, folders, and dozens of pens, look for multiple compartments and organizer panels.
How To Choose Your Next EDC Laptop Backpack?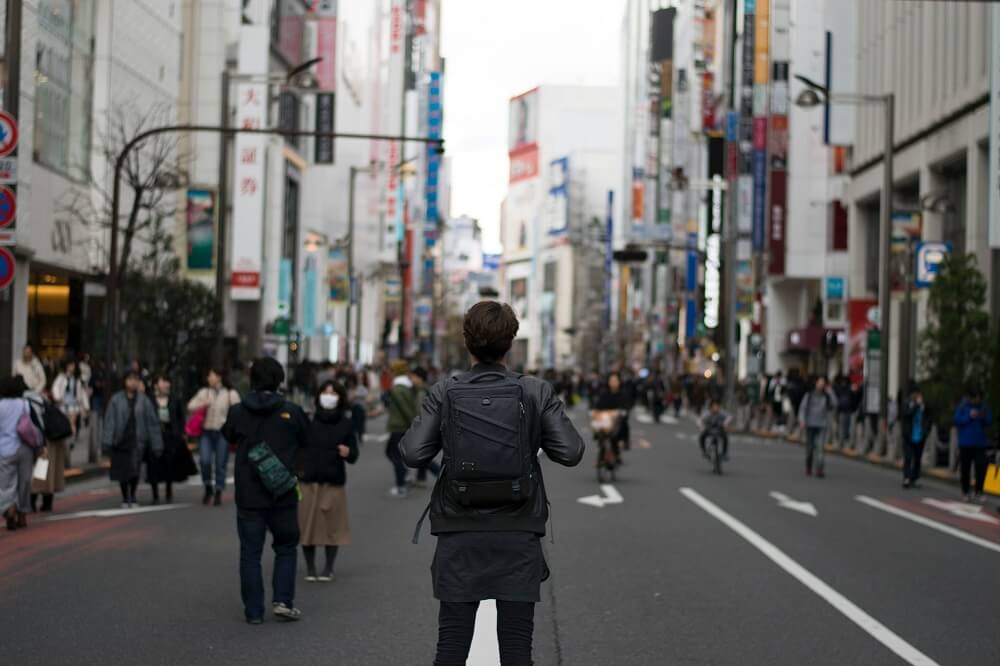 Size and Capacity
To figure out which size you need, first, you have to answer one simple question: How many items do you carry around daily? This is going to determine the size of the backpack you need. If it is usually a laptop, charge, wallet, and a few other essentials, then you do not need a huge backpack. In that case, make sure that the backpack you like is big enough to fit your laptop.
If you tend to carry around a lot of items every day, then you will need something pretty big that can fit all of your belongings. It would be best to be something with multiple compartments since this makes organizing your EDC items very simple.
Price Range
Backpacks cost anywhere from $30 to well over a few hundred dollars. So, before you fall in love with a bag that you can't afford, look at the pros/cons section. If the bag is around or under $50, the pro box will say that it's affordable. And if a backpack is well over $100, the con box with say that it's pricey. This way, you have an idea of what sort of price range every backpack is in.
However, keep in mind that the really cheap backpacks are never going to be as durable as the pricey ones. If you want a bag that you can use for years, then go with something a bit more expensive. If you are okay with having to replace your bag after a year or less of everyday use, then check out the cheaper options.
Comfort
Your everyday carry laptop/ tablet bag should allow you to run with it if the situation calls for it. Try to imagine the exact way in which you will hold your bag as you are running, this is the key to figure out which model you need. You have three choices: wearing it on your back, shoulder, or holding on to it.
What Are The Best EDC Laptop Backpacks On The Market Today?
1. Entity 16™ CCW-Enabled Sling Bag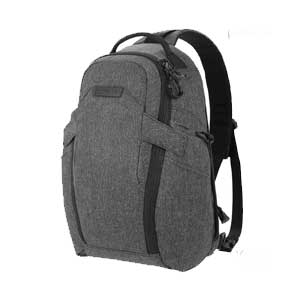 1. Detachable Drawbridge Straps
2. Spacious Interior
3. Multiple Compartments
4. CCW Compartment
This Spring 2018 module is one of the products the designers are most proud of. Starting with a description from the front- the backpack has detachable and concealable drawbridge straps in case you only want to quickly throw something inside. The spacious interior has many compartments and a loop-lined interior wall for hook-backed accessories. For quick closure, you can use the tuckable magnetic wings. Moving to the backside of the backpack, you will find a lockable padded compartment for your laptop.
The design consists of easily accessible side pockets proper for any sort of gear. Of course, the comfortable rucksack could not go without a slip pocket for fitting your bottle of water, and dual side media ports for earpiece or charging cables. The removable waist belt has a quick release buckle and adjustable sternum straps. You also have a CCW compartment with a security lockout strip (best place to keep your self-defense gun). Most times the equipment is pretty heavy, that is when you pull out your trolly handle.
2. Victorinox Altmont Backpack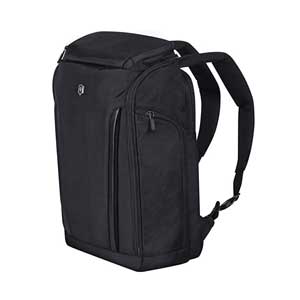 1. Lockable Laptop Slot
2. Multiple Divided Compartments
3. Comfortable Straps
4. Swiss Durability
No matter what the day might bring up, the Polyester "Victorinox Altmont Professional Fliptop" is always prepared with a variety of storage pockets. Its added rear compartment with lockable zippers can protect up to a 15-inch laptop or tablet.
The main section features a file divider, two storage slots, two pen areas, card slots, and two stretch mesh side pockets. You can also see an additional hanging essential organizer, featuring a series of pockets, storage slots, and accessory loops that can be removed and hung near a desk or work space and folds to a compact tri-fold form for usage without the bag. The exterior features two vertical-zip front pockets.
One of which containing a bottle opener, two multi-purpose zip-away side pockets, and a top pocket containing three mesh storage slots, and a key fob. The terrific module has added back panels and padded, adjustable shoulder straps for maximum comfort as well as a rear sleeve slides over the handle system of wheeled luggage making the traveling with multiple bags easy.
3. TIMBUK2 Authority Laptop Backpack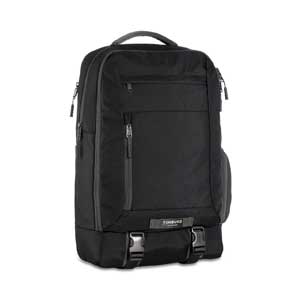 1. Supremely Organized
2. Up to 17″ Laptops
3. Rear Access Pocket
4. Bottom Compression Straps
The authority pack is a supremely organized monster of a work pack, optimized for your daily commute. It keeps everything organized with its interior pocket that fits most 15″ to 17″ laptops, and with the internal organizer for pens, phones, and other small gadgets.
There is a large main compartment for books, a jacket, or other carry-on essentials. The always wanted side stretch pocket for water bottles is also on point. "Tilbuk2" has some clever extras like the rear access to laptop pocket keeping your device protected while giving more space in the main compartment for other things, bottom compression straps for cinching, and grab handles for easy lifting. The extraordinary backpack even has an in-pocket key keeper.
4. Thule Paramount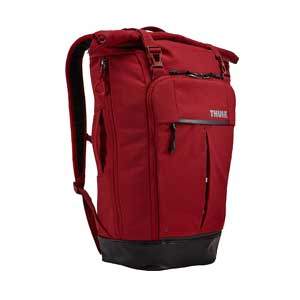 1. Rolltop Pack
2. Dual-Density Laptop Sleeve
3. Dual Access Compartment
4. Cool Color & Design
"Thule Paramount is a durable, rolltop pack. It is designed for city life with the best electronics protection, and multi-access points to easily grab belongings while on the go. There is a dual-density laptop sleeve with secure flap closure and safe edge construction for superior corner protection, and protective slip pocket for tablet with soft interior lining.
You have two-way access to the laptop or tablet- through the top-loading compartment or the side zipper. The padded valuables pocket will protect your sunglasses or and phone. The roll-top compartment has expandable volume and multiple access points. Most importantly your minicomputer compartment dimension can reach up to 9.8 x 0.9 x 14.3.
5. Flight Pack 2 Black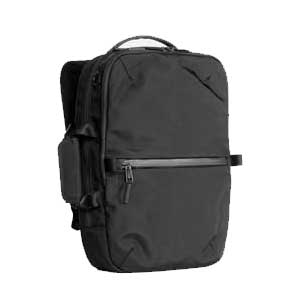 1. Convertible Backpack
2. Backpack/Shoulder/Brief Handles
3. Ultra Durable
4. Water Resistant
Flight Pack 2 is a convertible backpack remarkably convenient for work travels. Its clever design allows you to comfortably carry it as a backpack (for traveling), a shoulder bag, or a brief with handles (for work meetings). When using your backpack, the second two ways, you can hide the ergonomic straps for a clean look. It even has a luggage pass-through for convenient carry!
Multiple pockets for your daily essentials keep your belongings organized and ready to work on the go. The smart organization compartment has a special place for pens, cameras, headphones, and so on. You have quick access top pocket for travel documents so you do not have to go over the whole bag to find your passport.
A spacious main compartment fits all your work essentials, while on the side you have got an extendable pocket for either a bottle or an umbrella. Traveling while it is raining will not be an issue for you thanks to the ultra-durable, water-resistant nylon exterior. The unique design is large enough fit all your items and comfortable enough to carry around with its measures- length: 18″; width: 12″; depth: 5″.
6. Rover Pack – Premium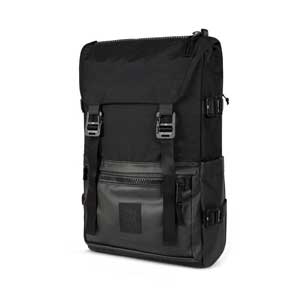 1. Two Exterior Zipper Compartments
2. Dual Latter Lock Buckle Closures
3. Padded Straps
4. Sharp Design
The bag features two expandable water bottle pockets, as well as compression straps with custom heavy-duty hardware. The backpack has two exterior zipper compartments- one on the top, which includes a key clip, and one on the base, which includes two interior slip-in pockets.
There are dual latter lock buckle closures and there is a cinch at the top. There is an internal laptop sleeve, willing to fit a 15-inch laptop. As expected, the back of the bag has padded straps, as well as a sternum clip to reinforce support. You can carry the bag by the handle if you prefer, where you will find the pack fast travel bag attachment loops.
7. KAKA 35l Travel Backpack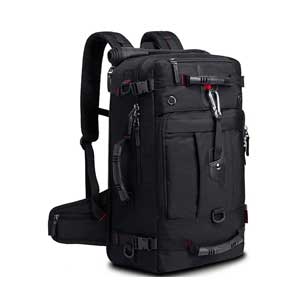 1. Тerylene Оxford Fabric
2. Soft Decompression Foam Straps
3. Multiple Carrying Options
4. Multiple Compartments
Although this item is more accessible to people, that does not make it less than the others. This durable, anti-theft, water-resistant, scratch-resistant, professional design travel bag is made with high-quality terylene oxford fabric. It has straps with high-density and soft decompression foam for your comfort.
The backpack has large compartments with a total of 10 pockets: One main zipped pocket, three front zipped ones, a side mesh area, two small strap pockets, and three in the large front zipped space. It can provide separate space for a computer, iPad, A4 files, a wallet, clothes, power bank, and more of your items.
The laptop compartment dimensions – 18 X 11 X 6 inches fits most models of minicomputers. The bag has many conversions- Backpack/Duffle Bag/Shoulder Bag/Travel Bag and can be used in several different ways. Its back and shoulder straps are made from elastic and breathable materials, to make your journey comfortable rather than burdensome, even if you load a lot of items. The shoulder straps are stable with four ring-shaped loops to hold your belongings and an adjustable waistband.
8. DAYPACK – BLACK DYNEEMA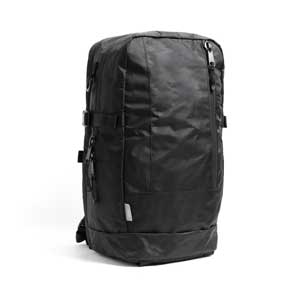 1. Padded Laptop Compartment
2. Internal Water Bottle Pocket
3. Built-In Cord Management System
4. Water-Repelling 5oz Composite Fabric
Designed as a lightweight daily carry bag, this daypack is packed with features while also maintaining a commitment to the essentials. The durable, reliable, and stable bag highlights a padded laptop compartment (up to 15″ devices), laptop sleeve (9.75" x 14.5"), tablet sleeve (9.75 x 8.5"), internal water bottle pocket, a mesh zip pocket, and a built-in cord management system. The exterior features a water-repelling 5oz Dyneema composite fabric and the lining is 410D nylon pack cloth.
9. GORUCK – GR 1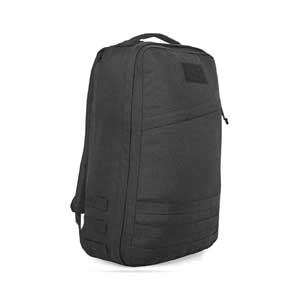 1. Flat Design
2. Extra Padded Straps
3. Military Approved
4. Rain Proof
GR 1 is an original piece of gear and one of the best EDC ever built. It is designed and proven by special forces all over the globe. GR1 has two sizes- 21L and 26L. If you are 6foot and over go with the 26L, if you are under 6 foot and bring only the essentials to your journeys- 21L. So, let's move on to all the features this remarkable backpack has. Starting off with the flat design, making it easy to organize and pack and multiple pockets.
There are extra padded straps to carry heavier loads more comfortably. Special silent zipper pulls are designed, and the laptop compartment is bombproof. A removable, hard plastic frame sheet stabilizes the laptop compartment and allows you to carry more weight comfortably. The designers built a false bottom in the laptop compartment so that when you set your ruck down, your laptop will not even notice.
There is one external slant pocket for quick access to keys snacks and other small items. Three rows of external and internal MOLLE webbing let you customize GR1 how you want. The ruck is highly water-resistant aka rainproof.
10. Incase ICON Slim Backpack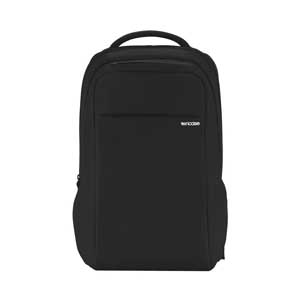 1. High – Tech Design
2. Airflow Designed Padded Straps
3. Adjustable Compartments
4. Comfortable Fit
Building on a heritage of over 15 years in innovation and design, the incase ICON collection is one of the latest evolutions in the mission to create a tech-optimized carrying solution, designed to meet the demands of like-minded creators around the globe. With dedicated compartments for your MacBook, iPad, and iPhone, along with intelligent organization for the essentials, this backpack is designed to handle any situation.
A padded mesh back panel with built-in airflow channels combined with adjustable shoulder straps provides a comfortable fit and stable support while on the move with your gear. We would call it both modern and minimalist.
The ICON pack simplifies storage for your 16-inch MacBook and other essentials with a faux-fur padded sleeve and designated compartments for any of your tech needs. The high sided zippers provide easy access to storage while a front pocket easily holds smaller, loose items.
Frequently Asked Questions
Is it safe to carry a laptop in a backpack?
Never overload your backpack! Although your laptop is protected in your case, damage to your backpack could still cause trouble. Straps can break or come undone, and the bottom of your bag could rip if you put too much weight on it. Never overload and weaken your backpack.
Which material is best for tech bags?
Nylon and polyester are the most popular pack materials. Heavier fabrics like canvas also make durable bags that you will be using for years.
What is the safest way to carry a laptop?
Backpacks have become ubiquitous for day-to-day use. And it is no surprise that if you are carrying around laptops, tablets, phones, water bottles, and all of the other stuff, needed when you travel to the office, cafe, or local park, a backpack is the best way to do so.
Which is better? A backpack or a shoulder bag?
If you are going between the parking lot and your desk, a shoulder bag is fine. Though, for anyone commuting a distance, a backpack would give you more comfort by spreading the weight between both of your shoulders and allowing you to freely use your hands.
Final words
Coming down to only one choice we would recommend the outstanding "Entity 16™ CCW-Enabled EDC Sling Pack" (Review 1). With its many features, incredible magnet closure, and simply the comfort it provides we consider it is the best option for an everyday carry laptop/ tablet bag.
"Kaka travel bag" is also a remarkable backpack, at a super affordable price, and if you are lucky enough to be considered wealthy the: Daypack- RND edition" would be extremely reliable for taking care of your gadget.
Thank you for reading all our tips till the end. We truly hope you find the perfect bag for you, willing to give you the comfort you deserve during your little adventures.