The best camping lantern you could ever want has to be compact, weatherproof, and of course, lightweight for easy carrying. You also want a light that is versatile as well. Not only does it need to provide a light source for the inside of your tent, but it will also help you to find your way through tricky campsite paths at night.
Camping lights have the added benefit of having adjustable light settings. This means you can have camp lighting that is softer for bedtime and brighter if you want to do some reading around the fire.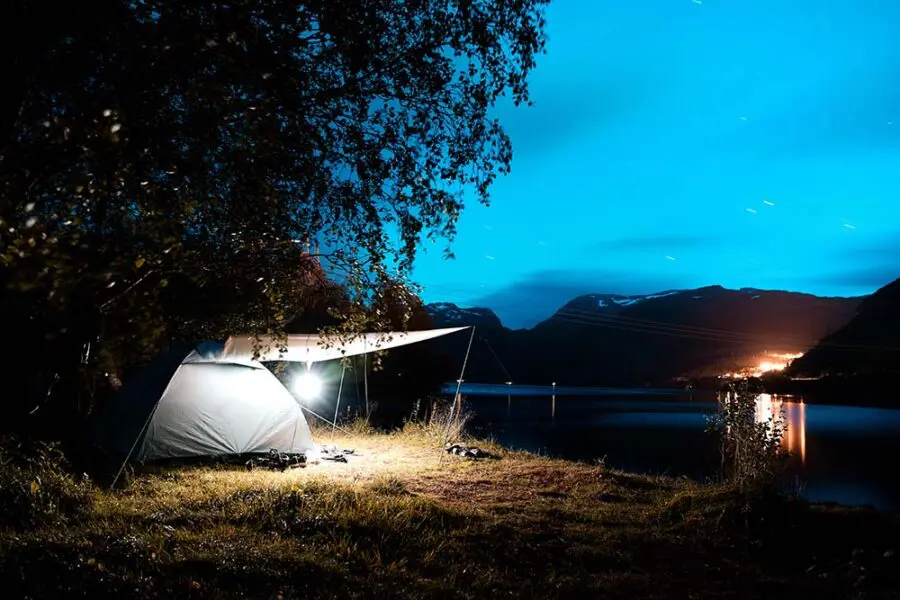 Lucking the old paraffin lamps are a thing of the past, with new rechargeable options being available that are a modern alternative, as well as being extremely lightweight.
As you'll see from the rest of my guide, there is a whole load of different camping lights. So it's important to consider the run time, the weight, and how many lumens the lamp gives off. Read on to find out some of the best options that I use on a regular basis.
1. Streamlight 44941 The Siege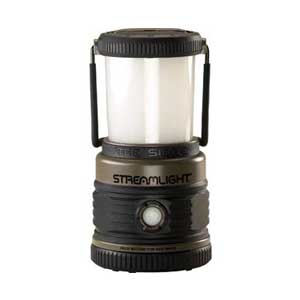 Streamlight The Siege is probably my top pick when it comes to lighting for camping because of how durable and versatile it is. It has a tonne of cool and useful features like red and white led light settings, hooks for easy hanging, magnets, and waterproofness, too. It's an all-around solid and bright light.
The only downfall I found with this one is that it isn't the brightest camping lantern if you are on a camping trip as a larger group. But for a power outage or trip into the wild by yourself, it's a pocketful of power.
I need a light that can withstand heavy use, which is exactly what the Streamlight The Siege does. I like the fact you can hang it up from the bottom of the top and that it's both waterproof and it floats. The magnets are powerful, too, so when it came to grilling in the dark, I could easily attach them to the hood of the barbecue.
Streamlight The Siege Brightness
The cover of the light is made from polycarbonate material, so it's anti-glare. It's also useful to be able to remove the cover when you need an extra bright camping light. On the highest setting, it gives out 200 lumens. The medium setting gives off 100 lumens; the lowest setting delivers 50 lumens.
These are a reasonable output for a small camping lantern, and the highest setting is actually quite bright when you take it outdoors. It's not diffuse, though, so there's a lot of light out the front, but the radius of the camp light isn't as good. I liked that there were multiple settings for lumens because you can take it from in the tent to outdoors with ease.
In total, the number one best camping light takes three AA batteries. It has a burn time of 7 hours on the highest setting, 15.5 on medium, and a huge 37 hours when you have it on the lowest setting.
Streamlight Usability
When it comes to portable lights for camping, aside from needing to have a long runtime and easy-to-source fuel, it also needs to be lightweight and portable as well. I found this item an absolute breeze to use. I like that there are two different light modes which is something new for this kind of compact product. The red light mode is low-power and is best used to provide a dull light. You can also set it to the SOS strobe mode as well by holding down the power button.
With the batteries installed, it still only weighed just over a pound, which is why this item is so high up on the list. The battery-powered lantern stands at 5 1/2 inches tall, and it's only a few inches in diameter as well. It's actually small enough to fit into your coat pocket, so its size-to-brightness ratio gets an excellent rating from me.
Features
There are three different light mode settings – high, medium, and low – and then the SOS strobe emits red flashing light with this one. You can switch between the modes seamlessly by holding down the power button, which I find brilliant so that I don't have to deal with a clunky control panel with loads of buttons.
You can use the handle at the top to hang it from branches or inside your tent too, and it's really sturdy. Another feature I loved with this lantern is something that not a lot of other models provide – a retractable carabiner. This sits at the top and means you can hang it using a rope or cable, which is incredibly helpful for camping.
The outer lid comes off, so you can clean it easily without damaging the rest of the light. It also helps to remove the cover when you want some more concentrated streams of light. The item is waterproof in depths of up to three feet, which it will probably never get to because the whole console floats, which makes it a handy piece of kit to have if you enjoy sailing or fishing.
The power button is actually recessed into the Streamlight itself, so when it gets thrown from side to side during transport, it can't be turned on by accident. Another thing I loved about the power button is that it acts as the battery level indicator as well, changing from green to yellow and then yellow to red when you are about to run out of gas.
The magnets are something I always find useful around the campsite, and I've also used this light as part of my emergency kit in my car as well. Being able to stick the light onto something metal when you need to change a tire keeps your hands free, and you're safe in the knowledge that the magnets are very powerful, so stick strongly to any metal surface you put them in.
Value for Money
So what does a product like this cost to own? It's actually a very affordable item that has been rated highly by many of its users. I thought it would make the best tool not only for camping but for sailing or fishing trips, too, because of its small size and lightweight functionality. The fact that the durability is so sturdy as well is why I think it's one of the best lanterns available out there. I've used it for so many things and only had to change the batteries a handful of times because of the extended battery life.
Pros
This item is the epidemy of a durable piece of gear, with a sturdy metal shell and a waterproof design
It is very feature-rich, with a magnet and a hook aging it easily attachable to anything and a red and white light mode
The best for the features that it offers, so if you want a bargain for your buck, this is it
Cons
Most lanterns have an umbrella-like protrusion that protects the light from shining directly into your eyes. but not this one
While the brightness adjustment feature is really great, the first setting is the brightest, so you can blind yourself easily at the night
2. Black Diamond Apollo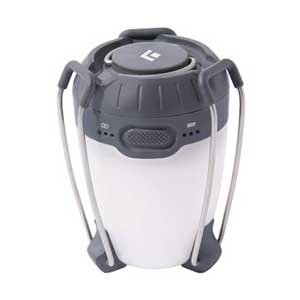 The next up on our list is what I would call the best all-rounder – a camping lantern that is great for backpacking and power outages too. Basically, I thought it was just an awesome choice of bushcrafting light. It's rated so highly because it combines bright light with practicality and is also easy to use.
It's not the brightest camping trip light source out there, but it definitely gives off enough light to cater to small and large groups as well. Apollo is the one I go to when I set up my camp. Its opaque plastic cover gives out enough light to be pleasant but helps you to get your jobs done outdoors, like setting up tents and cooking.
I also had the opportunity to use the Apollo during a power outage and updated my opinion on it even more because of how useful it was.
The design of the Apollo is actually very innovative, and that's something that really impresses me. It doesn't hit it out of the park as the perfect light source, but it scores evenly enough across the board on the durability and versatility scale that it can be used for many activities. I even found myself playing cards in my tent with the help of two Apollo camping lanterns.
Black Diamond Apollo Brightness
As we did for the last item on our list, the best way to determine whether light is the best is to look at how bright it is, which is where we will start here again. The maximum setting of this lightweight land is 225 lumens.
Even though it was so bright, I had no trouble looking directly at the light source, and I was shocked that 225 lumens could give off such a huge amount of light. Because of how Apollo is designed with LED light, it gives off more of a warm glow than the standard white light settings on other competitors.
It also has a plastic cover around it, which is opaque, which diffuses and improves the lumen rating as well. Easily conserve energy when you don't need full brightness mode using all of the lumens by dimming it, which is a feature found by holding down the power on/off button.
Used on a table and around the cooking area for 3 to 4 people, the LED lantern functioned wonderfully. The legs included on the Black Diamond Apollo are handy, but I found it much more useful being hung overhead.
Is the Black Diamond Apollo Durable?
Of course, one of the main features I look for in any kind of camping equipment is its durability. I've used this LED camping light for a number of different camping trips, and it still looks as though it came out of the box. It's been left in the rain, dropped in a river, and even fallen from a tree – all with absolutely no effect on its functionality as a lantern.
The next thing I wanted to look at was the battery life. Obviously, this will last longer when you have it in the lowest setting. The power source is actually a rechargeable battery, which is quite common for LED lights. You can also have a backup power source with a compartment that fits 3 AA batteries, as well.
As far as battery life goes, it is very good for such a product. You charge it with a micro USB cable that comes included. You can see how much battery you have left with the two LED lights at the front of the console as well, which indicates when the rechargeable battery and the AA batteries need changing/are charging.
At maximum brightness, this rechargeable lantern had a runtime of 6 hours, which is great battery life. Once this internal charge has run out and all the power has gone, the light switches over to the AA batteries that will continue to run for an extra 18 hours without needing to charge. Overall the two power options and the fact that the lantern is so lightweight and portable made me give it a high rating on my list.
Black Diamond Apollo Special Features
The Apollo is probably the number one lantern for special features. For such a small size, it's positively jam-packed with handy tools that make it past many other models of light. There's a handy USB out port that means if your phone dies, you can use this lamp for charging. However, be aware that this will reduce its burn time, but it's perfect if you just need to give your phone that extra burst of juice.
The retractable legs are another feature that I enjoyed a lot with this lamp because legs aren't something you come across very often with portable camping lights. All of the legs are flexible and independent of each other as well, so you can manipulate them individually. I found that this came in very handy when I wanted to put the light down on more uneven surfaces, and the fact I could stand the lamp up when there weren't any trees to hang it from was brilliant, too.
Usability
Of course, it couldn't be in the guide for the best camping lantern if it wasn't functional and easy to use. Apollo has thought about the design of its items, which makes it a higher-rated product than other LED lights. This rechargeable battery-powered lantern features retractable legs and a power button with several different functions, like turning the brightness down or turning it on/off.
Without the batteries in, it is very lightweight, weighing in at only half a pound. The unit itself folds up to a compact size that is only a little bit larger than a tennis ball, so storage is a breeze.
Value for Money
Regarding rating the price, the LED-powered light is a little on the expensive side. There are other, not as updated, camping lights in the Black Diamond range that don't have as high a lumens output that is much more affordable.
But I would say one is a solid offering for its value because of its higher quality and longer burn rate as well without needing to use different fuel options. As an investment, I would say that this will quickly make its way into your essential outdoor gear as one of the best camping lantern options.
Pros
This is the best all-around item, being perfect not only for power outages and emergencies but also for doing fieldwork during a camping trip
It has an innovative design that combines a large array of features into a nice and easy to use the package
It has not only retractable legs for height adjustment if needed but also a USB port to charge your phone if you really need to use it
Cons
If its power runs out, that's it because the option to power it with double-A batteries isn't even remotely viable, it's just too dim
If it's cold where you are using it, you won't be able to use the charging feature if you can't get it warm
The main button has six different functions, so operating it in the dark will be almost impossible if you don't have any experience using it
3. Goal Zero Lighthouse 400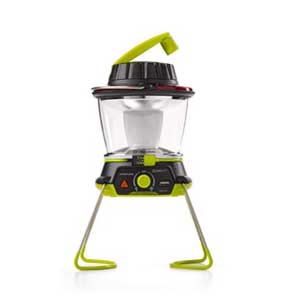 A basic lantern but still one worth mentioning on the best camping lantern list is the Goal Zero Lighthouse 400. That one comes with two charging options, a hand crank and a USB charger, which is unique as far as camping lanterns go. Let's explore how to fuel this lantern, what the burn time is on the battery life and how many lumens it gives off too.
The Goal Zero Lighthouse 400 is practical and simple as a portable camping light. It has the added advantage of not needing any disposable batteries to power it. The crank and USB options to charge the light are what make this item a unique and highly rated product. If you are concerned about using or burning fuel for your camping lantern, this light features a high power output without needing to use consumable and non-renewable fuel sources.
In fact, for a light that doesn't have any batteries in it, the lumens output is actually quite high. In terms of rating the light, though, there have been some pretty average reviews for it across the board. It does have some great features and settings, but the lantern itself could work a bit better overall.
Goal Zero Lighthouse 400 Brightness
This entry into the best bushcrafting lights list features a maximum setting light output of 400 lumens. The company claims that it has a burn time of 48 hours on the low settings and 12 hours with just one side lit (because there is an option to light it 180 degrees or 360 degrees).
They also claim that it will burn for 24 hours on the lower setting and up to 6 hours if you have it on the highest setting with the entire lantern lit. This isn't the best burn time we've come across in terms of battery and for a relatively small output of lumens as well.
I found that the Goal Zero Lighthouse 400 ran out of charge quite quickly when using it on the high setting with the 360-degree settings. It lasted a bit longer on the lower setting but didn't live up to its claim of being powered for 48 hours.
While this choice of products doesn't hold its charge well when it is powered up, the LED lantern is covered with a pleasant-looking frosted plastic. This helps to keep the item soft and easier to look at. The handle at the top makes it easier to hang up on low-hanging branches around the campsite.
Goal Zero Lighthouse 400 Durability
Considering this product is classed as a USB light, I found it incredibly sturdy. I wasn't expecting much from it, so it far surpassed what I thought it would be able to give on the durability scale. If you take a USB cord out on the road with you to recharge the light, it easily wraps around the base of the lantern so you can store the whole console together.
This is something I know a lot of people will like, so you don't have to spend time searching at the bottom of your camping kit or backpack looking for that dratted charger. The only complaint I had with the USB port and cord is that I wish it came with covers so that they could be better protected against things like dust, dirt, and rain.
There are two LEDs within, and both of them have two plastic covers on them. One is faster, while the other one is clear. The clear cover sits on the outside of the lamp, and it does easily get scratched and nicked, but this is something you can come to expect from camping equipment.
It's still thick and sturdy enough to withstand the odd fall or two. There are also wire legs attached to the light that can be folded back into the unit itself, and they then snap into place when opening and closing them for extra stability. All of the legs are made from metal, but they have a rubber coating on them, so if you want to use this lamp on a smooth surface, it won't slip and slide all over the place.
Goal Zero Lighthouse 400 Features
So what are the standout features of one of the best camping lanterns that make it worthy of such a high rating? Well, first of all, it's portable, which is a great feature. I like that this camping light doesn't require batteries as well, so that's one thing less I have to pack before a big trip.
One of the features I found most handy when out walking was that I only needed half of the light lit. However, the handle is a bit on the small side, with only just enough room to be able to get your fingers through. There's a red flashing mode from the LED lights that I haven't found a use for yet, but in an emergency situation, it would probably come in useful.
These lanterns are charged using a USB cable and a crank. So the addition of a battery level indicator is brilliant. Being able to see when the LEDs are fully lit means you can keep on top of charge times.
There are legs attached to the body, which I found are best tucked in. This made it much more sturdy because the legs tend to be a bit wobbly. I found that these ones tend to be a bit less stable when you want to lower the legs just a little bit. They work well at full height, but other than that, they tend to be on the more unstable side.
Considering the USB charging features are something this product boasts about, the USB port itself is very unreliable. While I like not having to fuel a paraffin lamp and give camping lanterns without batteries a high rating, this one makes charging it problematic. I think the addition of a solar panel or being able to use batteries with it would have been a better option that gives out so many lumens.
How to Use the Goal Zero Lighthouse 400
This light has both a USB and a solar charger, so it's really simple to use. When it has been fully charged, the blue lights on the front of the console will light up. The USB port is also an out port as well, so if you need to charge your small electrical devices or phone, it will help you do so, although this does affect the battery life.
Goal Zero Lighthouse 400 Value for Money
As far as value for money goes, the cash isn't worth it for these lanterns. Charging or using it to charge other USB devices is a very tiresome task that only works when needed. At some points, it took a long time to charge, and other times, it charged very quickly, meaning I found it unreliable.
The lack of batteries or a solar panel charging option would give it more reliability, but I would much rather invest my time and money into the Black Diamond Apollo than this line of products. All in all, my experience wasn't the best.
Pros
Pretty basic in design, but it still manages to incorporate a lot of features in a pretty small package
When it comes to power options, it can be charged not only by a USB but also with a hand crank in a pinch
Goal Zero has a bright red flashing mode for gaining attention during an emergency, which is a pretty useful feature that you don't know when you may need
Cons
Goal Zero boasts its USB charging feature, but the port itself is very unreliable, and you shouldn't stress it too much
While it has legs for gaining some height, they are pretty wobbly, and you shouldn't use them if you don't want it to fall over
4. Tough Light Rechargeable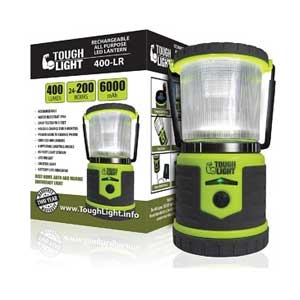 So by now, you will have realized that you need light when you go camping. The Tough Light LED lantern is durable, long-lasting, and functional and will do the job as a reliable item. This might be the most durable and long-lasting camping gear I've come across.
Best Use of the Tough Light
This is the product I would pick if I knew I was going on a long camping trip. You can recharge it using the USB port, and the battery life is very impressive, lasting hundreds of hours before needing to recharge or change the batteries. I like a lantern that I know won't die on me when I need it the most, so this is definitely a camping kit must-have for those who know they're going to be out in the wilderness for a while and don't want to worry about fuel.
Included Items with the Tough Light LED Camping
Along with the light, you also get other bits of kit included in the price. The batteries this runs off are insanely powerful, 6000mAh lithium-ion ones, so there's no need to use any non-renewable fuel or disposable batteries. This also features a handle so you can carry it around with you or hang it wherever you need light. Because it has to be charged using a USB cable, it comes with 2 of these that are extra long, so it's easy to recharge the lantern when that time eventually comes.
Features
So this item is a little bit on the costly side of the scale, but in my opinion, the value is worth it. There are so many different highlights and features that stand out from the crowd of the other competitors.
Along with the lantern itself, I also purchased the available power bank, which is sold separately from this item. This helped me recharge the batteries using the wall power outlets at home. Car chargers also work with the included batteries too, so if you've driven to your campsite, you can use the car to recharge it (although it's very unlikely it will run out for over 100 hours).
What impressed me a lot about this light was the amount of time it holds its power when it's not being used. Like the Coleman, which I also found impressive, I completely forgot about this light for nine months. When I came back to it, it still worked. I put this down to the powerful batteries that the Coleman also has.
With this lantern, you get a huge 400 lumens out of the small LED lights. If you're not experienced with such products for camping, especially ones that don't have replaceable batteries, this is a lot of output as far as lumens are concerned.
The Tough Light LED has been drop tested from over 5 feet high, and it never broke, which means this one has a lot of durability and impact resistance. That doesn't mean you should try dropping it, but at least you know that it won't be broken easily if an accident happens.
What's the most common thing to happen during a camping excursion? A rainstorm hits, and you get stuck in it with a broken lamp, wet clothes, and no heat, either. With this light, you have a high IP67 waterproof rating so that it can survive a lot of water damage.
All in all, while this light might be a bit on the expensive side, I think it's totally worth it. The high lumens output for a lantern that doesn't require batteries and can be easily charged is great. Plus, the whole thing works seamlessly, too, with its durable and long-lasting design.
Pros
As you may have gotten by its name by now, this product banks on one thing the most – on being as tough as possible and withstanding everything you can throw at it
While it is pretty small and compact, it can still produce 400 lumens of light from the many LED lights it uses.
It is fully waterproof, so even if you are caught during a rainstorm, it will still function without a problem
Cons
The blueish tint to the light it produces gives it an unpleasant feeling, and it is definitely not a good idea to look straightly at it
The USB worst isn't properly lined up with its hole, so using it to charge other devices will be a pretty painful process
5. Internova 1000 LED Camping Light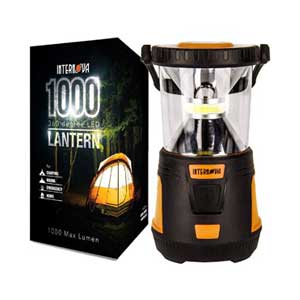 Internova has been one of the most well-known and reputable camping equipment brands for years. So it is no surprise that one of their camping lanterns would make it into our best-of list. With four different lighting modes to meet all of your needs.
Internova 1000 Brightness
Just like the name says, this lamp has a 1000 lumens brightness. For such a small item, that is incredibly powerful and a lot of lumens to pack in. It's actually one of the brightest lamps I've come across that is still portable and small enough to carry in your backpack on hiking trips. Even though it is so stunningly bright, you can use the dimmer switch to turn the LED lights down. All of the different brightness functions can be accessed using the power button, so there's no huge control panel to have to deal with.
Internova 1000 Features
As is the theme with camping equipment and lanterns in general, they need to be waterproof. The Internova 1000 is just that, and the water-resistant light sits on top of a plastic molded base. This solid construction means that it can withstand the elements outdoors and even a few accidental drops as well.
So let's get onto the rubber handle, which I found to be the only downfall of this light. The handle is sturdy because it's made from rubber, and it can be hung anywhere around the campsite or tent, and is handy to carry as well.
After a few uses, I noticed that the rubber started to wear, which has come to be expected from a handle made from that kind of material. A few more uses afterward, and the rubber barely holds on, which is disappointing. While it felt sturdy to begin with, if you like to hang your camping light off branches and trees around the campsite, then it will wear away very quickly.
As well as being portable, this light has rechargeable batteries as well. This was another sticking point for me. Having experienced other products that I've covered in this guide that can run for 48 hours non-stop and hold their power for nine months, I found the charging for the Internova 1000 quite disappointing overall.
After charging the light up to its full capacity, it only lasted 5 hours. This is very much below average for light output when you have to plug the console in for around two and a half hours to get a full battery out of it.
Overall I would say that this one is lightweight and easy to move around the campsite, but the lack of battery life and handle that pretty much becomes useless after continued use is a definite sticking point for this model.
Pros
The lantern is incredibly portable and compact but still manages industry-leading levels of brightness with its 1000 lumens
There is a convenient and easy-to-use dimmer switch that will allow you to cater the light to your preferences
Its large rechargeable batteries allow it to run for up to 48 hours non-stop, so if you are stuck in the basement during an emergency, this is the way to go
Cons
The rubber handle is a great feature on paper, being non-slip and all, but its rubber coating wears off pretty quickly
Except for its main selling point being very bright and lasting long, it is cheaply made
Frequently Asked Questions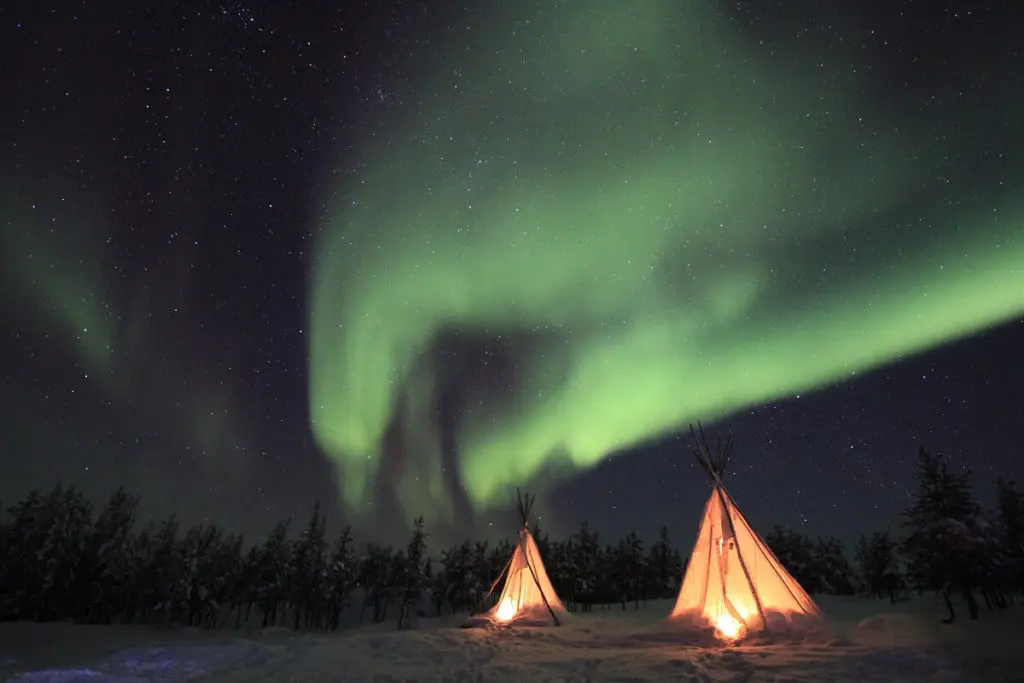 What Is The Best Lantern For Power Outages?
Everyone needs a light source in case of a power outage or a camping trip. That's where lanterns come in handy and fill every place with light so that you can accomplish the necessary activities in your camping. When deciding on a bushcraft light, the first thing you have to consider is its running time. The longer, the better, and that's where the Tough Light Rechargeable comes in.
This fantastic camping lamp can run for almost 100 hours without changing batteries. It's ultra-bright and powerful and has multiple light settings to suit your needs. By getting this emergency item, you get a durable product that is weather-resistant and can withstand a beating.
What Is The Best Battery Operated Lantern?
The best battery-operated lantern is, hands down, the Streamlight 44941 because this is light, and will always deliver, no matter the task at hand. Made with a durable and robust construction, this product provides 360° of light, which illuminates large areas. Suitable for many situations and experiences, this waterproof product won't disappoint.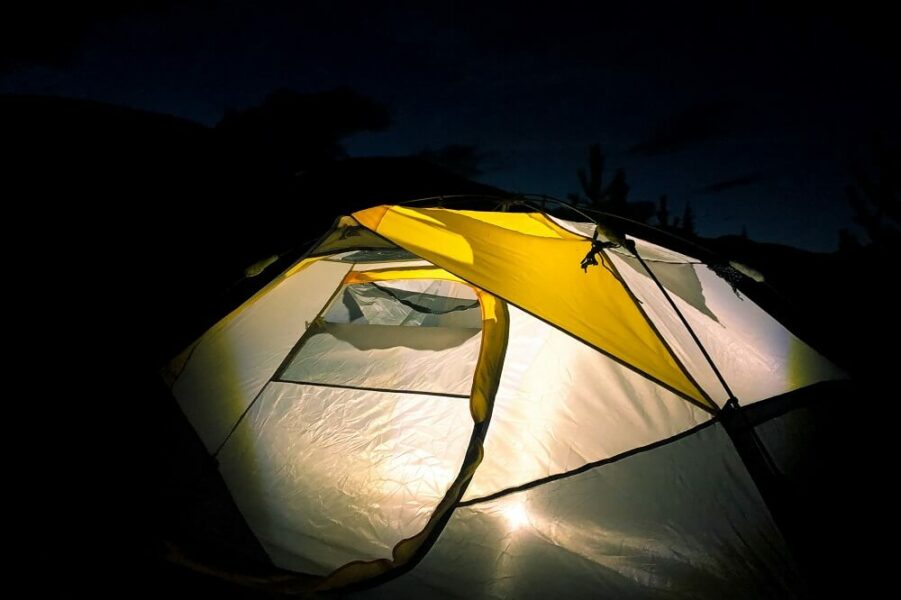 You get a removable cover used for even light distribution and incorporated D-rings on both sides for accessibility. This innovative survival item is one of the top products on the market today and is a great investment for so many reasons.
How Much Do Lanterns Weigh?
If you are getting a light for your household, you can buy one even if it's on the heavier side, but if you're going camping, you want something that will be light and won't take much space in your backpack. You want to be able to hang from the ring inside the top of your tent or your campsite.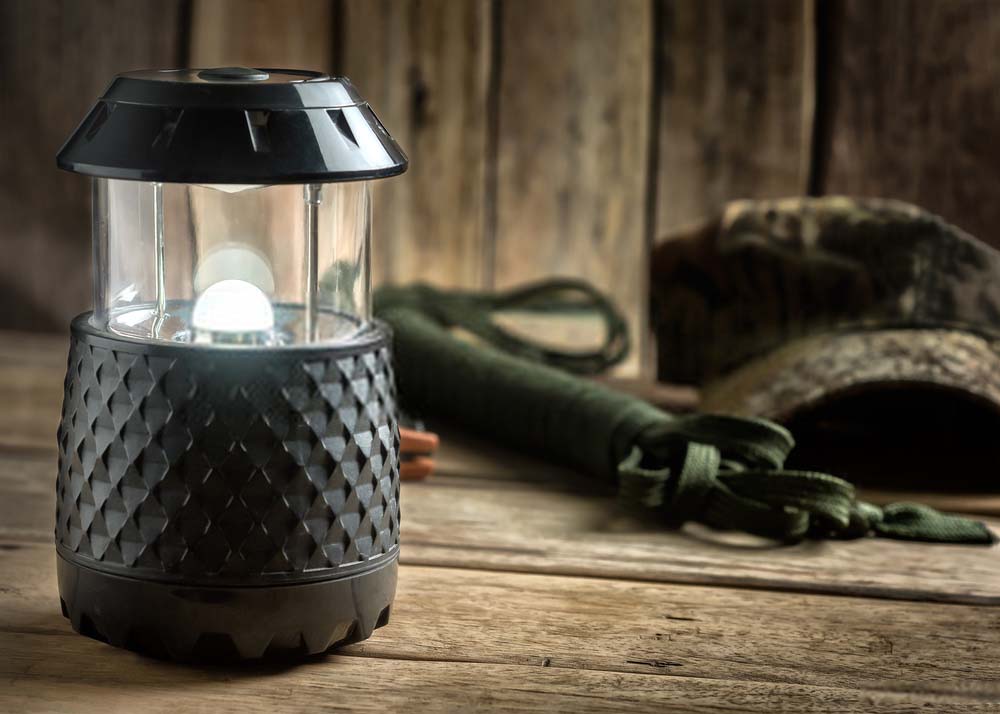 What Are The Battery Operated Lanterns?
A big part of lights today is battery-powered and features LED lights. They have different options, such as alkaline, lithium, or Li-on batteries, and some are rechargeable, and others are not. Typically those are lightweight and portable with a durable design and water-resistant construction. But if they use non-rechargeable batteries, they aren't eco-friendly, and the long-term cost of replacing them increases sufficiently.
What Are The Fuel Operated Lanterns?
Depending on its design, each lantern burns a specific fuel. The most popular options are propane and butane, which both come in a refillable tank and burn efficiently. Their light can be easily adjusted and can light up an entire camp area. However, remember that fuel-operated lights can work without gas, so you always have to carry extra.
What Are The Candle Lanterns?
Candle lanterns are affordable and easy to use. They provide you with a soft and natural light, which is enough for at-hand tasks and activities. But if you want to light up a big area, this type of lamp won't do the job.
What Is An LED Lantern?
Nowadays, most battery-powered lanterns feature LED lights. An LED lamp or LED light bulb is an electric light that produces light using one or more light-emitting diodes. Electric lanterns rely on different types of battery sources, which can be rechargeable or non-rechargeable. LEDs have a longer lifespan and are significantly more efficient. Some designs can use external sources for a recharge, such as a USB cable, a power bank, or even a solar panel.
What Level Of Brightness Do We Need?
The level of brightness you need depends on what you will use the lantern for. If you're using it for comfort, you need a pretty soft and low light, but if you're working outdoors, you'll need an efficient and bright light to get the job done. When you're deciding on a light, take into consideration how many Lumens each one is. We've separated them into four simple guidelines:
10 – 50 lumens – The lights in this area are usually used as nightlights, which are enough for you to move around the house safely.
50 – 200 lumens – This diapason is suitable for general usage inside a household.
200 – 1000 lumens – That's what we need in the outdoors for camping and other activities and conditions.
Over 1000 lumens – Normally, everything over 1000 lumens is used only on construction sites and large spaces for repairs.
Final Words
Whether you are on a short family trip just for fun or you are in a real survival situation, a survival lantern will provide something invaluable – light. And we all know why light is so important. And while yes, you could always carry a flashlight with you, the lumens and the battery life of a survival light are so much better than a torch isn't even a bit viable. So put it in your trunk and make it a part of your bushcraft ammo.
Throughout the review, we have looked at lanterns with different specifications, sizes, and power, but all of them will do you a good enough job, you just need to choose the one that suits your budget and needs.
To wrap up things nicely, you need to remember one thing – at the end of the daylight is light, and you cant replace it with anything else, so instead of buying useless accessories for your next camping trip, get yourself a survival lantern, and you will have an unimaginably better experience, trust me.