When it comes to everyday necessities, one of the first thing we consider is clothes. And most of us wouldn't think about purchasing a jacket that isn't just pretty but also functional. However, when it comes to survival, if you haven't thought about it before, it's time to consider it now.
An everyday jacket, which can also be used as a field or tactical one, should be a part of everyone's wardrobes. You never know what kind of situation you will fall into – too cold, too hot, too windy, too wet. And if you haven't been prepared, you could have to pay a high price for colds and sicknesses simply because you forgot to pack a functional product. But how do you choose the right one for you?
That's why we created PrimeSurvivor – to help you choose the right product for you and you alone. We made the mistakes, so you don't have to. We tested the good and the bad products, so we can safely say we know a thing or two about jackets after testing, wearing, and putting on the line over 30 different models.
So without further ado, let's see what we think are the best EDC jackets on the market today:
1. Rothco Special Ops Soft Shell Jacket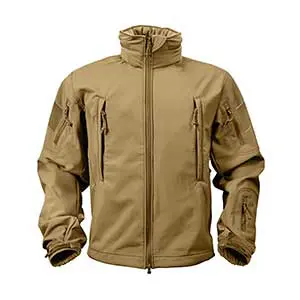 The Rothco Special Ops Soft Shell is a versatile and essential piece of outerwear for any military or law enforcement professional. The three-layer construction deflects wind, wicks away moisture, and retains heat, making it perfect for any climate or condition.
The six zippered pockets provide ample storage for essential gear, while the fleece-lined stand-up collar with concealed removable hood offers additional protection from the elements.
Features
2.2lbs weight
A collar lined with fleece
Double reinforced forearms
Two 4×4 loop shoulder patches
Underarm vent zippers
Drawstring Waist
Elastic hook, loop wrist cuffs.
7 Color choices
Pros
Vast Amount Of Storage
Perfect for Wilderness Survival
Has Ventilation To Cool You
Cons
The weight can be too much for some
Handwarmer Pockets Are Too High
Irritating If Worn With T-Shirt
2. Condor Summit Soft Shell Jacket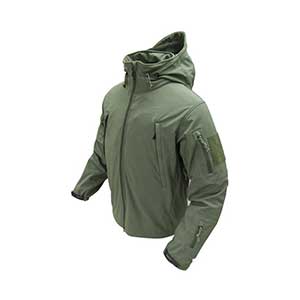 The perfect jacket for any adventure, the Condor Summit Soft Shell Jacket will keep you warm and dry no matter what Mother Nature throws your way. Made of 100% polyester, it features a stow-away hoodie, two highrise slash chest pockets, an underarm vent zipper, and a full front YKK zipper with a double zipper pull. The drawstring waistband and hood provide a snug and comfortable fit, while the underarm vent zippers allow you to regulate your temperature on the go.
Overall it is a solid choice in you need plenty of storage, shoulder and internal pockets, and decent protection from the elements.
Features
Two Shoulder Pockets
Two Internal Pockets
Forearm Pockets
Double-Zipper Back Pocket
Adjustable Velcro Wrist Cuffs
Headphone Pass-Through Port
Four-way Elastic Stretch Material
The Condor also has a double-layer reinforced forearm, and you can choose one of 7 different colors. Furthermore, it offers multiple pockets if you need to carry essential gear. And, in case it rains the Condor Summit offers you a stow-away hood to protect you from the rain. The Condor Summit Soft is light at only 0.32 ounces and it's a ''tighter than most'' type of jacket.
Pros
Vast Amount of Storage
Comfortable Elastic Material
Stow-Away Hood
Repels Water
Cons
Tight Jacket
Might Get Hot Due To Tightness
Double Zipper Isn't For All Tastes
3. Helly Hansen Seven J Waterproof Jacket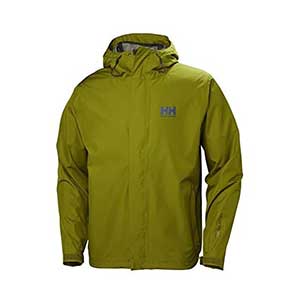 Introducing the Helly Hansen Men's Seven J Waterproof, Windproof, and Breathable Rain Jacket with Hood. This clean, classic rain jacket is perfect for a variety of outdoor activities.
It's fully waterproof with a storm flap and convenient quick-dry lining. The adjustable fit and zippered pockets are convenient for trekking, biking, or any outdoor activity.
The HELLY TECH PROTECTION provides full waterproofing, windproofing, and breathability in all situations and weather conditions where protection from the elements is needed. With durable water repellency treatment (DWR), this rain jacket is sure to keep you dry and comfortable in even the heaviest downpours.
Features
Fixed Hood
Quick-Dry Lining
One Hand Hood Adjustments
Adjustable Cuffs
Anti-Chafe Chin Guard
Bottom Hem Cinch Cord
YKK Zippers
Front Storm Flap
Zippered Hand Pockets
The jacket is neither slimmed nor oversized, it's a regular fit and you can wear it over thicker clothing. It's a fantastic top and it's great for adventures such as mountain climbing, camping, and hiking.
Pros
Warm Shell Jacket
Waterproof and Windproof
Great Option For Wilderness and Urban Use
One Hand Hood Adjustment
Not Expensive
Cons
Poor Ventilation and Breathability
Heavier Than Other Options
4. Tru Spec H2O Proof ECWCS Parka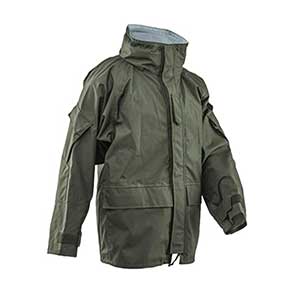 The Tru Spec H2O Proof Gen2 ECWCS Parka is a tactical top that has been designed for heavy circumstances, as it's a rugged, high-quality product. It is breathable with Bemis safe tapes which are environmentally safe and a non-freezing two-way zipper with a double storm flap. The sleeve pockets allow for sewn-on pockets and they are made of layered breathable fabric, which keeps you warm and comfortable on colder days.
Furthermore, the Tru Spec H2O parka is multi-functional and made to combat the harshest of conditions, whenever you're in the wilderness. You can move freely as it's lightweight and it's not a tight fit. The parka has a zip front closure with lined zip through the collar and the hoodie. It's made of 100% nylon with reinforced elbows and it is water and windproof.
Features
Adjustable sleeve cuffs,
Drawstring waist
Cord lock for ease of movement Nylon reinforced elbows
100% Nylon
Collar Style: Band
H20 Proof Gen2 Ecwcs Parka
Advanta inner lining
Bemis taped seams Non-freezing two-way zipper
Pros
Environmentally Conscious
Multi-Functional
Perfect For The Wilderness
Lightweight
Cons
Logo Stands Out, Preventing Camouflage
No Two-Way Zipper
5. Condor Summit Zero Lightweight Soft Shell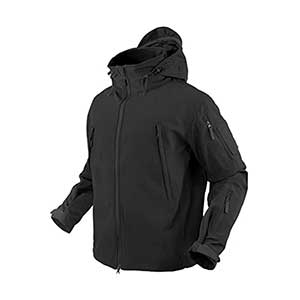 The Condor Summit Zero is a soft-shell jacket lined with tricot, made of 100 percent polyester material. It is a fantastic choice, especially for those who are looking for a tactical EDC jacket that has a big amount of storage. The Condor Summit Zero has eight pockets in total:
Also has two upper arm patch panels and a stow-away hoody alongside a lined stand-up collar which will protect you from the wind. There is good ventilation when you're wearing this as it has an underarm vent zipper, which you can control.
Further specifics of the Condor Summit Zero are reinforced elbows, hook and loop cuff adjustments, a drawstring waistband a hood, and a full front YKK zipper, with dual slides. The jacket is extremely comfortable and fits the body and even if you're carrying things in the pockets (after all that's why you bought the jacket), mobility is not restricted but the opposite.
Features
Two Bicep Pockets
Two High-Rise Chest Pockets
Forearm and Double Zipper Back Pocket
Two Internal Pockets The Condor Summit Zero
This product is not perfect in the rain; however, the material is durable, and you can wear layers underneath and it's suitable for most weather conditions. If you're looking for a comfortable product with a lot of storage, the Condor Summit Zero might be your next EDC jacket.
Pros
A Large Amount of Storage
Comfortable
Durable
Nice Design
Stow-Away Hood
Cons
Water Resistance Not The Best
Collar Isn't Comfortable If Hood Is Stown Away
Zipper Is More Complicated Than Necessary
What To Look For In An Everyday Carry Jacket?
Knowing all the exact features of what you need in a jacket is not the easiest task of them all. All of these features depend on the type you're looking for or the weather conditions in which you're expecting to wear the blazer. Despite the difficulty to create another worthy "first needs" list, we have created another one with things that are must-haves or good to have in an EDC jacket. Let's take a look at what they are.
Why Solid Construction Is So Important?
The best jacket should be crafted from comfortable and durable materials, such as fleece, nylon, and polyester. The perfect field top will be rugged and durable enough for daily activities, as well as for going out in the wilderness. Elements Resistance What we mean by that it should be waterproof, windproof, sturdy enough to suffer a certain amount of scratching, as well as moisture-wicking. This way, you would know that even in the harshest of conditions, you would be able to survive, without any deep damage to your body and clothes.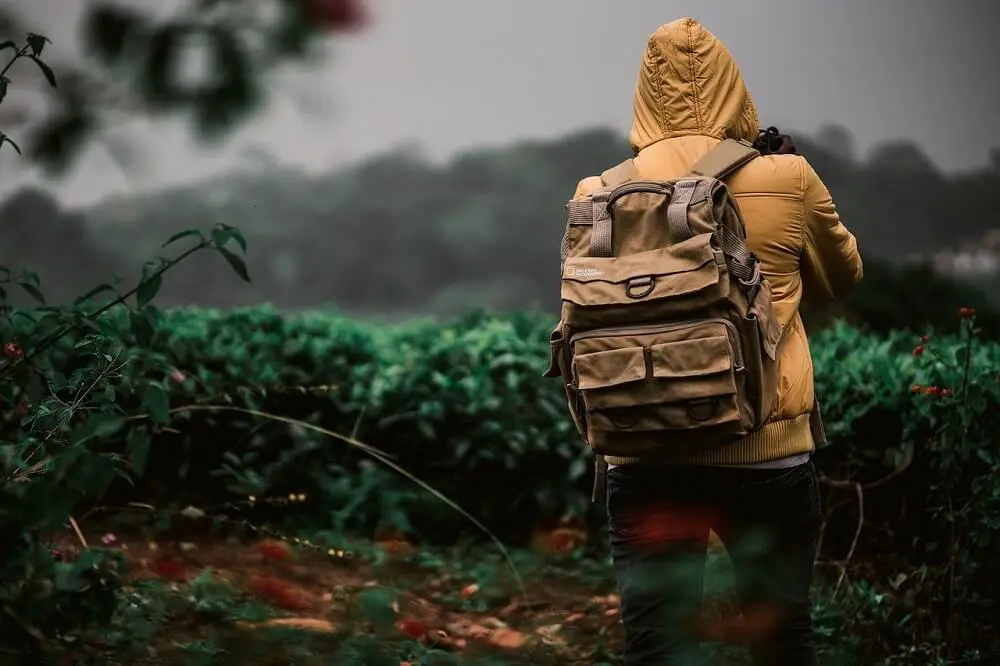 What is The Optimal Storage Capacity Of A Jacket?
EDC jackets just have to have a certain amount of pockets, however, the amount depends on your preference. If you don't want to carry too many things in your pockets, you could get an EDC bag. The design usually contains pockets big enough to carry some everyday gear.
What Kind Of Protection Can A Jacket Offer?
By head protection, we mean a hood, however not just any hood, but a durable one. A hood should also be able to protect your head and face from heavy rain, therefore a rain shield wouldn't be an extra in a jacket.
How To Choose The Optimal Fit Size?
When we buy clothes, we tend to buy the size we usually buy. However, when it comes to an EDC jacket, it's good to think about buying one which is at least one size bigger than usual. However, if you enjoy clothes that fit you, you can also buy a size smaller, even though that might not be the smartest choice, as you never know how a body might change.
Now that we have gotten to the end of the list and you have a vast amount of options to choose from, we are going to answer a few of the commonly asked questions about EDC jackets. Don't worry, we have asked all these questions prior to buying one too! It's better to be informed than to be sorry for a purchase
Frequently Asked Questions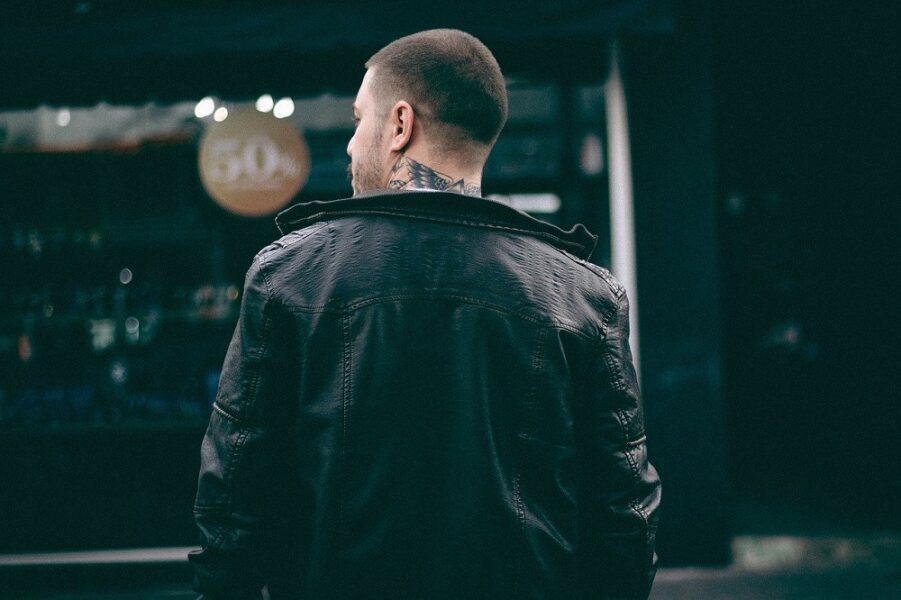 How Waterproof Should Аn EDC Jacket Be?
How waterproof it is, depends on the waterproof rankings of the jacket, or the material. Depending on the type you are looking for, you should consider the following rankings.
0-1,500mm – A jacket with such rankings is water-resistant and it can assist you with very light rain or snow situations.
1,5000mm-5000mm – If it has rankings in this range, it is waterproof and will survive in light to average rain.
5,000mm – A 5,000mm one is very waterproof and it is suitable for moderate to heavy rain.
10,000mm – These products are highly waterproof and will keep you dry in the heaviest of rainfalls.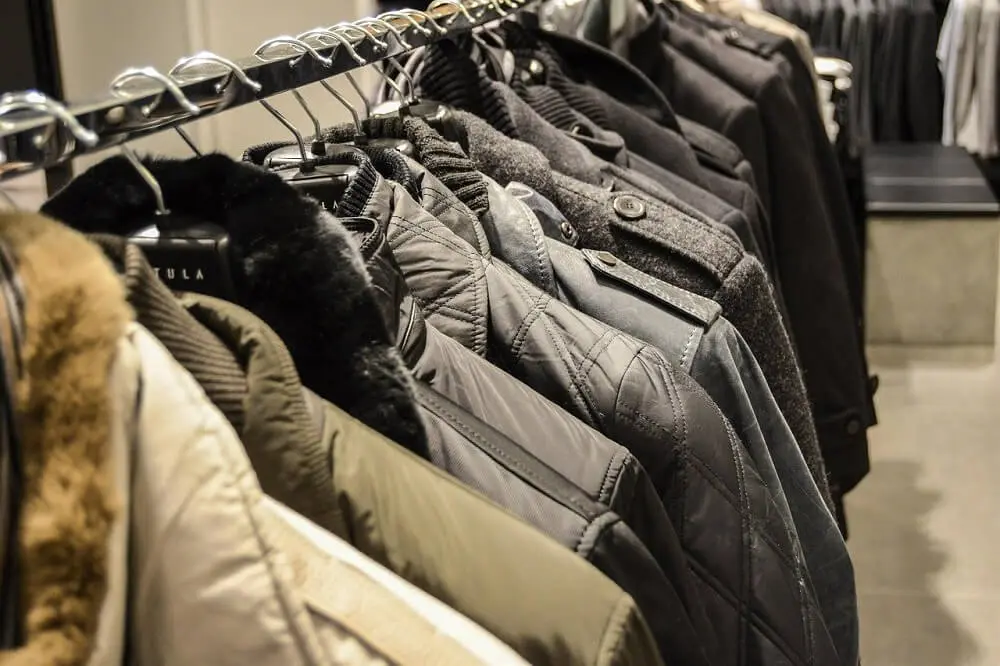 Is The Jacket Made From Quality Materials?
All EDC jackets should be made from comfortable and durable materials, which are not too heavy to carry. Such materials can be polyester, fleece, and nylon – these are the best for quality everyday carry products.
Should It Have a Hood?
It would be best if the jacket comes with a hood, however, if you live in an area where rain is unlikely, the hood might not be necessary and a better bet for you would be a hat.
Should I Buy a Jacket With Little or More Storage?
Whether you will buy a jacket with more or fewer pockets is up to your personal taste. If you would like to carry your everyday essentials in your pockets or wish to have space for gear, it would be best to have more pockets. If you have a bug-out bag or any other survival bag, you might not need all those pockets on an EDC overcoat.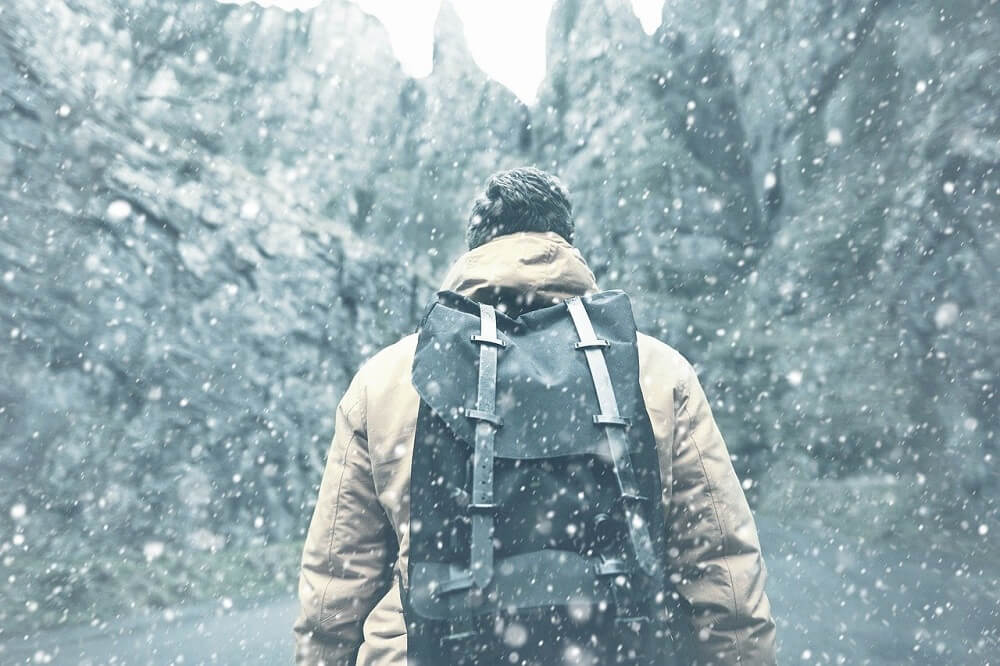 Is The Jacket Suitable For More Activities?
Most EDC products are made with the idea, that they will be used in more than one situation. Therefore, when choosing the best EDC jacket, you should look for one that would allow mobility of the body for all types of life situations.
Final Words
If you're still wondering about which one to use, see which one has all the necessities the best EDC jacket should have. If one of those necessities is missing, it probably isn't the best choice. In our opinion, the Kryptek Koldo Rain Jacket is an optimal choice, as it answers to everything you might need in an everyday situation, whether it's in an urban environment or a wild one. We hope that this article has given you all the information you need for an informed and pleasurable purchase. Happy Prepping!