Having a way to get a shower of sparks using only a fire starting kit made out of magnesium shavings is one of the best things for survival because, after clean water and food, one of the most important things is exactly fire.
A Ferro Rod is actually the best way to get around wind and bad weather and start fires reliably, and it's pretty easy, too. They are small, made from good materials, and they last for a lot of time.
So, let's not waste any more time and get to the top and best Ferro rods around and see what makes this small in size but big in use pieces of gear.
1. Texas Bushcraft Fire Starter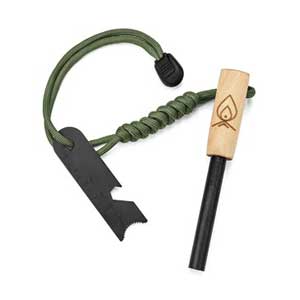 In an emergency, with this Texas Bushcraft fire starter in your survival kit. Unlike matches that can become wet or blown out in wind, our fire steel is impervious to the elements.
5000 F degrees sparks are hot enough to ignite a variety of tinder, including plant fuzz, goldenrod fluff, and cattail seed or milkweed. Stay warm and keep the wolves at bay with this foolproof fire steel.
15,000+ strikes from the Texas Bushcraft make it an essential part of your camping accessories or a bugout bag. The included striker tool attached to the lanyard ensures you're always prepared for the unexpected.
The included survival tool features a bottle opener, hex wrench, micro ruler, map scale, and sharp spine scraper. It is affixed to the Ferro rod by the 48″ braided paracord lanyard for quick, easy retrieval and use.
Compact and portable, so it fits in your pocket, backpack, or auto glove box, the Texas Bushcraft flint steel also boasts a sturdy and comfortable hardwood handle that delivers optimal grip and control during use.
2. Überleben Zünden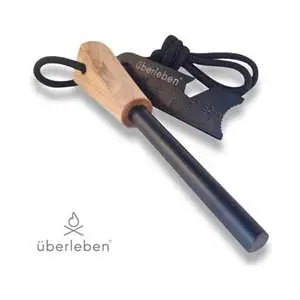 Überleben is everything you want and nothing you don't. Its minimalist simplicity and functionality are at their finest. It's a practical luxury. The perfect balance of durability and weight. It's handcrafted, and it's 100% real-deal. Modern Bushcraft, Traditional Wisdom.
Traditionally inspired materials and ergonomics. We've intentionally left the grip natural, ready to earn that seasoned finish. Oil & grit bare, calloused hands.
Überleben's Sånft-korr(TM) ferrocerium is the perfect balance between softness & durability, consistently outperforming the leading fire starters. It is easy to throw a 5,500ºF shower of molten sparks in any weather (waterproof), at any altitude.
At nearly 5-inches in total length, the Zünden is available in three thickness variations, including Trad 5/16″ (8mm): 12,000+ strikes, Pro 3/8″ (10mm): 15,000+ strikes, and Fatty 1/2″ (12.5mm): 20,000+ strikes.
The Zünden Fatty weighs in at less than 3 oz. Includes Mil-spec 550 paracord lanyard + Multi-tool striker (straight-edge spine, concave tinder scraper, map scale, ruler, a hex wrench, and most importantly, bottle opener).
3. Bayite 4 Inch Flint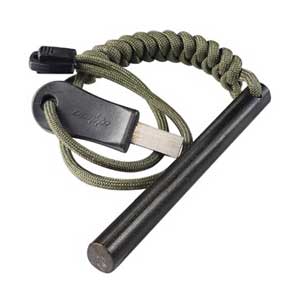 While a simple product at first look, the Baylite flint simplicity makes it an exceptional choice. It's very small and compact, utilizing a striker that is connected to the rod with a braided paracord rope that is 9 ft long.
And even if you don't need to start a fire at that specific moment, you can use the paracord for an uncountable number of survival activities, so this is much more than a simple tool to start a fire.
The Baylite 4″ flint packs a lot of punch, and it will last you a very long time, so if you want something more compact and multifunctional, this is the rod for you.
4. Überleben Hexå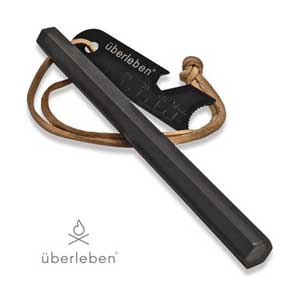 The Überleben Hexå changes everything. More surface contact on striking means more molten Ferrocerium thrown wherever needed. Überleben's ferrocerium is the perfect balance between softness & durability, consistently performing on par with the leading products in its category.
Easily throw a 5,500ºF shower of molten sparks in any weather, even pouring rain, at any altitude. Length – three or six inches — by 1/2″ (12.5mm) thickness, the Hexå will yield 20,000+ strikes with absolute confidence. Full-grain leather Lanyard.
For multiple securing options and flex-versatility, leather makes it happen to like any cordage — just way sexier. It includes a multi-tool striker (straight-edge spine, concave tinder scraper, map scale, ruler, a hex wrench, and most importantly, bottle opener).
5. Holtzman's Gorilla Survival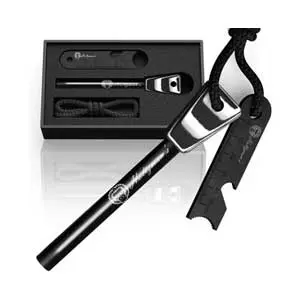 Regarding engineering quality products, Holtzman's Gorilla Survival easily stands out. We have decided to add a superior-quality G10 handle that will enhance grip and improve durability.
Our versatile, lightweight, and highly portable fire striker kit will become your go-to fire starting tool for your next backpacking, camping, hunting, fishing, trekking, or hiking adventures.
Unlike all those cheaply-made fire starters that fall apart after a few uses, our hard-to-break, sturdy and easy-to-use fire starter rod will endure any abuse without skipping a beat.
Our 3-in-1 fire-starter set comes with a Ferro scraper that can double as a ruler or bottle opener and military-grade paracord in a deluxe gift box, ready to surprise your loved ones.
6. Holtzman's Gorilla Ferro Rod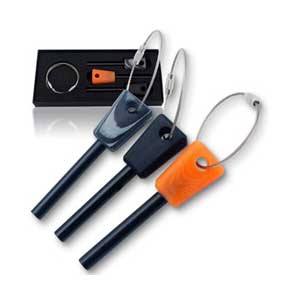 Knowing that you can start a fire anywhere, anytime, will help you embark on your next great adventure with renewed confidence!
Our Ferro stick will help you cook or warm up your dinner, keep your kids warm at night, light a campfire for your roasted marshmallows, and keep wild animals at bay.
Surprise your boyfriend, husband, father, brother, son, nephew, grandfather, or grandson with our elite Ferro rod fire-starter kit, which comes in an eye-catching and stylish gift box.
7. Texas Bushcraft Survival Kit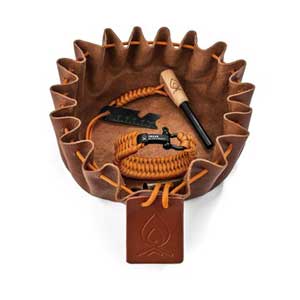 Survive and thrive with a fire-starter kit by Texas Bushcraft. This high-quality 4-piece set includes fire steel with a striker, a paracord survival bracelet, and a drawstring tinder pouch for collecting combustible materials for starting a fire.
The reliable, waterproof survival lighter consists of a magnesium fire starter rod with a solid hardwood handle; and a serrated tinder scraper and striker. This 3/8″ ferrocerium rod provides 15,000+ strikes, even when wet. It creates 5000 F degree sparks with ease.
Be prepared for sudden turns in weather by collecting and storing tinder ahead of time. Our large water-repellent tinder pouch is made of cowhide leather. It measures 15″ flat and about 7″ when cinched closed with its' drawstring. It's also a handy possibles pouch for foraging wild edibles.
12′ of paracord between the survival bracelet and Ferro rod lanyard provide cordage for lashing together a lean-to; tying together a splint; or securing equipment to your backpack, ATV, or car roof. The bracelet's bow shackle includes an extra pin in case the other one goes missing.
A 100% satisfaction guarantee lets you buy with confidence. If you're not delighted with the quality and performance of the Texas Bushcraft Firestarter Kit, return it for a full refund of your purchase price. No questions and no quibbles.
8. Brame Ferro Rod 6 inch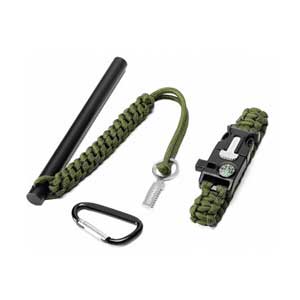 The Ferro rod is made using Ferrocerium that can handle up to 12,000 strikes which, coupled with the Tool Grade HSS Steel Striker, allows you to get one great fire anytime and anywhere you want in any weather condition, making it the perfect choice for campers, travelers and adventurers.
This ferrocerium fire starter rod is windproof and weather-resistant, giving you the freedom to quickly produce showers of sparks to start a fire in any weather, making it the perfect emergency fire starter for camping, hiking, backpacking, survival, bushcraft, emergencies, hunting and more.
Be ready for emergencies: Our emergency paracord bracelet acts as a 3-in-1 survival kit for travelers and campers that includes a flint fire starter, a long-distance whistle, and a compass to maintain your sense of direction while being comfortable to wear, making it the perfect addition to your tactical survival kit, backpacking gear, hiking gear, etc.
It is easy to carry and use. Our ferrocerium fire starter rod is approx. 6-inch x 1/2 inch and comes with a 9ft Paracord to provide a firm and comfortable grip while safely staying in place, allowing you to fire anytime you want. Simply strike the Ferro rod with the striker to release up to 3000 C degrees spark to light fires fast
100% customer satisfaction: This all-weather fire starter rod makes the perfect addition to your emergency survival kit or tactical travel kit to make sure you can get one heck of a fire that may rival one started from lighting in size because for no time at all, you may make yourself a fire pit with just right strike, without any hassle.
9. Exotac fireROD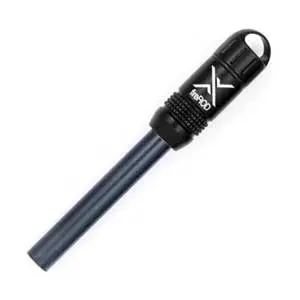 The perfect fire tool for carrying in a knife sheath Ferro – loop or just in a pack. The tool is simple in design and offers plenty of storage for tinder or water purification tablets. The ferrocerium rod is replaceable, so you won't need to discard this tool when the rod is worn out. Use a sharp 90-degree edge to strike, such as the spine of a knife.
The rod features a capsule inside its handle that is watertight sealed to protect your tinder from any moisture. The replaceable rod doesn't fear the water, though, and it will last you 5000 strikes, which are many fires for its small price. It is specifically made to be attached to survival or a bushcraft knife to be more compact than others. The fact that is made in the USA out of quality machined aluminum I just a bonus, but a nice bonus at that,
10. Fire-Fast Trekker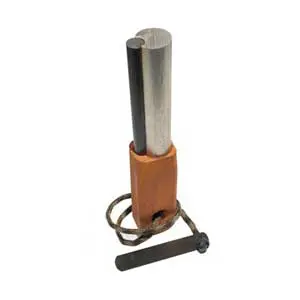 FERRO ROD made in Althofen/Austria combines a century of craftsmanship with high-tech expertise to produce Ferrocerium unmatched by anything in the world. High heat and durability ensure thousands of first-strike fire starts. The Ferro rod is 9.5mm by three inches long.
Military-grade magnesium rod is used to create a burst of intense heat and flame, kickstarting a fire even in the worst of conditions. The magnesium is easily scraped off with the striker and is ignited by sparks from the flint.
Hardwood handle crafted for sure grip even in the dead of winter. The handle can be scraped to produce dry tinder – essential in an emergency situation.
The striker/scraper is made of hardened steel and is sharpened to create large showers of sparks and won't cut your skin. It also scrapes the magnesium rod and hardwood handle with ease.
Paracord rated at 550 lbs tensile strength made in the US by certified US govt contractor. It won't break or rot.
How to Choose the Best Fire Starter for Your Needs?
When choosing a fire starter, consider first your skill level, how and why you intend to use it, and the general specs and makeup of your various options.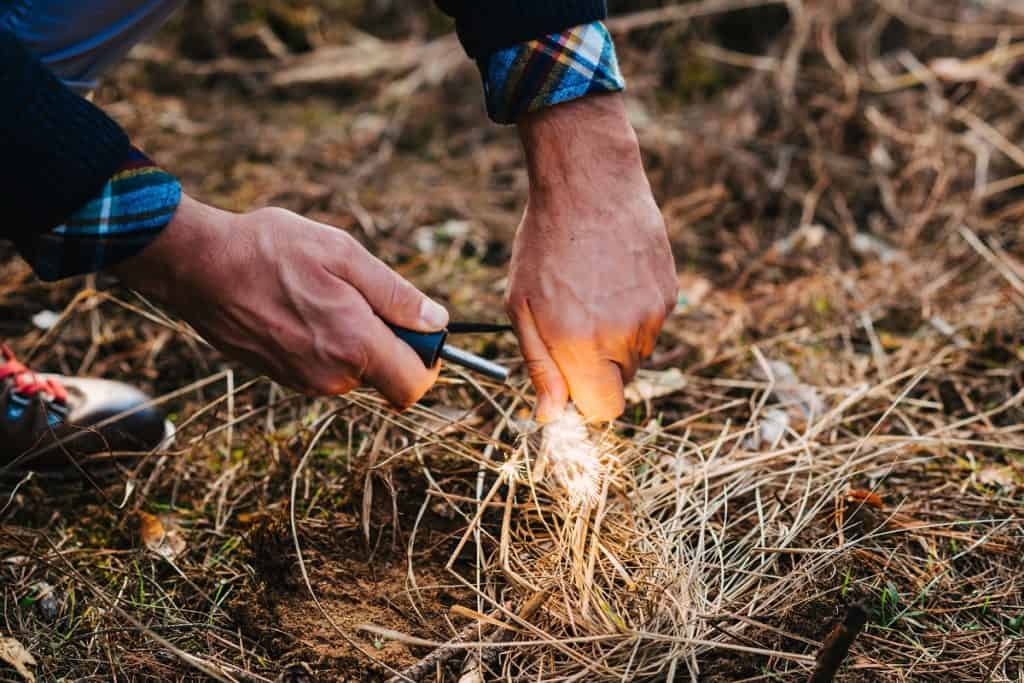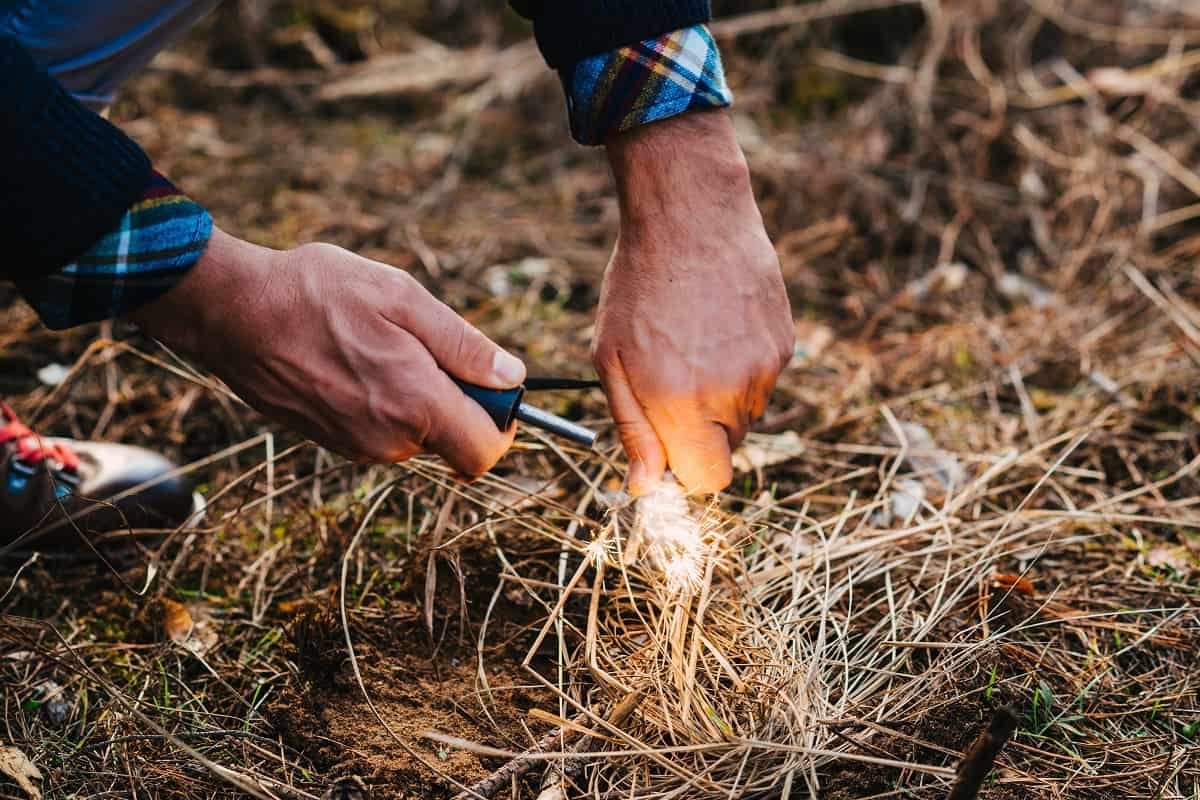 Skill Level
You may be reading this article because you want to buy your first fire starter. If so, you want something beginner-friendly that you can practice on for long periods of time and that is really reliable. That's why the Strikeforce won out in our tests. It is easy to use and effective, no matter your skill level.
Weight
If you're a man (or woman) after my own heart and just want to shave down weight and size, go for the small stuff. The sheer thought of the 3.7 oz Strikeforce, however reliable it may be, may make you shutter. Instead, you could opt for the nanostriker or wear the Überleben as a necklace just to shave weight off your backpack.
Though if you're really going lightweight, do you even need a striker? Or will you just use the fuel from your Jetboil for an emergency light?
If emergency situations, rather than weight, are your primary concern, get something that will perform during the panic mode. That 0.8 oz striker sounds nice for now but won't be as easy to handle under pressure. Under these circumstances, prescribe to 'better safe than sorry 'and go for reliability.
Magnesium vs Flint vs Ferrocerium
Ferrocerium is a pyrophoric alloy containing metals that include iron, magnesium, lanthanum, and cerium. It's a firecracker on a stick.
Comparatively, flint and steel starters will naturally send fewer and smaller sparks.
Magnesium requires a pile of shavings to get light, which can be difficult to near impossible in windy conditions.
Consider that of the ten starters we tested, the top four use three different materials. In short, any materials will work. Don't get intimidated or impressed by the specs. Just because ferrocerium lights brighter doesn't always mean that it is a higher quality starter.
A good deal of design goes into making a quality striker as well. Consider the size and comfort of the handle and the length and thickness of the rod.
Five Stunning Ferro Rod Facts
Before we look at the gear itself, let's look at how the magnesium shavings from these fire starters produce a better shower of sparks and why they are significantly better than normal ways to get a small fire started.
One
A Ferro Rod produces more heat than any other striker with an overwhelmingly hot spark of over 5000 ℉. That's hot! With the Ferro Rod generating that much heat, it's sure to get you even one small spark that packs enough of a punch, which is enough to dance around the wood in such a way that it gets you one heck of a fire.
Two
Ferro rods are more brittle than flint stones; thus, they get you a bigger array of sparks, even with a small strike. The hardness of a Ferro rod is around five on the Mohs hardness scale. This makes it easy to scrape so that you will get a good and right amount of use out of even one strike at a time.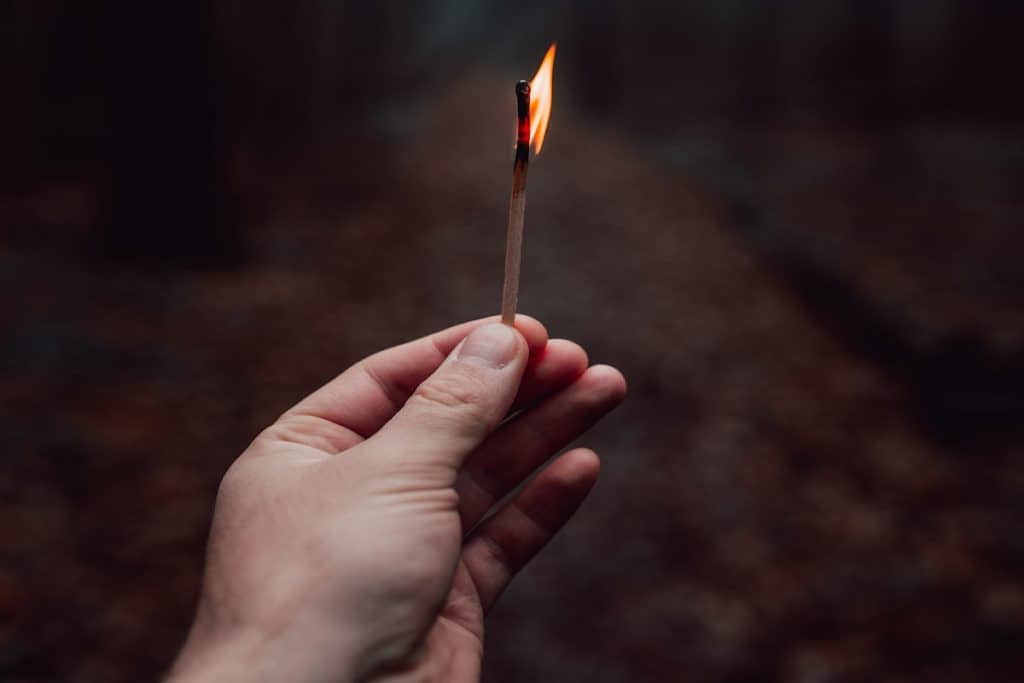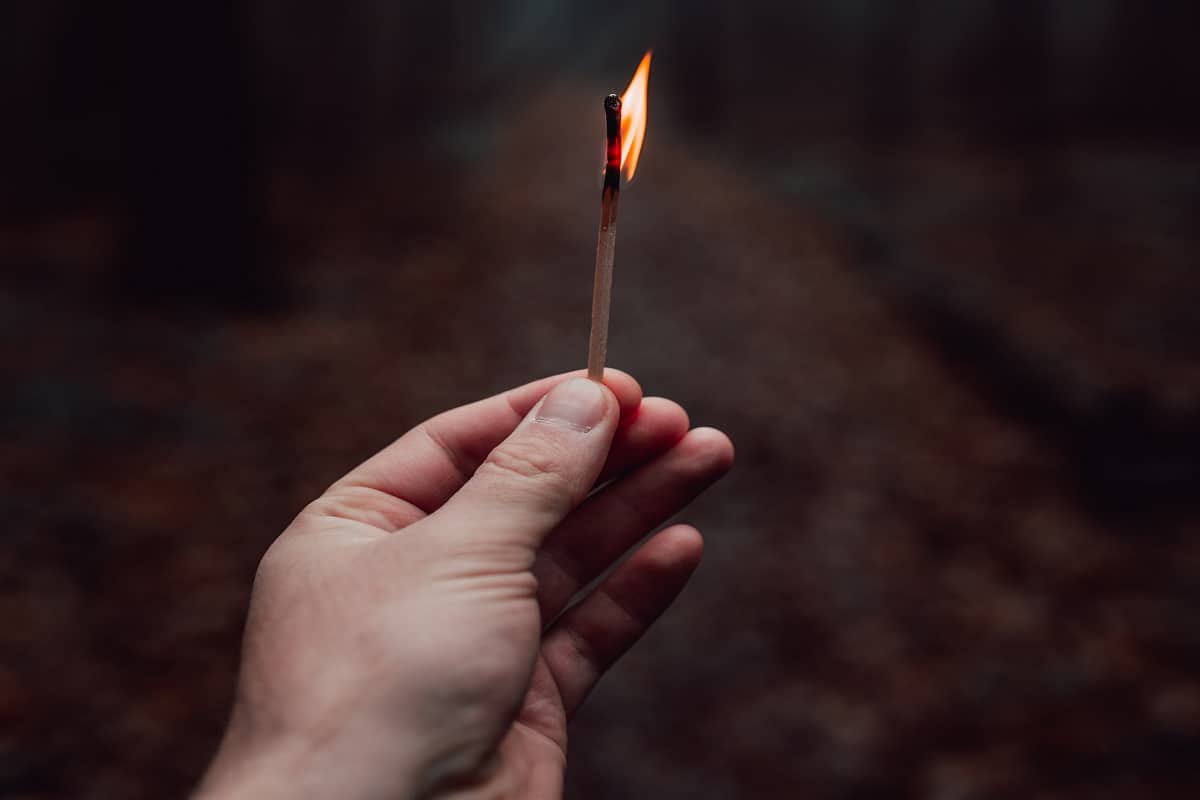 Three
Ferrocerium is a pyrophoric alloy. This means it oxidizes very rapidly and generates lots of heat and sparks. Other fire-striking devices aren't as capable of producing sparks under any and every condition, and they really don't pack quite the same punch if the right weather isn't around.
Four
Ferro rods are compact and lightweight. They average anywhere from 3 inches on upwards to 6 inches. This small size makes carrying a Ferro rod easy and convenient.
Five
Ferro rods last a long time. It doesn't take a lot for a Ferro rod to spark. Many rods claim to have hundreds of thousands of possible strikes on just a 3-inch rod, giving you peace of mind that you'll be able to start a fire for a long time to come.
Frequently Asked Questions
What are Ferro Rods made of?
Ferro rods are made of Ferrocerium, a man-made alloy, and are basically waterproof matches. The formula varies but usually includes iron, cerium, and magnesium.
The combination creates sparks when the ferrocerium rod (fire steel)is scraped with a rough surface or a sharp edge. And it works under cold, wet, windy conditions that would defeat matches or a lighter.
Some Ferro rods come with strikers. Almost any sharp-edged item will do, even a rock. But you'll get the most consistent sparks from a hard steel object, like the spine of a knife blade.
(Because Ferro rods contain iron, they're often coated to prevent oxidation. You'll need to scrape away the coating to expose shiny metal before first use.)
The process of starting a Ferro rod fire is like using flint and steel, but with an important difference because it produces only a spark of up to 800 F, which is much less.
The good quality Ferro rods can produce a spark of 3000 degrees or hotter. That's roughly 30% hotter than a blast furnace and almost 70% hotter than the hottest molten lava.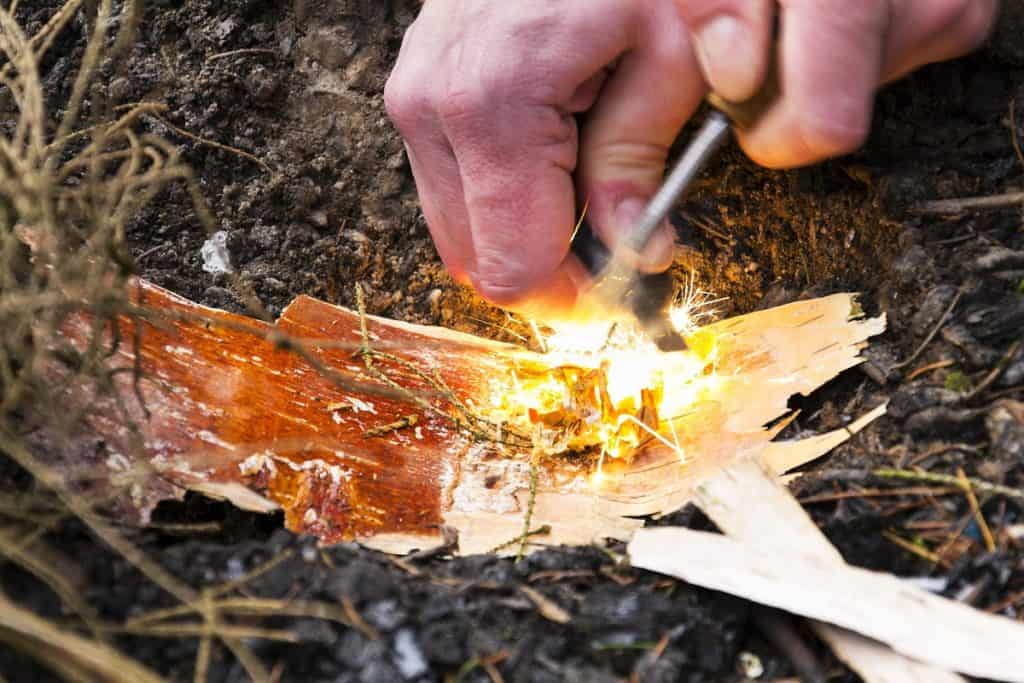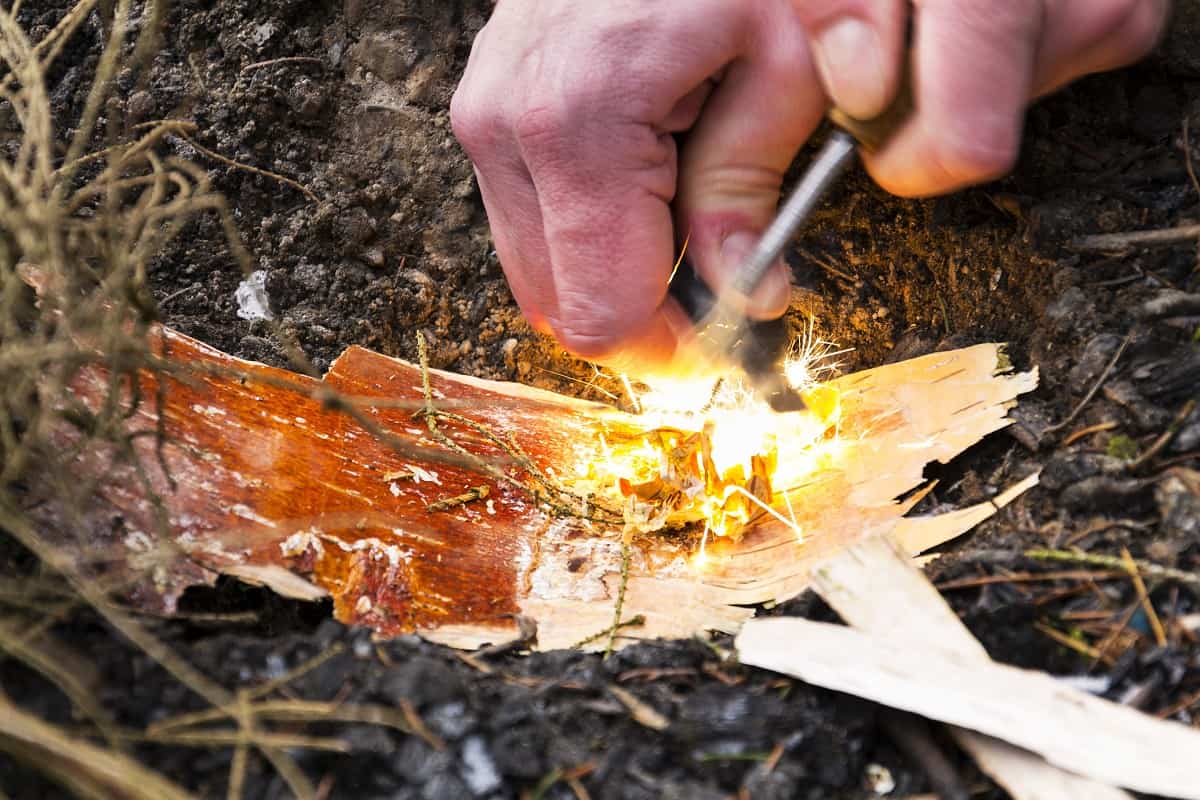 A Ferro Rod Expands Your Options
That extra heat can make a big difference when you're lost, cold or hungry and you don't have a waterproof survival lighter handy like the Life Strike Lighter.
When you know how to use a Ferro rod, you gain a wider range of potential tinder because the rod will ignite material you can't light with other tools. And the Ferro rod will be more forgiving of bad luck or inexperience, which makes them perfect for everyday carry survival kits.
When you're ready to build your Ferro rod fire, start by clearing enough protected surface area to contain the fire.
Then gather material, starting with tinder, to catch the first sparks. This can be anything that will ignite quickly. If you're collecting on the spot, consider pine needles, plant fibers, bird nests, hair, shredded strips of duct tape, and even fine strands of metal wool. In this video, I show you how the Everstryke Match with the built-in Ferro rod is a great cotton ball fire starter with just a little vaseline and a single spark.
Commercial products are also available, from resin-rich fatwood to manufactured fire-starters made of compressed sawdust and paraffin. You can also make your own from home materials like dryer lint or cotton balls soaked in Vaseline.
Whatever your tinder and kindling, you should also collect pieces of wood of various sizes, from fairly fine, dry twigs to larger pieces that will burn longer. You'll add these to the fire gradually as it becomes more stable.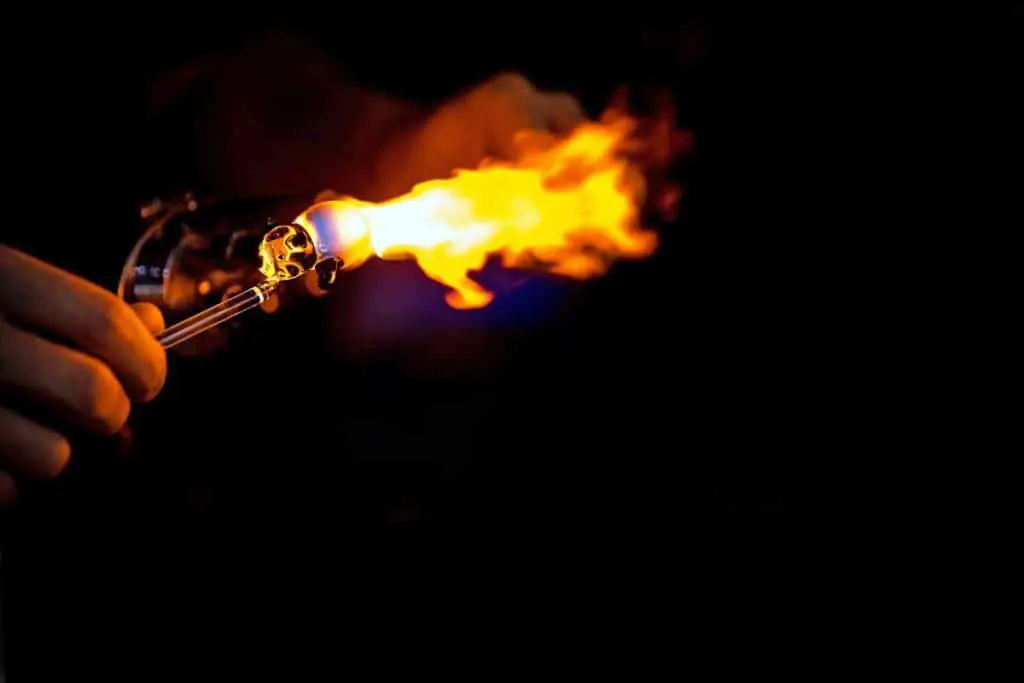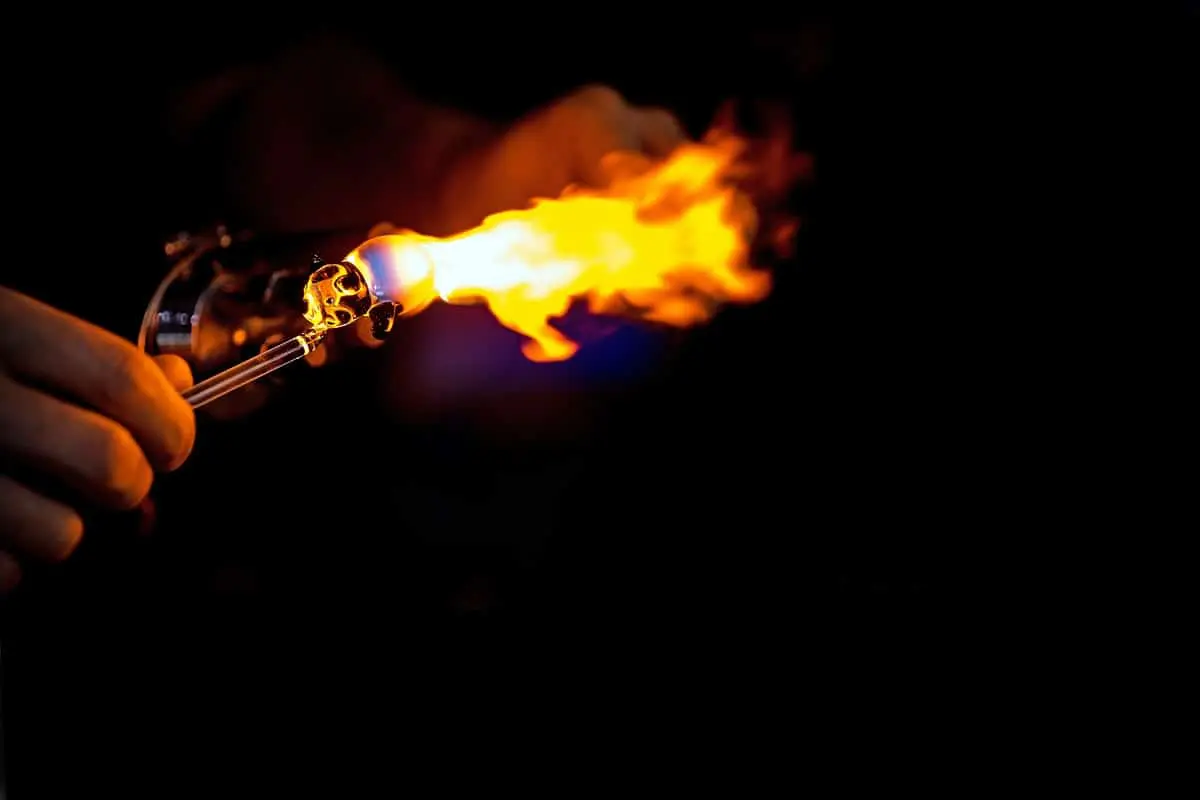 What is a magnesium rod used for?
Magnesium rods are best used for starting a fire when the material is damp or wet. Scraping shavings from these soft metal rods and then applying a spark or a flame will create a fire that burns at more than 4000 degrees Fahrenheit. Magnesium fire starter rods have a natural resistance to water, making them a perfect fire lighting source for all types of environments.
How are Ferro Rods Made?
As you may have gotten it by now, Ferro Rods are small cylindrically shaped rods that look like they are made of metal, but actually, they aren't.
The exact chemical composition of a Ferro rod varies from one manufacturer to the next, but a typical rod consists of 50% cerium, 25% lanthanum, and 19% iron. There are also trace amounts of praseodymium, neodymium, and magnesium. These rods are a great choice for outdoor lighting because they withstand various outdoor conditions, including wind and rain.
How Long Does a Ferro Rod Last?
The length of time a Ferro rod will last depends on the size of the rod, the quality of the composition, and the usage of the rod. A larger rod will generally last much longer than a smaller rod.
A larger rod with a quality composition (at least 20.8% iron and 41.% cerium) and very little usage will typically last much longer than a rod of the same size with poor composition or high-quality composition and high usage.
When choosing a brand, one must think about what it will be used for and the durability needed for the job needing to be accomplished. An individual who camps out periodically may not need high quality or a larger rod because their usage would be low, leading to the rod lasting longer. In contrast, an outdoor enthusiast who frequently needs to start fires will want to opt for a larger, higher quality rod (at least 20.8% iron and 53% cerium) to meet the demands that frequent usage of the rod will bring.
Rods hardened with iron oxide and magnesium oxide tend to create hotter sparks and higher temperature outputs in regards to the fire produced.
Lower quality rods can be identified not only by their lack of iron and cerium but also by their texture.
High-quality rods tend to be hard in texture, making it easy to produce a spark when struck against a rough surface, while low-quality rods are soft and require more strikes to achieve the spark necessary to start a burn.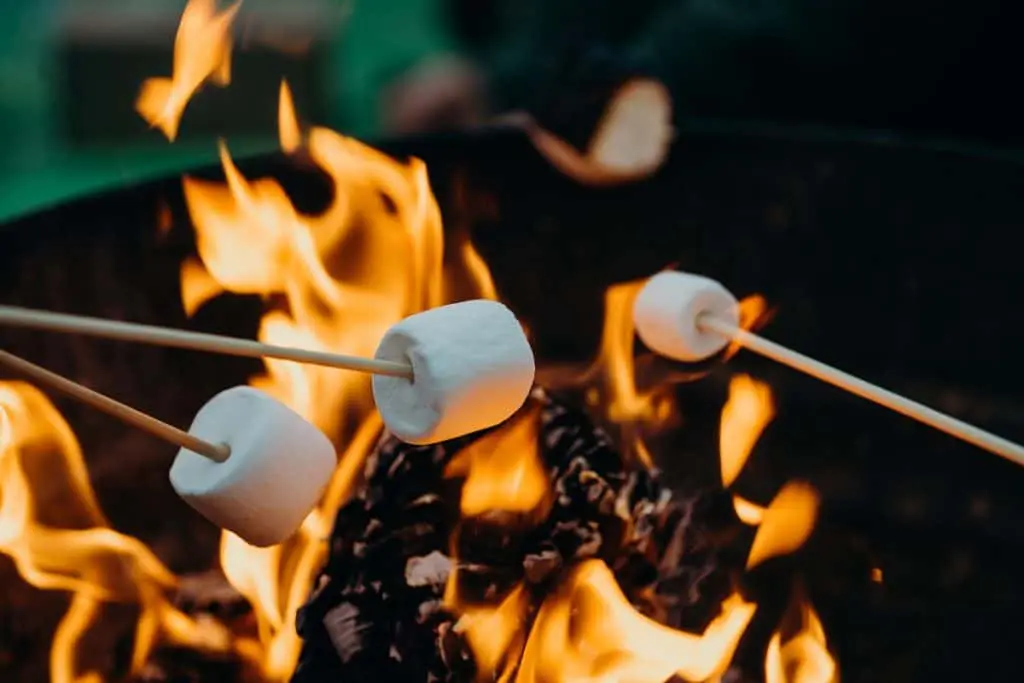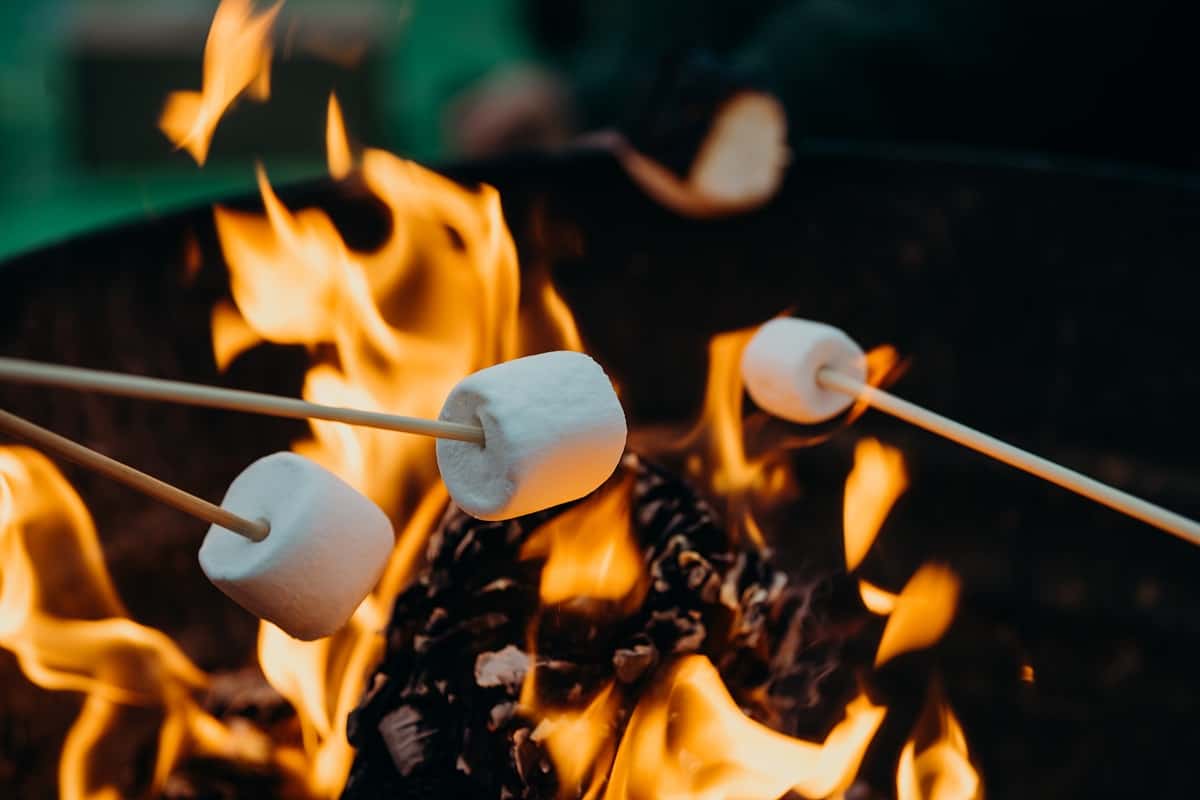 Final Words
Usually, when you get a pack of matches, you may expect that they will be enough of a gear to carry with you big you want to get a fire started, but as you may have gotten from the products at the top, you will save yourself a lot of time and use if you get a permanent one, or even the best available option – a Ferro Rod.
And now that you know what are the best Ferro Rod models at the time of writing this, you will find no which one is the best and is at the top, and you can add it to your survival gear and use it to start many fires, at whatever time and weather you can think of.
So, instead of wasting your precious time with matches and lighters, use a Ferro Rod and watch your survival problems go with the fires in your pit.